printer friendly version
Cables for RF testing
21 February 2018
Interconnection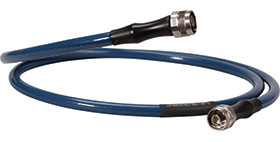 A new range of semi-rigid RF/microwave cables and assemblies is available from Huber & Suhner that offer ultra-high frequency of more than 26 GHz.
Key products in the range are the high-quality flexible SucoFlex 126E coaxial cable assemblies, which are designed to provide enhanced optimal performance at up to 26,5 GHz (depending on connector interface choice) with excellent return loss. The cables are ideal for applications that require electrical stability and low loss, such as in test and measurement and defence systems. They also feature a blue polyurethane (PUR) outer jacket, which offers excellent chemical and abrasion resistant properties and advanced protection in the most hostile environments including those with wide temperature ranges from –40°C to +85°C. The high-grade assemblies are available in various lengths and connector types, including 500 mm and 1000 mm lengths.
The range now also includes the Minibend 50 Ω SMA plug-to-plug cable assemblies. These are designed for applications requiring low-profile connections between RF modules within communication systems. Available in 7,5 cm, 15 cm and 30 cm versions, the triple shielded cables have a robust high-temperature FEP outer jacket, stainless steel outer braid and an aluminium/polyimide barrier tape.
Also available are the TLP-P 11716 high-flex test leads, which are 50 Ω TL-P passive intermodulation (PIM) test assemblies. They are constructed from chemical-, oil- and abrasion-resistant TPU armoured cable for protection in hostile environments, and also include moulded protection between connector and cable supporting IP67 ingress protection, when mated correctly. The optimised 4 GHz test leads are available in many various lengths and connector configurations.
Alternative test leads include the Sucotest ST18A armoured cable assemblies, which are 50 Ω flexible leads that offer excellent electrical performance combined with low insertion loss, stability and exceptional return loss. Ideal for heavy duty and outdoor applications up to 18 GHz, the assemblies are designed for a range of applications including the testing of wireless communication infrastructure and are available in a variety of lengths and connector configurations.
The portfolio also includes IP68-rated black silicone universal weather protection boots for LISCA jumper cable assemblies.
They are designed to protect jumpers between antennas and remote radio heads from the ingress of water, contamination and corrosion.
Credit(s)
Further reading:
Ultra-flexible Ku/Ka-band cable
28 October 2020, Hiconnex , Interconnection
As a leader in civil aircraft interconnection and RF cables, Radiall introduces a new cable in response to ARINC 791 and ARINC 792 requirements. This new ultra-flexible cable is ideally suited for Ku/Ka-band 
...
Read more...
---
Follow this engineering journey of a 3D-printed boat
30 September 2020, RS Components (SA) , News
RS Components is releasing a 10-episode documentary series – titled SeaQuest – featuring members of its DesignSpark engineering community who embarked on a first-of-its-kind challenge to design, test 
...
Read more...
---
1200 V SiC MOSFETs
28 October 2020, RS Components (SA) , Power Electronics / Power Management
RS Components now stocks ON Semiconductor's latest 1200 V-rated MOSFETs. Based on silicon-carbide (SiC) technology, these power discretes are able to push the performance envelope. The new N-channel 
...
Read more...
---
Interconnect solutions for military and aerospace
28 October 2020, Spectrum Concepts , Interconnection
The military and aerospace (Mil/Aero) world utilises products in harsh conditions, and the products must be able to properly perform. Because of this, many Mil/Aero manufacturers typically use full MIL-Spec 
...
Read more...
---
Low insertion force SMT connectors
28 October 2020, RS Components (SA) , Interconnection
RS Components is now stocking a new range of SMT, low insertion force (LIF) connectors from Würth Elektronik. Leveraging low-profile, lightweight, and secure and removable connection, they are made to 
...
Read more...
---
Expanding the horizons with horizontal connectors
28 October 2020, TRX Electronics , Interconnection
Harwin Gecko-SL horizontal connectors bring the additional option of a male through-board connector at right angles to the PCB, i.e. horizontal. The existing Gecko-SL range already offers a miniature 
...
Read more...
---
Grounding jumpers for management of high-power busbars
31 August 2020, RS Components (SA) , Circuit & System Protection
RS Components (RS) has introduced Molex's Triton grounding jumpers for the safe management of high-power busbars. Unique to the industry, the range is UL-certified to deliver quality, safety and reliability.  
...
Read more...
---
New digital storage oscilloscope
31 August 2020, RS Components (SA) , Test & Measurement
RS Components is now stocking the Tektronix TBS1000C digital storage oscilloscope. Affordable, compact and easy-to-use, the TBS1000C comes with enhanced user interface and courseware, proving a great 
...
Read more...
---
Connectors for automotive applications
31 August 2020, RS Components (SA) , Interconnection
RS Components has launched the A Series of high-specification automotive connectors from Amphenol, one of the world's leading makers of interconnection devices suitable for a huge diversity of markets 
...
Read more...
---
HMI for IoT development kit
29 July 2020, RS Components (SA) , Design Automation
Optimised for HMI development in the IoT (Internet of Things), Renesas Electronics' RX72N Envision Kit offers a highly sophisticated and integrated platform for developing applications that require a 
...
Read more...
---