printer friendly version
The future of Industry 4.0
21 March 2018
Telecoms, Datacoms, Wireless, IoT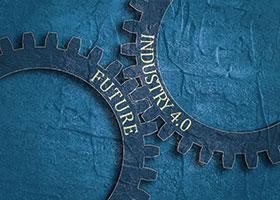 The Industrial Internet of Things (IIoT) is a concept known by a number of different names – Industry 4.0, 'factory of the future', the fourth industrial revolution – but they all centre around the same principles: how businesses, and particularly manufacturers, use IoT technology to change or improve the way they operate.
"At its simplest level, it revolves around how machines interact with each other and how we know what's going on within those machines through data," says Alex von Schirmeister, chief innovation officer, RS Components. "This has been made possible partly through technological developments in communications, where we've seen low-power devices that can send data using very small amounts of energy."
The term 'Industrie 4.0' originates from a German project on which the government and manufacturing industry worked together to develop and grow IIoT technology in the manufacturing environment. The result has seen some businesses, including engineering giant Siemens, lead the way in the use of IIoT in the manufacturing process.
Making the most of IIoT
According to Gartner, there were 6,4 billion things connected to the IIoT in 2016, which was up 30% on 2015. But this is still the tip of the iceberg with that figure set to reach 20,8 billion by 2020 and with growth continuing onwards exponentially beyond that.
Yet despite these impressive figures there is further research that suggests many business leaders are cautious when it comes to committing to IIoT technology. A survey by Accenture showed that although 84% of C-suite executives saw the opportunity for their organisations to create new income streams from IoT technology, 73% of companies have not made any concrete investment in it.
These statistics come as no surprise to von Schirmeister, who has witnessed some hesitation from business leaders. "My experience is that there are still conservative attitudes when it comes to IIoT," he says. "The reason for this often comes down to concerns over data security. Many organisations need reassurance that the data generated from IIoT devices will be fully protected. In some cases this is based on an organisation's own needs, but in others it is influenced by national legislation around data storage and privacy."
The other barrier is, of course, cost. Moving to a full IIoT setup requires a significant initial investment, but von Schirmeister is convinced that there are huge benefits to making that investment, the biggest being the potential for cost-savings and efficiencies.
The other significant benefit of IIoT is that alongside cost-savings, manufacturers can use data generated to improve the quality of their work. This is not something one would traditionally expect, since cutting costs usually suggests a dip in quality, but with a well-actioned IIoT strategy organisations can potentially do both.
"On a macro level, the big data that IIoT creates, when analysed, can point businesses towards bigger strategic moves," says Von Schirmeister. "This could include reorganising production across the board or changing working patterns, which will create further efficiencies on a much grander scale."
The future of IIoT
There are numerous predictions about how IIoT will impact manufacturing around the world and how it may change the nature of the industry. What most experts are sure of is that companies that adopt IIoT will see financial rewards for their investment.
How this investment and value are spread among manufacturers will not be equal, however, with the pace of IIoT adoption varying greatly between businesses. Organisations will need to develop different business models where assets create recurring benefit for customers with ongoing value for the business. Some of these models include compliance monitoring, preventative maintenance, remote diagnostics and asset tracking.
While experts can debate the potential of this sort of model, it is impossible at this stage to predict the exact outcome of IIoT and its influence on the manufacturing sector. Just as taxi companies and short-term holiday accommodation have been disrupted by Uber and Airbnb, the manufacturing sector must wait to see what sort of disruption will be caused by digital connectivity.
"At RS we are supporting customers with IIoT in two ways – first by providing the latest technology to connect devices, and second by providing a platform, in the shape of Design Spark, for engineers and other experts to share knowledge and innovate. I see the future of IIoT and IoT in general as an inevitable growth to the point where the technology becomes ubiquitous – similar to mobile phones, wireless Internet and other technology that we take for granted. The idea of virtually any product or device talking to other products or devices will simply become the norm," von Schirmeister concludes.
Credit(s)
Further reading:
RF amplifier for linear and saturated applications
28 October 2020, RFiber Solutions , Telecoms, Datacoms, Wireless, IoT
The MAPC-A1103 is a high-power GaN-on-silicon-carbide HEMT D-mode amplifier suitable for DC to 2,7 GHz frequency operation. The device supports both CW and pulsed operation with peak output power levels 
...
Read more...
---
Follow this engineering journey of a 3D-printed boat
30 September 2020, RS Components (SA) , News
RS Components is releasing a 10-episode documentary series – titled SeaQuest – featuring members of its DesignSpark engineering community who embarked on a first-of-its-kind challenge to design, test 
...
Read more...
---
1200 V SiC MOSFETs
28 October 2020, RS Components (SA) , Power Electronics / Power Management
RS Components now stocks ON Semiconductor's latest 1200 V-rated MOSFETs. Based on silicon-carbide (SiC) technology, these power discretes are able to push the performance envelope. The new N-channel 
...
Read more...
---
Low insertion force SMT connectors
28 October 2020, RS Components (SA) , Interconnection
RS Components is now stocking a new range of SMT, low insertion force (LIF) connectors from Würth Elektronik. Leveraging low-profile, lightweight, and secure and removable connection, they are made to 
...
Read more...
---
Flexible microwave absorber sheet
28 October 2020, RFiber Solutions , Telecoms, Datacoms, Wireless, IoT
Withwave's W-Absorber is a microwave absorber in thin sheet format made of a mixture of polymer resin and metal magnetic powder which is thin and flexible, excellent in terms of workability, and can be 
...
Read more...
---
Bluetooth module for advanced applications
28 October 2020, RF Design , Telecoms, Datacoms, Wireless, IoT
u-blox announced the NORA-B1 Bluetooth module, the newest member of its short-range radio portfolio. Based on Nordic Semiconductor's latest nRF5340 Bluetooth low energy chipset – the first to host a powerful 
...
Read more...
---
SIMcontrol leads the way in African SIM management
28 October 2020, Flickswitch , Telecoms, Datacoms, Wireless, IoT
Managing data SIMs deployed across several African countries can be tricky for companies that operate across the continent. SIMcontrol is a revolutionary offering from Flickswitch, providing companies 
...
Read more...
---
Scalable end-to-end security platform for LPWA IoT
28 October 2020, RF Design , Telecoms, Datacoms, Wireless, IoT
u-blox has announced the commercial launch of its IoT Security-as-a-Service offering. Available on both the u-blox SARA-R4 and SARA-R5 series of LTE-M cellular IoT modules, this innovative solution makes 
...
Read more...
---
V2X transceiver modules
30 September 2020, RF Design , Telecoms, Datacoms, Wireless, IoT
The VERA-P3 Series from u-blox are automotive grade 802.11p V2X (vehicle-to-everything) transceiver modules that operate in the 5,9 GHz frequency band. These automotive-grade modules are based on the 
...
Read more...
---
Voltage tuneable notch filter bank
30 September 2020, RFiber Solutions , Telecoms, Datacoms, Wireless, IoT
Atlanta Micro's AM3129 is a miniature voltage-tuneable notch filter bank covering the 1,0 to 6,0 GHz frequency range in a 4 mm QFN package. Six notch filters and two bypass paths with SP8T switches on 
...
Read more...
---