The system will enable the company to help its customers and trainees comply with the stringent ball grid array (BGA) placement requirements in South Africa, where the company believes there is a severe shortage of professionals offering high-quality, reliable BGA placement and re-balling of lead-free and tin-lead BGAs.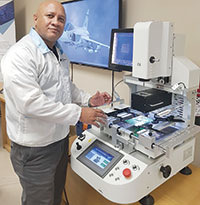 Neil Johnson.
"In order to replace defective components, reprogram firmware or install a daughter board on complex or high-reel printed circuit board (PCB) assemblies, we wanted a rework system that combines ease-of-use with reliability and precision," says Neil Johnson, director and founder at Solve Direct Electronics. "These high-precision rework systems feature advanced optical alignment, automated component removal and replacement, and both top and bottom hot air for de-soldering and soldering.
"They are ideal not only for delicate, heat-sensitive and expensive surface mount devices (SMDs), such as BGAs, chip-scale packages (CSPs) and ultra-fine pitch quad flip packages (QFPs), the stations can also be used for rework and repair of light emitting diode (LED) strips and boards."
The Seamark system will be used in SDE's training, manufacturing and maintenance operations, allowing much greater precision in the positioning, heating and soldering of BGA components. The machine's key functions include:
• A linear slide function that establishes a X-, Y- and Z-axis that can micro-adjust with rapid positioning and precision.
• A touch-screen controlled heating system with optical alignment for user-friendly operation that ensures positioning precision.
• Connection to a computer for additional control and convenience.
• Time and temperature control systems that are industry-designed from various types of lead and lead-free profiles to ensure that soldering is reliable and effective.
• Three independent heating areas from top to bottom with infrared pre-heating.
• A powerful cross-flow fan to rapidly cool down the PCB, preventing deformation and ensuring natural solidification of solder connections.
"The cutting-edge technology ensures that we provide a one-stop service to our clients rather than sub-contracting these processes," says Johnson. "As an emerging and evolving company we realised that we were at a disadvantage by not investing in this capability earlier. The risk was lower production yield, lower product quality and higher costs directly related to the reliable placement of these sensitive and complex BGA components," he adds.
For more information contact Fatima Johnson, Solve Direct Electronics, +27 (0)82 450 5585, fatima@solvedirectelectronics.co.za, www.solvedirectelectronics.co.za