printer friendly version
Presentation outlines vision for 'Microchip 2.0'
16 May 2018
News
Norbert Siedhoff, European sales director and managing director of Microchip Technology GmbH, Germany, returned to South African shores in early April to address the local industry at a breakfast meeting in Johannesburg.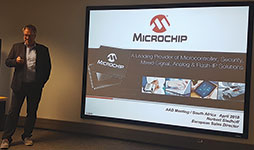 Norbert Siedhoff presented the vision for 'Microchip 2.0'.
The main thrust of his presentation was to spell out the company's vision for its future, which it is calling 'Microchip 2.0'. Identifying four global mega trends – urbanisation, climate change, globalisation and energy efficiency – the company's modern strategy crystallises the way forward for it to keep up with a rapidly changing industry.
These changes have seen Microchip Technology progress from being a component manufacturer to more of a solution provider, driven by significant investments in R&D. Siedhoff underlined the fact that the company has continued to grow by means of acquiring specialist companies in particular fields (more than 17 acquisitions to date) and will continue to follow this principle, rather than itself trying to become an expert in all complementary technologies in such a fast-changing world. He aptly described the current dizzying pace of technological advancement as a situation where "disruptors are disrupting disruptors."
The breakfast presentation was organised and hosted by Microchip's South African sales channel partner, Tempe Technologies. Willem Hijbeek commented: "This VIP breakfast meeting hosted by Microchip is always looked forward to by the embedded engineering community and well attended countrywide. Siedhoff's presentations are informative and focus on providing insight to technological trends affecting our industry. I am sure all the delegates that attended this recent presentation are looking forward to being invited to the next one."
Managing director, Willem Hijbeek, also announced that a change of approach has been decided on, that will see a move away from the wellknown 'Summer School' technical training conferences, in favour of quarterly events with a more dedicated focus on particular topics.
The breakfast concluded with a presentation given by Tempe's customer engagement engineer, Zandalee Blignault, who demonstrated an implementation of secure connectivity with mutual authentication using Amazon Web Services. According to Hijbeek, this is a subject that is increasingly receiving interest from South African developers, and one which Microchip and Tempe are dedicated to supporting.
For more information contact Tempe Technologies, +27 (0)11 455 5587, [email protected], www.tempetech.co.za
Credit(s)
Further reading:
Quectel masterclass: IoT device application development
iCorp Technologies News
Quectel has announced the latest masterclass in a series of technical webinars titled "Accelerate wireless IoT device application development with Azure RTOS on STM32 MCUs".
Read more...
---
ST announces status of common share repurchase programme
News
The repurchase programme took place over the period from 11 to 15 July 2022 and saw ST repurchasing 210 462 ordinary shares.
Read more...
---
Actum Group leads in the interconnect industry
Actum Electronics News
Actum Group is a specialist importer and distributor of industrial and electronic products in Southern Africa and a leader in the interconnect industry.
Read more...
---
From the editor's desk: Do we have the power?
Technews Publishing News
On a recent trip to Grahamstown in the Eastern Cape I was reminded, quite rudely and abruptly to be honest, of the load shedding that has plagued South Africa for the last few years. Living in KZN, we 
...
Read more...
---
Top five MPU suppliers strengthen market dominance
Editor's Choice News
The new ranking shows that long-time leader in microprocessor units, Intel, has moved downwards closer to half the total worldwide sales in microprocessors.
Read more...
---
New meta-lens revolutionises vacuum UV optics
News
A research team co-led by City University of Hong Kong have successfully developed a novel vacuum ultra-violet (VUV) meta-lens which can generate and focus the UV light.
Read more...
---
Electronics news digest
Technews Publishing Electronic News Digest News
The Semiconductor Industry Association (SIA) has announced global semiconductor industry sales were $51,8 billion in the month of May 2022, an increase of 18,0% over the May 2021 total of $43,9 billion 
...
Read more...
---
EVENTS
Events News
IFA Berlin
2-6 September Berlin, Germany This event aims to present the latest products and innovations in the commercial electronics industry. It will offer a comprehensive overview of the international 
...
Read more...
---
Going beyond with HONOR
MyKay Tronics Editor's Choice News
The tempo of business in China is lightning fast. But if you are responsive and go a step beyond, the rewards can be great. In just 15 days, Mycronic delivered 30 dispensing systems to HONOR.
Read more...
---
Global cellular IoT connections increase 22%
News
A new report says that the global number of cellular IoT subscribers increased by 22% during 2021 and that the number of cellular IoT devices will reach 4,3 billion by 2026.
Read more...
---