Norbert Siedhoff, European sales director and managing director of Microchip Technology GmbH, Germany, returned to South African shores in early April to address the local industry at a breakfast meeting in Johannesburg.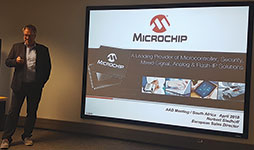 Norbert Siedhoff presented the vision for 'Microchip 2.0'.
The main thrust of his presentation was to spell out the company's vision for its future, which it is calling 'Microchip 2.0'. Identifying four global mega trends – urbanisation, climate change, globalisation and energy efficiency – the company's modern strategy crystallises the way forward for it to keep up with a rapidly changing industry.
These changes have seen Microchip Technology progress from being a component manufacturer to more of a solution provider, driven by significant investments in R&D. Siedhoff underlined the fact that the company has continued to grow by means of acquiring specialist companies in particular fields (more than 17 acquisitions to date) and will continue to follow this principle, rather than itself trying to become an expert in all complementary technologies in such a fast-changing world. He aptly described the current dizzying pace of technological advancement as a situation where "disruptors are disrupting disruptors."
The breakfast presentation was organised and hosted by Microchip's South African sales channel partner, Tempe Technologies. Willem Hijbeek commented: "This VIP breakfast meeting hosted by Microchip is always looked forward to by the embedded engineering community and well attended countrywide. Siedhoff's presentations are informative and focus on providing insight to technological trends affecting our industry. I am sure all the delegates that attended this recent presentation are looking forward to being invited to the next one."
Managing director, Willem Hijbeek, also announced that a change of approach has been decided on, that will see a move away from the wellknown 'Summer School' technical training conferences, in favour of quarterly events with a more dedicated focus on particular topics.
The breakfast concluded with a presentation given by Tempe's customer engagement engineer, Zandalee Blignault, who demonstrated an implementation of secure connectivity with mutual authentication using Amazon Web Services. According to Hijbeek, this is a subject that is increasingly receiving interest from South African developers, and one which Microchip and Tempe are dedicated to supporting.
For more information contact Tempe Technologies, +27 (0)11 455 5587, willem.hijbeek@tempetech.co.za, www.tempetech.co.za