The power purchase agreements (PPAs) signed recently by state-owned power utility Eskom, ended three years of waiting and uncertainty, and represent a significant step towards a truly sustainable energy vision for South Africa and Africa as a whole. This will enable R56 billion of new investment in the economy over the next two to three years, which will immediately contribute to significant growth in the economy and job creation. According to the Department of Energy, the 27 projects are expected to create 58 419 full-time equivalent jobs for South African citizens, mostly during the construction period.
In the realm of telecommunications, opportunities also exist for data centres to make greater use of renewable energy sources. However, renewable energy sources, such as wind and solar, have variable outputs at times when there is a lack of wind or sun, thus requiring the use of battery rooms where excess energy can be stored for later use.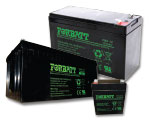 Forbatt batteries have been at the forefront of developing longer-lasting, more efficient and reliable batteries, which the company sees as an essential aspect of the age of renewable energy. Most renewable sources of energy rely on sources that can come and go and so it is crucial that we can harvest this energy when it is available and then store it for later use, efficiently and reliably. While much of the green movement revolves around harvesting renewable energy, businesses are heavily investing in the means to store this energy.
The most common battery types used for storing energy generated from renewable energy sources are lead-acid batteries. Although new options are being developed all over the world, sealed lead-acid batteries remain a very viable storage alternative. Valve regulated lead acid (VRLA) batteries are very widely used for energy storage in data centres because of their high power density and ease of installation.
Because of the design of VRLA batteries, they are considered to be sealed as they do not allow for the addition or loss of liquid. VRLA batteries make use of safety valves that release pressure when internal gas builds up, which can then be recombined. Its design also allows for flexibility in its location within a data centre.
With a well-planned and thoroughly integrated renewable energy storage solution for data centres, the facility will have power on demand always, and especially during those mission-critical phases or processes.
For more information contact Russell Ruiters, Rull Technologies, +27 (0)21 905 0095, sales@rulltechnologies.co.za, www.rulltechnologies.co.za