printer friendly version
DFT assistant for Mentor Xpedition
13 June 2018
Test & Measurement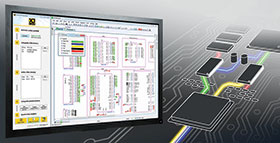 Developed by XJTAG, the free XJTAG DFT Assistant for the Mentor Xpedition Designer product increase the design for test (DFT) and debug capabilities of the schematic capture and PCB design environment.
Printed circuit boards (PCB) are increasingly densely populated and access to pins under many packages, such as ball grid arrays (BGA), is virtually impossible. JTAG was designed to solve the problem of access and so it is vitally important to get the JTAG chain right at the design stage. Failure to identify and fix design errors at an early stage can result in a board re-spin and a costly delay to a project. XJTAG DFT Assistant helps validate correct JTAG chain connectivity, through full integration with the Xpedition schematic capture environment.
The XJTAG DFT Assistant comprises two key elements: the XJTAG Chain Checker and the XJTAG Access Viewer. The chain checker identifies common errors in a JTAG scan chain, such as incorrectly connected test access ports (TAP), where a single connection error would inhibit an entire scan chain from working. XJTAG Chain Checker identifies connection errors and reports them to the developer during the design process. Incorrectly terminated TAPs are also identified.
XJTAG Access Viewer overlays the extent of boundary scan access onto the schematic diagram, allowing users to instantly see which components are accessible using boundary scan, and where test coverage could be further extended. Engineers can highlight the nets individually to show read, write, power/ground and the nets that don't have any JTAG access on the schematic.
While the first prototype is being manufactured, XJTAG DFT Assistant allows engineers to export a preliminary XJTAG project from the Xpedition schematic capture environment to the XJTAG development software, where additional tests can be developed. These can then be used to test real hardware, as soon as it's available.
This software is free for Xpedition users of VX.2.1 or higher and can be downloaded from www.xjtag.com/Xpedition.
For more information contact ASIC Design Services, +27 11 315 8316, info@asic.co.za, www.asic.co.za
Credit(s)
Further reading:
Halo invests in high-speed data transformers
29 January 2020, ASIC Design Services , Passive Components
Halo Electronics, a leading supplier of Ethernet transformers, has invested in UWB X Limited, a UK based technology company focused on creating a new high-speed transformer technology. As part of Halo's 
...
Read more...
---
Double pulse test software for Tektronix AFG
29 January 2020, Comtest , Test & Measurement
Comtest announced the availability of Tektronix' new software plugin for its AFG31000 arbitrary function generator (AFG), making it possible to perform crucial double pulse testing in less than a minute, 
...
Read more...
---
Battery charge/discharge test system
29 January 2020, Conical Technologies , Test & Measurement
The ITS5300 battery charge and discharge test system from ITECH is designed for a variety of power batteries including lead acid, nickel hydrogen, lithium batteries, supercapacitors, hydrogen fuel cells 
...
Read more...
---
Early access programme for PolarFire FPGAs
29 January 2020, ASIC Design Services , Programmable Logic
The trend towards compute-intensive gateways and edge devices is driving the integration of traditional deterministic control applications with additional embedded processing capabilities needed for smart 
...
Read more...
---
PCB manufacturing analytics software
EMP 2020 Electronics Manufacturing & Production Handbook, ASIC Design Services , Manufacturing / Production Technology, Hardware & Services
Valor IoT Manufacturing Analytics is an enterprise big-data business intelligence analytics platform designed for capturing, storing and analysing large amounts of manufacturing data. The platform provides 
...
Read more...
---
DIN-rail programmable transmitter
23 October 2019, Instrotech , Test & Measurement
Calog Instrument's versatile DPM9000 series – a miniature DIN-rail mount programmable isolated transmitter range – boasts high reliability and a versatile, wide range of programmable inputs. With dimensions 
...
Read more...
---
Hands-on learning module
23 October 2019, Altron Arrow , Test & Measurement
The ADALM2000 (M2K) active learning module is an affordable, USB-powered, software-defined instrument that exceeds the capabilities of its predecessor ADALM1000 (M1K). With 12-bit ADCs (analog-to-digital 
...
Read more...
---
Digital multimeter with thermal imager
23 October 2019, RS Components (SA) , Test & Measurement
A digital multimeter (DMM) with a built-in thermal imager has been added to RS Components' RS PRO product range. The RS-9889 allows engineers to identify thermal overload issues in electrical equipment 
...
Read more...
---
Project-based learning for the modern engineer
23 October 2019 , Test & Measurement
Projects that inherently challenge students to use innovative design thinking often involve interacting with an unknown process or device. Students are encouraged to understand the unknown through theory, 
...
Read more...
---
Automotive Ethernet testing software
25 September 2019, Comtest , Test & Measurement
Tektronix has released two new software packages that greatly simplify Automotive Ethernet testing, debug and protocol decode for use with its 5 and 6 Series mixed-signal oscilloscopes (MSO). Using 
...
Read more...
---