printer friendly version
Class D speaker amplifiers
13 June 2018
Analogue, Mixed Signal, LSI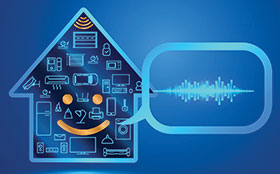 With the MAX98357 and MAX98358 digital-input Class D audio power amplifiers by Maxim Integrated Products, designers can achieve high efficiency in a compact, cost-efficient solution. Despite their ultra-small form factors, these amplifiers deliver 3,2 W of Class AB audio performance for enhanced audio quality and are ideal for a wide variety of applications.
Traditionally, electronics designers use analog amplifiers requiring a digital-to-analog converter (DAC) and line driver amplifier on the application processor. This adds overall die cost to the speaker output and affects the form factor of the overall solution size.
The MAX98357 pulse-code modulation (PCM) and MAX98358 pulse-density modulation (PDM) speaker amplifiers reduce overall solution size by taking advantage of Maxim's clever pin-out and by significantly reducing the number of required components compared to typical analog amplifier designs.
Since most customers control their volume digitally upstream, these features enable customers to take advantage of wafer-level packaging without the need for expensive vertical interconnect access (VIAs). The ICs feature a digital input for noise immunity, along with high jitter tolerance and excellent electromagnetic interference (EMI) performance allowing the use of longer traces to the speakers without added external filtering.
To simplify design, the chips only require users to connect a single power supply and feed the bit clock (BCLK) and left-right clock (LRCLK), without needing a master clock (MCLK). These amplifiers further simplify designs by auto-configuring for up to 35 different clocking configurations and 128 different digital audio formats. This automatic configuration eliminates complicated I²C programming as there is no need to rewrite base code to configure a design just to add audio functionality.
As more applications (such as smart speakers) start requiring multi-directional/channel audio, the need for amplifiers like the MAX98357 and MAX98358 that can be easily daisy-chained to support speaker arrays (up to 8 channels supported by time division multiplex) will continue to grow.
For more information contact CST Electronics, +27 11 608 0070, sales@cstelectronics.co.za, www.cstelectronics.co.za
Credit(s)
Further reading:
High-speed Rad-Hard logic ICs
28 October 2020 , Analogue, Mixed Signal, LSI
STMicroelectronics has introduced the first two logic devices in a new high-speed, radiation-hardened family that brings 150 MHz+ performance to space applications. The QML-V qualified RHFOSC04 (SMD15962F20207) 
...
Read more...
---
High-voltage analog multiplexers
30 September 2020, Altron Arrow , Analogue, Mixed Signal, LSI
Diodes Incorporated announces the PS508 and PS509 analog multiplexers that are capable of switching signal voltages of up to 36 V in an industrial environment. The high voltage capability of the devices 
...
Read more...
---
Low inductance SiC power module gate driver kit
31 August 2020, Altron Arrow , Analogue, Mixed Signal, LSI
The transformation to electrify transportation – from trains, trams and trolleys to buses, automobiles and EV chargers – continues at a rapid pace, as countries shift toward improved modes of transit 
...
Read more...
---
New GaN-on-SiC power amplifiers
31 August 2020, RFiber Solutions , Analogue, Mixed Signal, LSI
MACOM Technology Solutions, a leading supplier of semiconductor solutions, recently announced at the virtual International Microwave Symposium the introduction of its new gallium nitride on silicon carbide 
...
Read more...
---
DACs with 1 or 2 channels
31 August 2020, Altron Arrow , Analogue, Mixed Signal, LSI
The MCP47CXBXX/MCP48CXBXX are single- and dual-channel 8-bit, 10-bit and 12-bit buffered voltage output digital-to-analog converters (DAC), with volatile or MTP memory and an I2C/SPI interface. The MTP 
...
Read more...
---
Data buffer for high performance server and cloud service applications
30 September 2020, Hi-Q Electronics , Analogue, Mixed Signal, LSI
Renesas Electronics Corporation has introduced a new high speed, low power DDR5 data buffer for data centre, server and high-performance workstation applications. Advancements over the past few years 
...
Read more...
---
High accuracy inclinometer with machine learning core
30 September 2020 , Analogue, Mixed Signal, LSI
The IIS2ICLX from STMicroelectronics is a high accuracy, low power, 2-axis digital inclinometer for use in applications such as industrial automation and structural health monitoring. It features a 
...
Read more...
---
Smoke detection matters
30 September 2020, Altron Arrow , Editor's Choice, Analogue, Mixed Signal, LSI
Smoke detection regulations are critically important when the value proposition is as basic as human life itself.
Read more...
---
Temperature-compensated quartz crystal oscillators
30 September 2020, Hi-Q Electronics , Analogue, Mixed Signal, LSI
With it's compact, power-saving and highly precise specifications, Jauch's new TCXO JT21S is particularly suitable for use in wireless applications and ensures a stable frequency across all RF standards 
...
Read more...
---
Microthermal liquid flow sensors
29 July 2020, Electrocomp , Analogue, Mixed Signal, LSI
The SLF3x liquid flow sensor series from Sensirion represents an advancement for microthermal liquid flow sensors. By combining Sensirion's 20-year track record in low and lowest flow rate sensing with 
...
Read more...
---