printer friendly version
Wi-Fi-connected fibre-optic inspection system
13 June 2018
Test & Measurement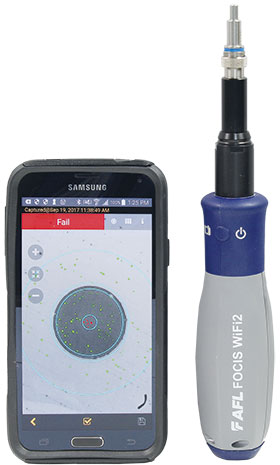 Comtest's latest offering from AFL is the aeRos connected FOCIS WiFi2, a next-generation fibre-optic connector inspection system that uses an Android or iOS wireless connection for live image video streaming, auto-focus and more. The probe is an ergonomic fibre connector inspection system, that when paired with an iOS or Android smart device, provides fast and accurate IEC/IPC/AT&T compliant and user-defined pass/fail end-face cleanliness analysis.
The FOCIS WiFi2 probe is lightweight and balances perfectly in the hand. It has a single multipurpose button, a single multi-colour functional status LED, and a battery charging port for all-day mobility. The status LED enhances workflow productivity by allowing rapid operator assessment of the cleanliness of the fibre endface – either passing or failing standard rules – as well as 'fibre not found' error notification.
"According to industry studies, contaminated fibre endfaces typically account for 85% of optical network failures," explained Maury Wood, product line manager for AFL's test and inspection division. "With the advent of broadband and enterprise data centre links at 100 Gbps and higher, the universal adherence to best practice fibre cleaning and inspection methods is an operational imperative."
The FOCIS WiFi2 uses AFL's large portfolio of inspection adaptor tips for both connectors and bulkhead sleeves, including all 2,5 mm (SC, FC, ST) and 1,25 mm (LC) ferrules, as well as multi-fibre connectors and bulkhead sleeves (MPO/MTP/MPO16). AFL offers an adaptor tip for high-density LC PC/UPC optical distribution frames as well.
The free FOCIS WiFi2 app (both Android and iOS) supports live image video streaming, auto-focus, IEC/IPC standard and user-customised pass/fail auto-analysis, pinch-to-zoom on endface images, report generation, multi-language GUI support and day/time stamped job saving.
For more information contact Comtest, +27 10 595 1821, sales@comtest.co.za, www.comtest.co.za
Credit(s)
Further reading:
Ensuring workers' safety through EMF monitoring
25 November 2020, Conical Technologies , Test & Measurement
Accurately measuring the electromagnetic field (EMF) is essential to confirm that exposure levels comply with the regulatory limits established in each country, and thus ensure the safety of individuals 
...
Read more...
---
Wideband synthesised signal generator
25 November 2020, Conical Technologies , Test & Measurement
Mini-Circuits announced the release of the latest addition to its array of microwave components, the SSG-15G-RC synthesised signal generator. The SSG-15G-RC is a wideband synthesised signal generator 
...
Read more...
---
Bench test and measurement equipment
25 November 2020, RS Components (SA) , Test & Measurement
RS Components is now stocking an extensive range of RS PRO bench test and measurement products. The range offers various functions and applications, providing a full suite of electronic instruments for 
...
Read more...
---
Isolated oscilloscope probes
25 November 2020, Comtest , Test & Measurement
Tektronix has rolled out its second generation of IsoVu isolated oscilloscope probes, the TIVP Series, which significantly advance the capabilities of the probes first introduced in 2016. The second-generation 
...
Read more...
---
Buy a Fluke, get one free
28 October 2020, Comtest , News
Comtest, Fluke's official South African importer, is offering one free Fluke for every Fluke purchased from any South African-based, authorised Fluke dealer. Fluke is a world leader in the manufacture, 
...
Read more...
---
Major update to GNSS firewall software strengthens protection
25 November 2020, Comtest , Telecoms, Datacoms, Wireless, IoT
Critical infrastructure systems including power utilities, financial services, mobile networks and transportation rely on Global Positioning System (GPS)-delivered timing to ensure ongoing operations. 
...
Read more...
---
Thermal camera for detecting abnormal body temperatures
25 November 2020, Coral-i Solutions , Test & Measurement
Because measuring a person's body temperature is a major issue in the news at the moment, Chauvin Arnoux is launching the CA 1900 thermal camera, a new health tool for identifying anyone with an excessively 
...
Read more...
---
Real-time phase noise analysis up to 50 GHz
25 November 2020, RF Design , Test & Measurement
Wireless Telecom Group announced the introduction of the Holzworth HA7063A Downconverter, which extends the capabilities of the phase noise analyser product portfolio to 50 GHz. The new downconverter 
...
Read more...
---
Real-time dashboards for remote test data access
25 November 2020, Comtest , Test & Measurement
Tektronix announced the availability of a native integration between the Keithley DAQ6510 and DMM6500 instruments with Initial State, an loT dashboard for data streaming and visualisation for world-class, 
...
Read more...
---
Maintaining backup battery systems for maximum usage and reliability
30 September 2020, Comtest , Power Electronics / Power Management
Standby battery backup systems play a critical role in keeping essential operations functional in the event of a utility outage. Facilities like data centres, hospitals, airports, utilities, oil and gas 
...
Read more...
---