printer friendly version
Modern markets need fit-for-purpose distributors
13 June 2018
News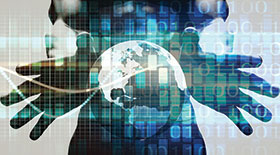 Distributors are the cornerstone of keeping businesses moving, by providing essential supplies and support. In the past five years, businesses who rely on distributors have seen their customers' needs change, prompting a shift in buying behaviour, which has had a knock-on effect all the way up the supply chain and back again.
Customers and buyers are more clued up than ever and not afraid to shop around, which means that distribution businesses face the challenge of meeting these changing needs. In such a competitive marketplace, distributors need to find ways to serve their customers in the way that suits the customer best, which in changing times is a tall order.
A changing customer landscape
The rapid surge in connected devices and miniaturised wearables has driven growth in the burgeoning Internet of Things (IoT) sector, with professional makers at the cutting edge of this growth. The IoT is one of the most exciting and accessible markets for designers, opening up the opportunity to bring new products to market, to a broader range of customers than ever before, each with different needs.
In addition to traditional market entrants and smaller design houses that have experience in bringing products to market, there is now a new customer group – professional makers who may be bringing a product to market for the first time. Professional makers value support with high-volume production, which includes careful management of inventory and obsolescence, setting them aside from the traditional hobbyist who sees value in broader product lines and have a greater need for technical support. With so many opportunities in this market, anticipating customers' needs can be complex, but meeting these needs most definitely has its rewards.
The challenge of going where no one has gone before
The rapid development of the IoT space and growth in areas such as wearables is driving designers of all levels of experience to tackle new challenges as they enter new markets and apply technology in ways that it has not been used before. This may mean negotiating compliance challenges within heavily regulated industries such as healthcare and automotive, or developing a deeper knowledge of existing technology as it is applied in different ways, in harsher environments or within flexible applications e.g. clothing.
The pressure to keep up is felt strongly by design engineers and there is a growing trend to work with distributors that can support them right from the beginning with research and design expertise as well as broad product portfolios, high-volume distribution and supply chain support, logistics, finance and excellent customer service.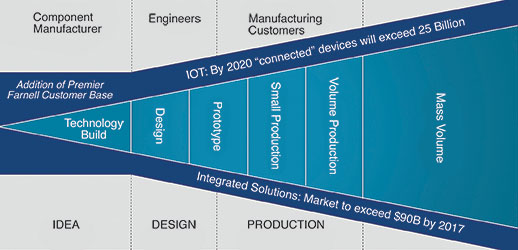 Challenges for distributors
Traditionally, distributors provide competitive advantage by ensuring components are in stock in high volume and at a competitive price. The distributor will manage this stock, ensuring appropriate buffer levels, allowing customers to place call-off orders and have them shipped quickly anywhere in the world.
They make account management simple and easy through an account manager, online system or a combination of both these options, and have resources to offer advice, both technical and commercial. Reliability and flexibility are therefore two of the big deliverables that mark out a distributor fit for these emerging markets' demands.
Purchasing departments still value price and availability over other factors. This provision is challenging enough for a distributor to deliver for this type of customer, but in the modern marketplace, distributors have many customer groups to please. In today's market, however, business customers are focused on the total cost of doing business, driving increased use of approved vendor lists (AVLs). This means that the variety of needs within any one customer will naturally place higher demands on a 'one stop shop' distributor.
The growth of the professional maker and hobbyist sector is putting distributors under particular pressure. For this customer group, technical support is the biggest area in which a distributor can provide added value. Although their needs are similar to engineers in traditional companies, the IoT boom has meant that more makers and hobbyists, many of which may have limited technical knowledge, are getting involved with developing projects that demand greater levels of connectivity, flexibility and customisation.
Despite the amount of plug and play modules available to this segment of a distributor's customer base, makers and hobbyists still require deeper levels of technical and product support. This need has been addressed in part through the investment in distributor-led online forums and communities as well as business modules focused purely on software and design services. Nevertheless, servicing the maker and hobbyist market is still demanding and these customers favour a distributor that carries a broad line card, has items in stock and offers excellent delivery options, technical support and customer service.
In order to better service engineers, makers and hobbyists, distributors have needed to focus attention on their web presence, to attract new customers as well as support existing ones. With the overwhelming number of products now available online, distributor websites need to balance easy navigation with the right amount of technical information and support resources to retain customers and reach new audiences.
Bearing all of these factors in mind and the distinct but overlapping needs of the marketplace, is it possible for a distributor to keep everybody happy or is it necessary to choose one target customer group and focus on them alone?
A new breed of distributor
Last year saw two of the world's most well-known distributors join forces, when Avnet acquired Premier Farnell. The combination brings together two companies to create a unique technology distribution business that serves both design engineers and the maker and hobbyist markets. The initial feedback is incredibly promising…so how does it work?
Premier Farnell is the 'Development Distributor', specialising in helping customers from product idea and design through to prototype and low-volume manufacturing. Our strong customer base ranges from hobbyists through to engineers and professional makers. As the number one manufacturer and distributor of Raspberry Pi, exclusive manufacturer of BBC micro:bit and the official manufacturer of BeagleBone Black, we also manufacturer many of the products we provide. Avnet is a global high-volume oriented franchise distributor with deep expertise in large volume, broad line distribution and world-class global logistics and supply chain management.
This joining of forces creates a new breed of distributor that we believe can offer better support at all stages of the product development process, from design through to volume manufacturing and product lifecycle management, providing a seamless service for all customers.
Premier Farnell is experienced at working with customers from early stage design and helping them take their ideas to production – from initial support from our 200 in-house design engineers to optimising the product for production and leveraging our manufacturing capabilities, right through to ongoing test and maintenance through our bench-to-board offering. Now, as part of the Avnet family, we are able to draw on Avnet's expertise in high-volume production to support our customers at every stage of their journey.
The joining of the Avnet and Premier Farnell business is not about crunching together two businesses and looking for opportunities to drive out costs, but looking for growth synergies across our businesses that enable us to serve our customers better and provide a truly holistic solution, which we feel is unique.
As mentioned at the outset, new markets are expanding fast and we believe that the combination of Avnet and Premier Farnell offers the heavyweight resources needed by large manufacturers along with the finer touch to work with inventors, makers and engineers to help them turn their ideas into prototypes. The ability to engage in the earliest stages of product design and development with innovators is fuelling a new chapter of growth.
It's clear today's customers need the best of both worlds – to work with companies with scale, size and global reach of a broad line business, while still having the specialised capabilities to serve them through all stages of the product lifecycle. From assessing the market's needs and customer demands, it's evident that this amalgamation offers benefits to all of its customers, no matter their level of experience, turnover or geographical location, and sets the bar for distributors the world over.
For more information contact Farnell element14, 0800 111 057, info-za@farnell.com
Further reading:
Buy a Fluke, get one free
28 October 2020, Comtest , News
Comtest, Fluke's official South African importer, is offering one free Fluke for every Fluke purchased from any South African-based, authorised Fluke dealer. Fluke is a world leader in the manufacture, 
...
Read more...
---
Online Ohm's law calculator from Mouser
28 October 2020 , News
The famous Ohm's law states that the current flowing through a circuit is proportional to the voltage applied across both points. Mouser Electronics' online Ohm's law calculator saves engineers time by 
...
Read more...
---
From the editor's desk: Where monsters, viruses and technology meet
25 November 2020, Technews Publishing , News
I clearly remember the moment it really sank in that the world as we know it has become almost unrecognisable from a year ago. It would be hard not to remember really, because it happened only two days 
...
Read more...
---
Clearing the Static: ESD training and compliance
25 November 2020, Actum Group , News
According to Desco Industries, electrostatic discharge (ESD) can change the electrical characteristics of a semiconductor device, degrading or destroying it entirely. ESD could also potentially damage 
...
Read more...
---
SA project receives international energy award
25 November 2020 , News
South Africa's largest energy efficiency initiative, the SA Industrial Energy Efficiency Project, has won the highest international accolade for an energy programme – the International Energy Project 
...
Read more...
---
Intelsat brings space STEM to students in Africa
25 November 2020 , News
Intelsat is partnering with XinaBox to deliver space-focused science, technology, engineering and mathematics (STEM) learning tools to teenagers across the African continent. Intelsat is sponsoring 
...
Read more...
---
DesignSpark racks up one million members
25 November 2020 , News
RS Components recently marked a significant milestone when its DesignSpark engineering platform surpassed one million members. This comes just a few months after DesignSpark celebrated ten years of 
...
Read more...
---
Personality profile: Dereck Styane
25 November 2020, Phoenix Contact , Editor's Choice, News
"We do try and develop people and promote them from within the company, so I savour people's personal growth that I've overseen."
Read more...
---
MTN and Siyavula enabling maths and science learners
25 November 2020 , News
Lockdown or no lockdown, South African learners will do what it takes to ensure that they are ready for their year-end exams. So says the MTN SA Foundation, which partnered with digital teaching and learning 
...
Read more...
---
Production Logix appoints new business development manager
25 November 2020, Production Logix , News
KwaZulu-Natal based electronics contract manufacturer, Production Logix, is broadening its scope and sharpening its focus as it expands its footprint across South Africa and into southern Africa. As part 
...
Read more...
---