printer friendly version
Solderless and direct plug-in connectors
13 June 2018
Interconnection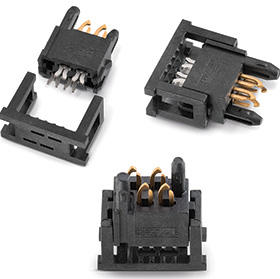 New from Würth Elektronik eiSos is the REDFIT IDC SKEDD WR-WST family of solderless, space-saving and multi-pluggable connectors for signal transmission. The product range is available in 4- to 20-pin versions and is suitable for permanent use on PCBs as well as for temporary connections for programming and debugging purposes.
REDFIT IDC is a solderless, reversible, direct plug-in connector with SKEDD technology. It can be manually mounted on the plated through-holes of the PCB, which eliminates the need for extra sockets and any related soldering processes. It also requires no mating plug, therefore saving on yet another component and reducing assembly and process costs.
For miniaturised components in particular, the less space required and the lower the height needed for any pin headers and other connector components, the better. REDFIT IDC SKEDD connectors only take up room for the connector itself on the PCB – there is no need for extra space above the circuit board.
The SKEDD connector is attached to the ribbon cable via insulation displacement technology. The plastic guides on the underside of the housing are longer than the contacts, thus preventing short circuits on the board underneath. Different thicknesses of the guiding pins provide reverse polarity protection during the simple and tool-free process of plugging and unplugging the connector. Depending on the application, between 10 and 25 mating cycles are specified.
The plastic housing of the REDFIT IDC SKEDD WR-WST connector family is made of halogen-free LCP (liquid crystal polymers) of flammability class UL94 V0. The specified operating temperature ranges from -25°C to +105°C. The contact material, a copper alloy, is gold-plated on the SKEDD site and tin-plated on the IDC.
The SKEDD contacts on the dual-row plug connector are offset with a 2,54 mm pitch. On the cable side, the AWG #28 ribbon cable is connected with a 1,27 mm pitch. Further technical features include a rated current of 1,0 A per pin, an operating voltage of 100 V, isolation resistance of more than 1000 M, voltage stability of 500 V a.c./min, and contact resistance of 10 m maximum.
For more information contact Jason Page, Würth Elektronik eiSos, +27 71 259 9381, jason.page@we-online.com, www.we-online.com
Further reading:
Ultra-flexible Ku/Ka-band cable
28 October 2020, Hiconnex , Interconnection
As a leader in civil aircraft interconnection and RF cables, Radiall introduces a new cable in response to ARINC 791 and ARINC 792 requirements. This new ultra-flexible cable is ideally suited for Ku/Ka-band 
...
Read more...
---
Power and signal connectors with selective mate keying
25 November 2020, Vepac Electronics , Interconnection
The SB Smart range from Anderson Power Products is designed for applications where storage batteries intelligently interact with the system. Two primary power positions (up to 230 A each) are combined 
...
Read more...
---
What makes good connector design?
25 November 2020, IPD Electronics , Interconnection
It's important to remember that your connector may have physical design constraints like a minimum wire gauge or number of contacts, so it's vital to consult with your connector supplier early in the process.
Read more...
---
Durable connectors for harsh conditions
25 November 2020, TRX Electronics , Interconnection
When the going gets tough, you need rugged, reliable and ready connections to see the job done right and through to completion. From industrial and heavy equipment to defence applications, only the best 
...
Read more...
---
Magnetic jack connectors and their benefits
25 November 2020, Vepac Electronics , Interconnection
EDAC's product offering includes the edacJAX range of magnetic and modular jacks, offering many features and benefits. These connectors are used in data, telecom, networking and home entertainment markets 
...
Read more...
---
Battle-tested power and data hubs
25 November 2020, Hiconnex , Interconnection
Ruggedised soldier-worn electronics have revolutionised mission effectiveness, but the ongoing evolution of Digitally Aided Close Air Support (DACAS) missions, including precision targeting, ground and 
...
Read more...
---
Compact, robust cable connectors with high mating reliability
25 November 2020, Actum Group , Interconnection
ERNI is expanding its robust and versatile range of MiniBridge (1,27 mm pitch) and MaxiBridge (2,54 mm) cable-to-board connector range with the MicroBridge family in a 1,27 mm pitch, which is currently 
...
Read more...
---
New precision RF products from Samtec
25 November 2020, Spectrum Concepts , Interconnection
In the build-up to this year's IMS Microwave Week in June, Samtec's Danny Boesing shared some of the new and upcoming products from the company's stable of precision RF and millimetre-wave products. (Note: 
...
Read more...
---
Power connector for heavy-duty EV applications
25 November 2020, Startech Industrial , Interconnection
Amphenol Industrial Operations now offers a medium amperage connection system that is rated up to 120 A of continuous current.    The ePower-Lite 5,7 mm has an operating voltage of 600 V a.c./800 V&nbspd;.c. 
...
Read more...
---
High-power grounding jumpers
25 November 2020, RS Components (SA) , Interconnection
Molex's Triton grounding jumpers provide for the safe management of high-power busbars. Unique to the industry, the range is UL certified to deliver quality, safety and reliability. The jumpers are 
...
Read more...
---