pSemi (formerly Peregrine Semiconductor) showcased its 5G millimetre-wave (mmWave) products at the 2018 International Microwave Symposium. These parts included a 40 GHz switch, two 60 GHz switches and the world's first single-chip digital step attenuator (DSA) to support the entire 9 kHz to 50 GHz frequency range.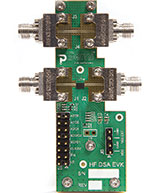 PE43508 50 GHz DSA evaluation kit.
The PE43508 is a 6-bit, 50 DSA that offers wideband support from 9 kHz to 50 GHz. It covers a 31,5 dB attenuation range in 0,5 dB and 1 dB steps, and is capable of maintaining 0,5 dB and 1 dB monotonicity through 50 GHz. This high-performance DSA features low insertion loss, fast switching time and low attenuation error. The PE43508 also delivers glitch-safe attenuation state transitions, which eliminates the positive glitch.
Offered as a flip-chip, monolithic die, the PE43508 is easy to use and ideal for mmWave applications including 5G test and measurement, 5G wireless infrastructure, point-to-point communication systems and very small aperture terminals (VSAT).
For more information contact Andrew Hannay, RFiber Solutions, +27 82 494 5466, sales@rfibersolutions.com, www.rfibersolutions.com