The Raspberry Pi has exceeded many of its creators' expectations. Many amateur developers use the miniature computer to automate processes within their own home, for example. At the same time, a growing number of companies and institutions are discovering the advantages of using the Raspberry Pi in their commercial building automation and industrial applications.
Creative ideas have emerged in areas ranging from development environments and prototype construction, through to low-cost mini-controllers and data-loggers. The devices are used to control the climate in buildings or as data collecting systems in mass production test setups, for example.
Demands for shorter turnaround times and lower costs towards development and series production, not to mention trends such as Industry 4.0 and the Internet of Things, are helping to foster the success of the Raspberry Pi and other single-board computers (SBCs).
Electronics developers have relied on ready-made electronics modules for some time, buying more complex modules that feature microcontrollers, RAM and Flash memory in order to combine them with their own I/O boards. This approach is advantageous because module components that are complex and often too expensive to buy in smaller quantities are already available on the mass market.
The Raspberry Pi is such a component. It is a high-performance computer that comes with many I/Os as well as an extensive software suite. It can also be upgraded with expansion boards – either developed in-house or purchased from outside vendors.
Device solutions for professional applications
The Raspberry Pi requires high-quality, functional housing and connection technology in order to be used in professional applications. The devices need to be assembled and used in installation distributors or control cabinets in a safe way and in accordance with the applicable standards – especially if they are part of commercial building and industrial automation solutions.
Many commonly-available housing solutions can only accommodate the Raspberry Pi board. They are mostly used as table-top housings and can be attached to a wall. However, they do not enable rail-mounted assembly in a cabinet. These housings are available in many colours and designs and are made with plastic, metal or even wood. The connections, also known as GPIOs (general purpose input/output), are fed out using ribbon cables.
Meanwhile, mounting rail housings for the Raspberry Pi offer a standardised and reliable method of assembling the module in situ in a control cabinet or installation distributor. Furthermore, the housings allow expansion boards to be integrated and GPIOs to be connected using industrial-grade plug-in connectors. They also allow a device system to be assembled using bus connectors.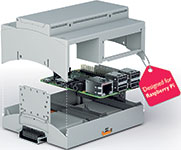 Figure 1. The Raspberry Pi A+, B+, B2 and B3 models can be assembled on the mounting rails using the professional RPI-BC housing.
Finally, many housing solutions can be lined up on mounting rails next to one another while allowing for the reliable and convenient connection of HDMI, USB and micro-USB power cables as well as RJ45 connectors. The Phoenix Contact RPI-BC housing, compatible with the Raspberry Pi A+, B+, B2 and B3 series (Figure 1), offers all of these features. An adapter is required to connect a USB cable to the A+ model.
Connection technology and expansion boards
It is essential to have simple and reliable wiring – when connecting sensors to the GPIOs, for example – if the Raspberry Pi is being used in a production environment. Furthermore, wiring should be completed quickly, and connecting GPIOs to expansion boards should not require additional time-consuming steps, especially during assembly.
The RPI-BC allows GPIOs to be connected to expansion boards using Phoenix Contact PTSM plug-in connectors, which are available with a pitch of
2,5 mm. The push-in connection allows the connectors to be wired without using tools. The expansion boards, which can also be snapped into the housing without tools, leave ample room for the user to add their own circuit designs.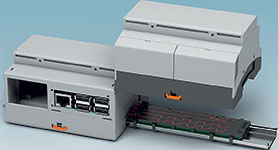 Figure 2. Expansion boards can be inserted into the RPI-BC, connecting to the GPIOs and the H-Bus through the corresponding plug-in connectors. Plug-in connectors are connected to the inner board, enabling communication with the field.
Compatible wire-wrap boards are available for simple circuitry. The expansion boards connect 'automatically' to the Raspberry Pi and to the bus system when the device is assembled, since the corresponding PTSD terminals, which are soldered onto the expansion boards, plug directly into the GPIOs of the Raspberry Pi and the bus slot (Figure 2).
The micro-SD card is an important component of the Raspberry Pi since it serves as the computer's 'hard drive.' It would be disastrous if someone – an unauthorised user, for example – were to remove this storage medium from the device while it is in operation. The RPI-BC prevents this since the little slot where the card is inserted can be closed off with an adhesive seal after the card is put in place. This seal then leaves behind a residual trace on the surface of the device if the card is removed.
Mounting rail bus connectors for easy wiring
Bus connectors are widely used for device development and are especially popular when developing modular device systems. Most systems have a power supply unit (PSU), a central processing unit (CPU) and many I/O units, allowing for various system configurations to be put together conveniently. Bus connectors significantly reduce the amount of time it takes to wire modules in the mounting rail since they power the modules and enable them to communicate with one another.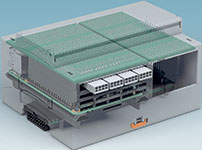 Figure 3. The H-Bus and housings from the Phoenix Contact BC product line can be easily added to the RPI-BC housing.
Similarly, it is beneficial to use bus connectors, such as the H-Bus for the RPI-BC, when developing devices with the Raspberry Pi. They allow the Raspberry Pi to serve as a CPU and the additional modules as I/O modules, for example. The H-Bus can then take care of communication with the GPIOs and I/O modules. The modules can be assembled on the mounting rails simply by plugging them in (Figure 3).
Summary
Single-board computers are not a recent invention. They were already being used in the 1970s for development and production systems. However, today's microcomputers feature two innovations. First, they are significantly more powerful, more reliable and less expensive, thanks in part to the growing market for smartphones and tablets. Second, there is strong demand from today's industrial and building automation solutions for low-cost control and monitoring products.
However, the single-board computer, its operating system and software, cannot fully function as a complete and usable standalone device. High-quality, functional electromechanical components such as mounting rail housings and interfaces are necessary to use single-board computers in an industrial or semi-industrial environment in control cabinets or installation distributors.
At the same time, amateur developers would also be pleased to have professional ­solutions that meet their needs. Manufacturers of electromechanical products have taken these requirements to heart. The RPI-BC housing and the corresponding connection technologies for Raspberry Pi boards are a step towards new, forward-looking markets.
Building automation application example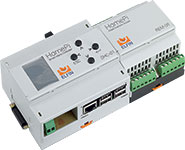 The Home-Pi SHC-01 from Elfin GmbH, is a gateway that is used in applications that allow the heating or lighting in a building to be controlled with a smartphone or computer via the Internet. The Raspberry Pi B2 is the key component of the device and is connected to the expansion boards via the GPIOs. The device is housed in Phoenix Contact's RPI-BC professional-grade product.
A power module with an output voltage of 12–24 V d.c. is integrated into the device, powering the Home-Pi as well as the REM-08 relay expansion module, which can be connected via the H-Bus. The Home-Pi also features open software and hardware, allowing many providers in the building automation industry to add extra features to the system. Furthermore, the Home-Pi system is compatible with the eQ-3 AG 'Homematic' home automation system.
For more information contact Richard Schoonebeek, Phoenix Contact, +27 11 801 8200, rschoonebeek@phoenixcontact.co.za, www.phoenixcontact.co.za