printer friendly version
Horizontal SMT headers and sockets
18 July 2018 Interconnection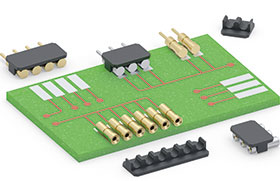 Mill-Max Mfg. has developed a line of horizontal SMT (HSMT) headers and sockets ideally suited for low-profile parallel board-to-board or board-to-component mating. The removable plastic cap provides the convenience of a traditional connector and, once removed, delivers an interconnect system with a minimal surface mount profile.
These new sockets, 835-43-0XX-40-030001, and headers, 328-10-1XX-40-020001, are an ideal choice for applications where vertical board stacking is not an option, such as in LED lighting systems which often employ daisy-chained PCBs to minimise overall package height.
This new series of HSMT connectors have an above-board profile of 2,44 mm with the cap in place and just 1,83 mm with the cap removed. The cap serves multiple functions: it maintains accurate pin-to-pin spacing, enables group placement of low profile SMT pins and receptacles, and provides a flat pick and place surface for efficient automated assembly. After soldering, it may be easily removed to achieve a minimal profile.
The connectors are single-row with 2,54 mm pin spacing and are available in 2 to 10 positions. All are packaged on tape and reel (1450 parts per 13" reel) per EIA-481 standards; tape widths vary with pin count. The removable cap material is high-temperature Nylon with an HDT of 260°C to withstand most soldering processes.
Each pin and receptacle is precision turned from brass alloy. The receptacle has a highly reliable 4-finger, beryllium copper contact and accepts leads ranging from 0,38 to 0,635 mm. The standard plating for the sockets is tin on the shell and gold on the internal contact, providing optimal interconnect reliability. The header pins come standard with gold plating.
Credit(s)
Further reading:
RJ45 connectors for the harshest environments
26 May 2021, Electrocomp , Interconnection
TE Connectivity's ODVA Variant 1 RJ45 connectors are designed with a rugged housing that provides a chemical resistant, IP67 and UV resistant protection to handle harsh-environment applications. The 
...
Read more...
---
Tiny coaxial connector supporting 30 GHz
23 June 2021, Otto Marketing , Interconnection
Hirose Electric has developed the C.FL Series, a 0,92 mm mated height, ultra-small press coaxial connector supporting 30 GHz for applications with increased future demand anticipated, such as 5G millimetre-wave 
...
Read more...
---
RS launches wiring and connectivity portfolio
23 June 2021, RS Components (SA) , Interconnection
Read more...
---
Expanded MicroSpeed connector range for signals and power
23 June 2021, Actum Electronics , Interconnection
Actum Group has announced its offering of ERNI's new complementary, efficient MicroSpeed power connectors with a choice of pin counts to increase application flexibility for global customers. ERNI 
...
Read more...
---
Self-latching push-pull connectors
23 June 2021, IPD Electronics , Interconnection
The Swiss-based connector manufacturer LEMO makes a broad range of self-latching push-pull connectors for challenging application environments. Its self-latching system allows its connectors to be mated 
...
Read more...
---
Samtec expands micro power connector range
23 June 2021, Spectrum Concepts , Interconnection
The Samtec mPOWER connector system is a micro, high-power solution with design flexibility for power-only or power/signal applications. Due to the wide variety of stack heights available, mPOWER can be 
...
Read more...
---
Interconnect solutions for smart agriculture
23 June 2021, IPD Electronics , Interconnection
Advances in agricultural technology have seemingly pulled the future into the present: cutting-edge farms today automatically track all useful information regarding crops and other farming conditions. 
...
Read more...
---
Lightweight MIL-DTL-38999 connectors
23 June 2021, IPD Electronics , Interconnection
PEI-Genesis stocks a wide range of lightweight commercial 38999 Series III connectors at its UK facility. These connectors offer high-performance capabilities for the harshest environments. Included 
...
Read more...
---
Proven and secure reverse bayonet connectors
23 June 2021, IPD Electronics , Interconnection
PEI-Genesis offers an extensive range of reverse bayonet connectors from Amphenol, ITT Cannon and VEAM. These connectors are designed for a variety of applications across military, commercial, industrial, 
...
Read more...
---
PV connectors and string fuses
28 April 2021, Phoenix Contact , Interconnection
New connectors as well as cable-based string fuses extend the Sunclix product series for photovoltaic (PV) systems from Phoenix Contact. The device connectors are particularly suitable for cabling inverters 
...
Read more...
---