printer friendly version
High-power connectors
15 August 2018
Interconnection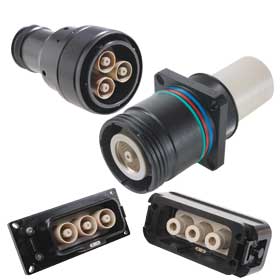 Amphenol has a broad range of high-power connectors to offer the military and industrial market. Combining the benefits of field proven MIL- DTL-38999 Series III circular connectors with hyperbolic RADSOK contacts, the 1000 A Rhino 38999 series connector is designed to meet the latest military, industrial and safety requirements. Alongside Rhino 38999, Amphenol also has a complementary range of higher-power MIL-DTL-38999 connectors.
In the single-pole Rhino 38999 connectors, the use of RADSOK contacts creates an electrical interface that exceeds typical interconnect requirements via a hyperbolic socket contact construction, which delivers very low contact resistance and performs exceptionally well under high vibration. Rhino 38999 connectors offer current ratings of 85 A up to 1000 A and operational voltage ratings of up to 1200 V d.c., with 360 degree EMC/RFI screening.
Environmental features include a temperature range of between -55°C to +150°C, IP68 sealing and 500 hours salt spray tolerance. Amphenol is also able to use the same product technology in multi-pole options, both rectangular and circular, with the additional benefit of safety inter-lock contacts to enable hot-swapping.
Alongside the higher-current Rhino 38999 connectors, Amphenol also manufactures an extended range of standard MIL-DTL-38999 series III specification multi-pole connectors with larger contact sizes to carry current up to 100 A. These connectors are available with crimp contacts and also tapped-hole contacts to suit busbar termination. Example insert arrangements include the popular 21-42 and 21 - 75 styles.
Both power connector series are available in a variety of shell materials including aluminium, stainless steel and aluminium bronze, and can be provided with RoHS-compliant black zinc nickel plating.
Amphenol's broad offering of power products is suitable for high-reliability applications including harsh environments as well as hybrid and electric drive vehicles, military aircraft, naval systems, C4I base stations, power distribution modules, communication towers, satellite communications, mass transit, automation and mining.
The connectors can also be supplied as over-moulded cable harnesses providing a complete interconnect solution.
Credit(s)
Further reading:
Circular connectors for power, signals and data
30 June 2020, TRX Electronics , Interconnection
Standardised circular connectors have become the industry standard across a wide range of applications. Customers can find the right option for their most innovative designs with Phoenix Contact's PLUSCON 
...
Read more...
---
EMI/RFI shielding cable ties
29 May 2020, Actum Electronics , Interconnection
BAND-IT EMI cable ties have been designed and manufactured to excel in mission-critical applications, such as Mil/Aero EMI/RFI (electromagnetic interference/RF interference), for the past 30 years.  
...
Read more...
---
How are end-launch PCB connectors useful?
29 April 2020, RF Design , Interconnection
There has been an increasing use of RF coaxial connectors, especially microwave and millimetre-wave coaxial connectors, for high-speed digital and precision sensing applications, There is also a growing 
...
Read more...
---
IP68 circular connectors
29 April 2020, IPD Electronics , Interconnection
Sure-Seal 7/8" IP68 connectors are designed for both signal and high-current applications. They are compatible with industrial mini-change connectors and are sealed to an IP68 rating. These 7/8" IP68 
...
Read more...
---
Micro-miniature circular connectors
29 April 2020, IPD Electronics , Interconnection
Available from local distributor IPD Electronics via its agreement with PEI-Genesis, Amphenol 2M series micro-miniature connectors are fully guaranteed to be intermateable with Glenair Mighty Mouse connectors. The 
...
Read more...
---
RF/microwave connectors for wide frequency ranges
29 May 2020, RFiber Solutions , Interconnection
Withwave, a supplier of versatile RF and microwave test solutions, offers a range of SMPM connectors covering 26,5 to 67 GHz. The connectors cover wide frequency ranges from RF to microwave with excellent 
...
Read more...
---
Cable assemblies for stable phase testing
30 June 2020, RFiber Solutions , Interconnection
The W-Test series from With-Wave is a complete line of high-precision cable assemblies, designed especially for stable phase testing. They are based on optimised microwave interconnection technologies. 
...
Read more...
---
High-density ZIF connectors
25 March 2020, IPD Electronics , Interconnection
Available from IPD Electronics through its distribution agreement with PEI-Genesis, ITT Cannon's DL connector family is a versatile, high-density zero insertion force (ZIF) connector series with up to 
...
Read more...
---
2 mm connectors for board signal transfers
29 April 2020, TRX Electronics , Interconnection
TE Connectivity is expanding its range of AMPMODU interconnection solutions with the introduction of 2 mm centreline board connectors. These new connectors occupy 38% less space than traditional 2,54 
...
Read more...
---
Tactile switches for demanding applications
29 April 2020, Brabek , Interconnection, Switches, Relays & Keypads
The Multimec switch from APEM has been designed with the intention to manufacture the best possible switch. The company's automatic production lines have 100% in-line testing, but before the parts get 
...
Read more...
---