Nordic Semiconductor has launched a low-cost USB dongle for its nRF Connect for Desktop PC tool that allows developers to immediately connect their PCs to a wireless device with only one end of the wireless link available. This further simplifies the application design and program development process because the developer can see exactly what the wireless device is doing from the get-go on their PC desktop and without having to invest in a full development kit.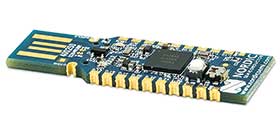 The nRF52840 dongle supports all major wireless standards including Bluetooth Low Energy, Bluetooth mesh, Thread, ZigBee, 802.15.4, ANT and 2,4 GHz proprietary applications running on the Nordic nRF52840 multi-protocol system-on-chip (SoC). It also has a user-programmable RGB LED plus physical pushbutton, a green LED, as well as 15 GPIO accessible solder points along the edge. To give users a flying start, example applications have been made available in the Nordic nRF5 SDK under the board name 'PCA10059'.
The dongle can also be programmed through the Nordic Semiconductor nRFutil utility – a Python package and command-line utility that supports device firmware updates and cryptographic functionality.
For more information contact Andrew Hutton, RF Design, +27 21 555 8400, andrew@rfdesign.co.za, www.rfdesign.co.za