The SKY66119-11 from Skyworks is a high-performance transmit/receive (T/R) front-end module (FEM). The device provides a complete T/R chain with T/R switches. The device transmit chain features +30,5 dBm output, and the receive chain features a low-noise amplifier (LNA) with a 1,3 dB noise figure and 15,5 dB gain.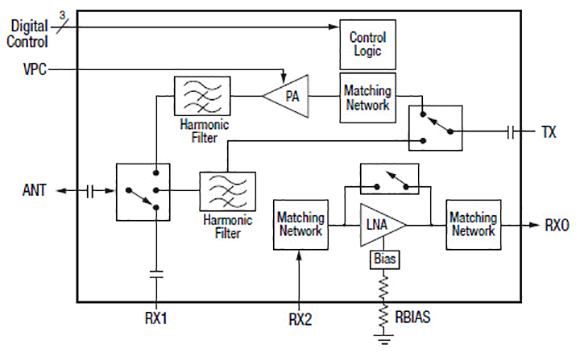 The cascaded NF and gain, taking into account the 0,4 dB insertion loss transmit/receive antenna switch, are 1,7 dB and 15 dB, respectively. The module also has a shutdown mode, PA bypass mode, and LNA bypass mode to minimise power consumption.
The device is mounted in a 28-pin, 6 x 6 mm multi-chip module (MCM) SMT package, which allows for a highly manufacturable, low-cost solution.
For more information contact Callie Lombard, Hi-Q Electronics, +27 11 894 8083, callie@hi-q.co.za, www.hi-q.co.za