printer friendly version
Smart home basics
29 January 2020 Smart Home Automation IT infrastructure
Smart homes are supposed to simplify our lives and make our homes more convenient. But without a reliable Internet connection and local area network, your smart devices can go offline and underperform, which can create more stress than convenience.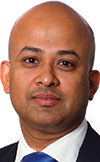 Mohammad Meraj Hoda.
To make sure that your smart devices are always performing at their best and have a dependable connection to the Internet, use the tips below to create a reliable local area network in your home.
What's a local area network?
Technically speaking, a local area network (LAN) is a collection of Internet-connected devices that share a common connection to a server. In laymen's terms, a local area network is what allows the devices in your home to connect to the Internet.
Your smart home will need a reliable local network to efficiently run all of its Internet-connected devices. Without a reliable network, your devices will have trouble staying online, and their performance might suffer.
Creating a local area network
For the majority of homes, a local area network is created by a router. A router hosts and connects your wired devices to the Internet via Ethernet cables, and it connects your wireless devices to the Internet via Wi-Fi. Your router will have a few ports for network cables. The WAN port (often called the 'Internet port') is where you connect your router to the Internet. And the LAN ports are what connect your router to your smart devices.
Wi-Fi vs. Ethernet
Wi-Fi is a simple Internet solution that allows for easy wireless access to the web. Unfortunately, because of its wireless connection, Wi-Fi is also susceptible to interference, which can block or hinder your wireless signal. Wireless interference is typically caused by walls and floors, other Wi-Fi networks, and home appliances and electronics.
Because of wireless interference, a Wi-Fi connection can sometimes be unreliable, which can deplete the performance of your smart devices, lower the quality of your media and occasionally disconnect your devices from the Internet. On the other hand, Ethernet cables resemble telephone cables, and just like a Wi-Fi connection, an Ethernet cable connects your devices to a router, which then connects them to the Internet. Many home cable boxes, video game systems and desktop computers are connected to a router via an Ethernet cable.
With Ethernet cables, you'll never have to worry about wireless interference, which makes an Ethernet connection much more reliable than Wi-Fi. However, Ethernet does have some limitations.
Because of its wires, connecting to the Internet via Ethernet isn't as simple as Wi-Fi. Most homes only have one fibre or ADSL port on a wall that connects their router to the Internet, and most routers only have about four ports that connect to Ethernet cables, which limits the number of wired devices you can support.
If you're remodelling or building a home, a good solution is to run Ethernet cables inside the walls of your house (or through the roof), and install multiple ports on the walls. For example, if you install ADSL ports in every room of your home, you can put a router in each room and have multiple LAN ports to connect your smart devices to the Internet via an Ethernet cable. If you aren't remodelling or building a home, don't worry. There are ways to work around the limitations of both wireless and wired networks.
Extending your Wi-Fi network
For most homeowners, it's unrealistic to create a local network that consists of mostly Ethernet-connected devices. And although Wi-Fi has its limitations, there are ways that you can make your wireless connection more reliable and efficient.
Most homes only have one router, which connects all of their devices to the Internet. But interference will cause the wireless signal to become weak, so devices that are located far away from your router will receive a weak signal, which can cause the devices to go offline or perform poorly. To resolve issues caused by interference, you can extend your wireless signal with a Wi-Fi extender or repeater.
A Wi-Fi extender wirelessly connects to your router, picks up the Wi-Fi signal emitted by your router and retransmits it to other devices in your home. You can plug an extender into a standard power outlet that's located between your router and the device that you want to connect to the Internet, and it will extend and strengthen the signal.
Expanding your Ethernet network
If you're determined to create a reliable network consisting of mostly Ethernet-connected devices, and your home can't support another router, there is a way to work around the limitations. Most routers limit you to four LAN ports, which means you can only connect up to four devices to your router via an Ethernet cable. But with an Ethernet hub or switch, you can add more LAN ports (and therefore more Ethernet-connected devices) to your local network.
Ethernet hubs and switches are devices that feature multiple LAN ports and connect to your router via an Ethernet cable. Hubs share one channel for all of its ports, while a switch has dedicated channels for each port. This means that the more devices you connect to a hub, the slower the connection speed becomes. But for switches, the speed remains the same, regardless of the number of connected devices. Because of this, an Ethernet switch will be more reliable and efficient than an Ethernet hub. Most Ethernet switches feature between four and 48 ports.
By following the tips above, you can create a network that efficiently supports all of your smart devices and truly get the home of the future that you hoped for. If you have already set up a good local network and are ready to get the most out of your smart home, look at securing it with a smart security system.
For more information, contact Ring, +27 11 237 7000, mea@ring.com, www.ring.com
Credit(s)
Further reading:
Opportunities on the edge
Issue 9 2020 , Editor's Choice, IT infrastructure
The ability of organisations to realise business value from data increasingly depends on their capacity to collect, process, store and analyse it at the edge.
Read more...
---
Is a wireless home automation system a good investment?
25 November 2020
Wireless home automation systems come with so much developed technology that they are impossible to ignore if you want to create a smart home.
Read more...
---
Adapt your home to your lifestyle
25 November 2020
The Came Domotic3.0 home automation system allows people to manage all the automated devices in their home according to their lifestyle needs.
Read more...
---
Six smart home trends that will transform life in the home and far beyond
25 November 2020
The Transformational Smart Home will expand in capability, function and activity, and will reflect the wider global needs of the planet, economies, societies and individuals.
Read more...
---
Maximising off-grid energy in South Africa
25 November 2020
xStorage Home lets households store energy to use when needed, reducing their CO
2
footprint.
Read more...
---
Smart home weather stations
25 November 2020, Legrand Southern Africa
Legrand's Netatmo smart home weather stations are an easy and efficient way to understand and monitor a home's indoor and outdoor environment.
Read more...
---
First Distribution to distribute Video Storage Solutions
Issue 8 2020 , News, CCTV, Surveillance & Remote Monitoring, IT infrastructure
First Distribution has signed an agreement to distribute the entire Video Storage Solutions (VSS) product line of video surveillance appliances.
Read more...
---
Ring Africa launches new cameras in SA
Issue 8 2020 , News, CCTV, Surveillance & Remote Monitoring, Smart Home Automation
Ring Africa has officially launched a range of indoor and outdoor home security cameras in South Africa.
Read more...
---
Creston Mercury provides a complete conference room solution
28 October 2020
One easy-to-use console enables people to work together regardless of location or web collaboration application.
Read more...
---
Smart access control with a smart app
28 October 2020, dormakaba South Africa
Dormakaba has introduced the evolo smart app, an app that enables users to control access rights using a smartphone, access card or key fob for up to 50 users.
Read more...
---