printer friendly version
Electronics news digest
24 July 2013
News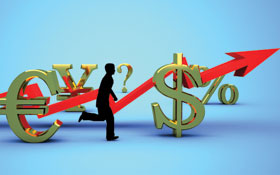 South Africa
Altech announced its intention to delist from the Johannesburg Stock Exchange on 20 August, after 38 years as a publicly traded company. The move depends upon support from shareholders, to whom parent company Altron has offered R47,50 in cash or 2,22 Altron shares per Altech share. Altech's share price rose steeply by 30% on the strength of this news.
Overseas
Business
Micron Technology announced results of operations for its third quarter of fiscal 2013, which ended 30 May. Net income was $43 million, or $0,04 per diluted share, on net sales of $2,3 billion. This compares to a net loss of $286 million, or $0,28 per diluted share, on net sales of $2,1 billion for the second quarter of fiscal 2013, and a net loss of $320 million, or $0,32 per diluted share, on net sales of $2,2 billion for the third quarter of fiscal 2012.
Companies
German firm Dialog Semiconductor, a provider of highly integrated power management, audio and short-range wireless technologies, has entered into an agreement to acquire iWatt, a specialist in digital power management ICs, for a cash payment of approximately $310 million, with additional contingent consideration of up to $35 million.
Rambus and STMicroelectronics have signed a licence agreement which expands existing licences between the companies and settles outstanding patent disputes between them. This will see ST furthering its adoption of DPA countermeasures into multimedia chipsets and accelerating its broad support for CryptoFirewall core technology. Rambus will gain access to ST's fully depleted silicon on insulator (FD-SOI) process technology for lower power consumption at 28 nm nodes and below.
FPGA maker Altera has expanded into the power conversion market with its acquisition, for an undisclosed amount, of Enpirion, a provider of high-efficiency, integrated power conversion products known as PowerSoCs (power system-on-chip).
Fujitsu Semiconductor has licensed ARM's big.LITTLE and Mali-T624 graphics processing technologies for a future system on chip (SoC) solution. Fujitsu's first chips under this agreement will incorporate a dual-core Cortex-A15 processor and dual-core Cortex-A7 processor intended for a wide range of consumer and industrial devices, and for visualisation systems which enable users to control data and programs via on-screen graphics.
Semiconductor Industry News has given Cypress's new PSoC 4 programmable system-on-chip architecture the publication's 19th annual Semiconductor of the Year award. The PSoC 4 architecture combines Cypress's PSoC analog and digital fabric and CapSense capacitive touch technology with ARM's power-efficient Cortex-M0 core.
Exar has acquired Cadeka Microcircuits, a global supplier of high-performance analog and mixed-signal semiconductor products, for $29,0 million. With locations in the USA and China, Cadeka provides precision operational amplifiers, instrumentation amplifiers, comparators, filters and data converter products to the medical electronics, aerospace, test and measurement, surveillance and industrial control markets.
Industry
The Semiconductor Industry Association announced that worldwide sales of semiconductors reached $24,70 billion for the month of May 2013, an increase of 4,6% from the previous month. This represents the largest sequential monthly increase in sales for the industry since March 2010. Global sales in May 2013 were 1,3% higher than the May 2012 total, and year-to-date sales in 2013 are 1,5% higher than they were at the same point in 2012.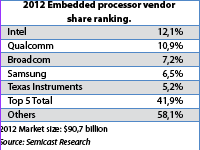 According to preliminary findings from the 2013 edition of Semicast's Embedded Processing Service, Intel was the largest supplier of embedded processors in 2012, just ahead of Qualcomm. Broadcom maintained its position as third largest supplier, while Samsung traded places with Texas Instruments for fourth and fifth respectively. Semicast defines embedded processing to include ASICs, ASSPs, PLDs, FPGAs, 32/64-bit microcontrollers and embedded microprocessors and general-purpose DSPs; compute CPUs and 8/16-bit MCUs are excluded.
Technology
Tektronix announced that its next generation of real-time oscilloscopes will incorporate IBM's latest 9HP silicon-germanium (SiGe) chip-making process, giving its products bandwidth capability of 70 GHz and improvements in signal fidelity. The company's next generation of performance oscilloscopes is due for availability in 2014.
microdrones, a German manufacturer of lightweight vertical take off and landing vehicles (VTOLs), has successfully demonstrated a high-precision aerial journey over the Alps from Switzerland towards Italy with its 5 kg md4-1000 quadrocopter microdrone. Precise GPS coordinates and elevation, crucial for navigating obstacles and completing the flight in punishing weather conditions, was provided by an onboard u-blox GPS satellite receiver module. Equipped with a high-resolution video camera, the autonomous microdrone completed 18 pre-programmed flight segments, mapping designated landmarks along the way.
Lattice Semiconductor announced the introduction of AEC-Q100-certified 'Lattice Automotive (LA)' devices in its award-winning LatticeECP3 FPGA family. The six new devices, delivered in packages as small as 10 x 10 mm, can be used for all classes of automobile as well as automotive aftermarket products.
Further reading:
Buy a Fluke, get one free
28 October 2020, Comtest , News
Comtest, Fluke's official South African importer, is offering one free Fluke for every Fluke purchased from any South African-based, authorised Fluke dealer. Fluke is a world leader in the manufacture, 
...
Read more...
---
Online Ohm's law calculator from Mouser
28 October 2020 , News
The famous Ohm's law states that the current flowing through a circuit is proportional to the voltage applied across both points. Mouser Electronics' online Ohm's law calculator saves engineers time by 
...
Read more...
---
From the editor's desk: Where monsters, viruses and technology meet
25 November 2020, Technews Publishing , News
I clearly remember the moment it really sank in that the world as we know it has become almost unrecognisable from a year ago. It would be hard not to remember really, because it happened only two days 
...
Read more...
---
Clearing the Static
28 October 2020, Actum Group , News
ESD training and compliance
According to Desco Industries, electrostatic discharge (ESD) can change the electrical characteristics of a semiconductor device, degrading or destroying it entirely. ESD 
...
Read more...
---
SA project receives international energy award
25 November 2020 , News
South Africa's largest energy efficiency initiative, the SA Industrial Energy Efficiency Project, has won the highest international accolade for an energy programme – the International Energy Project 
...
Read more...
---
Intelsat brings space STEM to students in Africa
25 November 2020 , News
Intelsat is partnering with XinaBox to deliver space-focused science, technology, engineering and mathematics (STEM) learning tools to teenagers across the African continent. Intelsat is sponsoring 
...
Read more...
---
DesignSpark racks up one million members
25 November 2020 , News
RS Components recently marked a significant milestone when its DesignSpark engineering platform surpassed one million members. This comes just a few months after DesignSpark celebrated ten years of 
...
Read more...
---
Personality profile: Dereck Styane
25 November 2020, Phoenix Contact , News
"We do try and develop people and promote them from within the company, so I savour people's personal growth that I've overseen."
Read more...
---
MTN and Siyavula enabling maths and science learners
25 November 2020 , News
Lockdown or no lockdown, South African learners will do what it takes to ensure that they are ready for their year-end exams. So says the MTN SA Foundation, which partnered with digital teaching and learning 
...
Read more...
---
Production Logix appoints new business development manager
25 November 2020, Production Logix , News
KwaZulu-Natal based electronics contract manufacturer, Production Logix, is broadening its scope and sharpening its focus as it expands its footprint across South Africa and into southern Africa. As part 
...
Read more...
---