Würth Elektronik eiSos is well known as a manufacturer of electronic and electromechanical components for the electronics industry.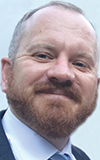 Jason Page.
Part of the global market leader in fastener technology, Würth Group, the company currently employs 8300 people and generated sales of 926 million Euros in 2017. We sat down with Jason Page, who has been spearheading the company's South African operations since mid-2017, to find out more about what it can offer the local industry.
The components in Würth Elektronik eiSos' catalogue include EMC components, capacitors, inductors, RF inductors, LTCC components, transformers, components for circuit protection, power modules, LEDs, wireless connectivity, connectors, switches, high-power contacts and assembly products. But as one of Europe's largest manufacturers of passive components, it sets itself apart from other component manufacturers in a number of ways, Page explains.
"All our catalogue products are available from stock, and we offer a free sample service with delivery within 2-4 days, as well as design kits with free refills," he says. "What is more, we require no minimum order quantity (MOQ) and we guarantee that we have stock on hand for 98% of our portfolio. We also make purchasers' lives easier by offering a 30-day cancellation policy on orders, and we assist customers with forecasting to help them maintain their stock levels.
"We support designers through our highly knowledgeable technical sales force and field application engineers (FAEs) in addition to offering free EMC and power seminars." Another way of providing engineers with design expertise is via application manuals such as 'Trilogy of Magnetics', 'ABC of Capacitors', 'Trilogy of Connectors' and 'Simulation in LTspice IV', providing professionals and other interested parties with a compendium of practice-oriented expertise which is unique of its kind. The company also offers software tools for selection of components, and collaborates with leading IC manufacturers to develop reference designs.
Another, less well known fact is that Würth Elektronik eiSos is one of Europe's leading manufacturers of printed circuit boards (PCBs), providing electronics developers with PCBs in all conventional technologies. Over 120 new printed circuit board designs pass through its production every day, from the initial idea for a system, such as within the scope of development projects, to samples and prototypes, right through to series production in medium and large volumes.
"Würth Elektronik eiSos has a reputation for being expensive, but we pride ourselves on being a premium brand of guaranteed high-quality products, and on treating all our customers – whether they be Tier 1, 2 or 3 – exactly the same. We are active with direct sales in 50 countries across the world, and our 17 manufacturing facilities located in all important markets worldwide guarantee the rapid delivery of components. This ensures that we can always deliver on our motto: more than you expect!" Page concludes.
For more information contact Jason Page, Würth Elektronik eiSos, +27 71 259 9381, jason.page@we-online.com, www.we-online.com