printer friendly version
Development kits for students and hobbyists
14 November 2018
Computer/Embedded Technology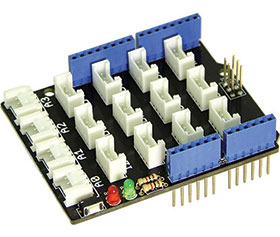 RS Components has introduced new ranges of tools from Seeed Studio, Arduino and Bare Conductive that target academic institutions, including educators and students of electronics, as well as inspiring electronics design engineers with new projects and prototypes.
The first launch is the Seeed Studio hardware innovation platform, which specialises in open-source electronic modules and embedded devices for designers and makers. The platform includes the Grove series of modules and starter kits, including the GrovePi+ starter kit for Raspberry Pi, and the BeagleBone Green.
The Grove series is a collection of single-function modules with standardised connectors. The system offers a user-friendly, building-block approach to simplify the building of circuits without solder or breadboards. Each module comes with documentation and demo codes. Grove starter kits also include expansion boards for microcontrollers such as the Arduino Uno and a selection of Grove modules.

The BeagleBone Green is a Linux-based development board that is designed for fast interaction with general-purpose I/O and is based on the open-source hardware design of the BeagleBone Black. It includes two Grove connectors, enabling the connection of the board to sensors without requiring a daughter card. In addition, the Grove starter kit for BeagleBone Green contains ten modules and three step-by-step guides to help users quickly build their projects.
The second product now available from RS is the Arduino Engineering Kit, which targets a range of users including students learning about engineering at a university or at a secondary school; engineering professors that want practical resources to demonstrate engineering concepts; and makers with an interest or background in engineering, either professionally or as a hobby.
In conjunction with the Arduino online platform, the kit includes three Arduino-based projects to help students learn about fundamental engineering concepts, key aspects of mechatronics, and MATLAB and Simulink programming for system modelling and embedded algorithm development. Buildable projects in the kit include a self-balancing motorcycle, a mobile rover and a whiteboard drawing robot. The kit includes an easy-to-use Arduino MKR1000 board, several customised parts and a complete set of components required to assemble all three projects.
Lastly, RS has also made available three educational kits that use conductive paint from Bare Conductive: the 'Printed Sensors' set comprises three A5 printed sensors and enables users to integrate touch sensors into any project; the Lamp Kit enables the building of touch, dimmer and proximity lamps; and the Pro Kit includes all the required tools and resources to prototype electric paint and touch board projects.
Credit(s)
Further reading:
Waterproof touchscreen keyboard console
26 February 2020, Brandwagon Distribution , Computer/Embedded Technology
The industrial IP65-rated keyboard console from Digisign features a high-performance fanless processor and a user-friendly IP65 touch monitor, making it a modern solution for industrial automation and 
...
Read more...
---
NVIDIA-powered computing for AI at the edge
26 February 2020, Altron Arrow , Computer/Embedded Technology
The AI revolution is transforming industries, reaching products that are smaller and more affordable than ever before. Many companies have been constrained by the challenges of size, power, and AI compute 
...
Read more...
---
Silicon Labs makes µC/ RTOS open source
29 January 2020, NuVision Electronics , Computer/Embedded Technology
Silicon Labs has announced a new open-source licensing model for the Micrium µC/ family of RTOS (real-time operating system) components. By adopting permissive licence terms for the µC/ components, the 
...
Read more...
---
Printer for professional 3D printing
EMP 2020 Electronics Manufacturing & Production Handbook, RS Components (SA) , Manufacturing / Production Technology, Hardware & Services
The Ultimaker S5 3D printer targets the professional end of the market across a number of applications, and meets engineering requirements from the creation of prototypes to full end-use, industrial-grade 
...
Read more...
---
Rugged single-board computer
25 November 2019, ETION Create , Computer/Embedded Technology
ETION Create released the 2nd in its family of 3U OpenVPX COTS modules. The VF370 3U OpenVPX single-board computer (SBC) is based on the Intel Atom E3900 series of embedded processors and Intel Cyclone 
...
Read more...
---
Signal recorder for military intelligence
25 November 2019, Rugged Interconnect Technologies , Computer/Embedded Technology
A new addition has been made to the family of Talon signal recording and playback systems from Pentek. The RTR 2654 26,5 GHz RF Sentinel intelligent signal scanning rackmount recorder combines the power 
...
Read more...
---
3-channel RGB LED lighting shield
25 November 2019, Altron Arrow , Computer/Embedded Technology
The XMC 3-channel RGB LED lighting shield from Infineon Technologies is an evaluation board compatible with Arduino as well as Infineon's XMC1100 Boot Kit. It is designed to be easily configurable and 
...
Read more...
---
Solderless robotics kit for university education
25 November 2019, Avnet South Africa , Computer/Embedded Technology
Texas Instruments introduced the newest addition to the TI Robotics System Learning Kit (TI-RSLK) family, the TI-RSLK MAX, a low-cost robotics kit and curriculum that is simple to build, code and test. 
...
Read more...
---
Beware! Identity is the new gold – and criminals know it
23 October 2019, RS Components (SA) , News
Stolen identity is a highly potent tool for fraudsters, as a recent Carte Blanche insert featuring RS Components revealed. A buyer approached us to procure equipment on credit to the tune of R1,5 million. 
...
Read more...
---
3D printer for rapid prototyping
23 October 2019, RS Components (SA) , Manufacturing / Production Technology, Hardware & Services
RS Components is shipping the latest version of the MakerBot 3D printer – the MakerBot Method – which has been designed to bridge the gap between industrial and desktop 3D printing. The unit targets engineers 
...
Read more...
---