New to Mini-Circuits' power sensor range is the PWR-8P-RC, a compact sensor-head that turns any PC into a high-performance power meter for peak and average measurements of CW and pulse modulated signals. The sensor has an 80 dB input dynamic range and wide bandwidth, allowing measurement of RF powers down to -60 dBm over 10 to 8 000 MHz.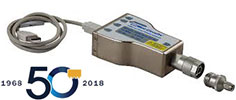 The USB HID interface is plug-and-play compatible, meaning no driver installation is required, while the additional Ethernet interface allows remote power measurements over a network. Full software support is provided, including a user-friendly GUI application for Windows and a full API with programming instructions for Windows and Linux environments (both 32-bit and 64-bit systems).
One of the key features of the PWR-8P-RC is its external trigger controls and video output. The trigger in and out ports support precise synchronisation with external test equipment and allow capture of irregular signal patterns and pulses. Video output allows the sensor to be used in ALC loops.
Typical applications for the PWR-8P-RC are pulse profiling and statistical signal analysis, radar characterisation (VHF/UHF/L/S/C bands), particle accelerator experimentation, signal level calibration in production test systems and power monitoring in remote installations/base-stations.
For more information contact Conical Technologies, +27 66 231 1900, daniel.haywood@conical.co.za, www.conical.co.za