printer friendly version
EMI shielding solutions
30 January 2019
Circuit & System Protection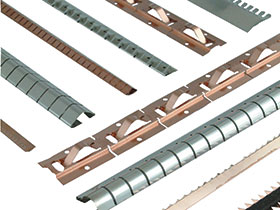 Laird Technologies supplies a range of EMI protection, shielding and electromagnetic compatibility (EMC) products for suppressing interference and meeting immunity requirements; isolating offending circuits through filtering, grounding and shielding, and desensitising devices by increasing their immunity to susceptible circuits. This product range includes the following:
Electrically conductive elastomers, ideal for applications that require environmental and EMI shielding. A wide range of conductive filler materials is available in extruded, moulded die-cut, dispensed form-in-place, printed and coated formats.
Form-in-place gaskets, produced by an automated system for dispensing conductive elastomer EMI shielding and grounding gaskets onto metal plastic substrates. It is ideal for mobile phones, PDAs, PC cards, cellular base-stations, radios, and many other compartmentalised casts or plastic enclosures and packaged electronic assemblies.
Wire mesh gaskets which are versatile and provide effective shielding. Knitted gaskets can be made from a variety of metal wires, including monel, tin-plated copper-clad steel or aluminium.
For board-level shielding, Laird offers a traditional metal enclosure, single- and two-piece EZ Peel, as well as new convergence products. The latter incorporates a stamped metal housing and over-moulded, electrically conductive elastomer, or thermal interface material, that is designed to meet the specific needs of an application.
Microwave absorbing materials are coatings with electrical or magnetic properties that have been altered to allow absorption of microwave energy at discrete or broadband frequencies. Laird offers a wide range, including die-cut elastomers, foam, thermoplastics and custom solutions to aid in internal cavity resonances, antenna pattern shaping and high-frequency interference.
Finger strips for enclosure doors, cabinets and boxes, made from an alloy selection that provides an optimal combination of spring and low compression force to meet a wide variety of applications. These solutions offer excellent corrosion resistance, solderability and palatability. They are effective for EMI shielding and can be used in a variety of slotted and grounding contact applications.
Also available is a lineup of fabric-over-foam shielding gaskets, conductive foam, conductive fabric and conductive tape. Fabric-over-foam gaskets are galvanically compatible with most mating surfaces, and offer high abrasion and resistance, high conductivity and shielding attenuation. They are ideal for applications requiring low-pressure force.
Finally, conductive foam provides effective EMI shielding for microprocessor speeds in computer and telecommunications equipment. Conductive fabric combines highly conductive metals with lightweight fabric to meet a diverse range of shielding requirements. Conductive tape shielding is lightweight, thin and flexible, and offers excellent conductivity, conformability and durability.
Credit(s)
Further reading:
Clearing the Static: ESD wrist straps
29 July 2020, Actum Electronics , News
The human body is the primary source of electrostatic charge generation. In order to control and reduce static charge build-up and prevent electrostatic discharges (ESD), we use grounding systems to ensure 
...
Read more...
---
3 kW TVS diode arrays
30 June 2020, Avnet South Africa , Circuit & System Protection
To ensure critical operations, aviation and space systems rely on digital and logic functionality and circuitry in engine control units, environmental controls, instruments and actuators. Data centres, 
...
Read more...
---
Clearing the Static: Curb the spread of COVID-19 with stringent floor hygiene
30 June 2020, Actum Electronics , News
According to the World Health Organisation (WHO), COVID-19 is primarily transmitted from person to person through respiratory droplets that emerge from the nose and mouth when an infected person speaks, 
...
Read more...
---
EMI/RFI shielding cable ties
29 May 2020, Actum Electronics , Interconnection
BAND-IT EMI cable ties have been designed and manufactured to excel in mission-critical applications, such as Mil/Aero EMI/RFI (electromagnetic interference/RF interference), for the past 30 years.  
...
Read more...
---
Integrated EMC line filters and design kit
29 May 2020 , Circuit & System Protection
Würth Elektronik provides solutions to help prevent EMI problems with non-compliant equipment. It offers complete WE-CLFS EMC line filters that have most components one needs for an EMC filter inside 
...
Read more...
---
Advanced EMI shielding solutions
29 May 2020, Actum Group , Circuit & System Protection
All electronic devices generate electromagnetic radiation that can be transmitted through the air from one electronic device to another. This is known as electromagnetic interference (EMI). In certain 
...
Read more...
---
Dual-channel high-speed protector
29 April 2020, Electrocomp , Circuit & System Protection
Bourns announced the release of the Model TBU-RS085-300-WH, for use in RS-485 communication interface protection. The part is an integrated dual-channel transient blocking unit (TBU) over-current and 
...
Read more...
---
Reliably protect LED applications
29 April 2020, Phoenix Contact , Circuit & System Protection
The Type 2 surge protective device from the Blocktrab series from Phoenix Contact protects all lighting systems and is particularly suitable for LED applications. LED technology has become indispensable 
...
Read more...
---
Rectifier chip diodes
25 March 2020, Electrocomp , Circuit & System Protection
Portable electronics, communications, computing and video equipment manufacturers are challenging the semiconductor industry to develop increasingly power efficient solutions with smaller electronics 
...
Read more...
---
Steering diode/TVS array for display interfaces
25 March 2020, Altron Arrow , Circuit & System Protection
ProTek Devices has introduced a new steering diode transient voltage suppressor (TVS) array for circuit protection across popular consumer electronic display interfaces. The new PUSB403 device is ideal 
...
Read more...
---