printer friendly version
Keysight releases new DAQ system
30 January 2019 Test & Measurement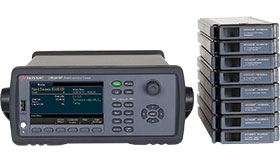 The DAQ970A data acquisition system (DAQ) has been released by Keysight Technologies to speed test development times with rapid measurement and scan rates, expanded measurement types and ranges, as well as simple test sequence automation.
Increasing product design complexity necessitates new and challenging test requirements. The DAQ970A leverages the company's BenchVue DAQ application software to facilitate rapid creation of automated tests, instrument control to set parameters and status alerts, and simple analysis of measurement results.
Embedded test flow capabilities automate DAQ setups and measurements into test sequences, while a new, intuitive graphical front panel display offers self-guiding menus that enable test engineers to quickly perform all tasks directly from the instrument.
The instrument achieves up to 5000 readings/sec and scan rates up to 450 channels/sec. It focuses on improved measurement accuracy via an advanced 6 ½ digit internal digital multimeter and auto-calibration that compensates for internal drifts caused by time and temperature changes.
Comprehensive testing of a greater number of designs is possible, with expanded measurement capabilities and ranges for voltage (300 V), current (1 μA d.c., 100 μA a.c.), resistance (1000 MΩ), diode and capacitance (1 nF – 100 μF).
Multiple format displays (number, bar, meter, trend chart and histogram) are possible to easily monitor measurement results.
A new solid-state switching multiplexer module provides faster scanning rates and longer lifespan than multiplexers with mechanical relays.
For more information contact Tshiamo Mogakwe, Concilium Technologies, +27 12 678 9200, info@concilium.co.za, www.concilium.co.za
Credit(s)
Further reading:
Modular, portable 5G RF spectrum analyser
Test & Measurement
EXFO recently introduced the 5GPro spectrum analyser, representing what it claims is the only modular, field-focused RF testing solution providing accurate visibility into 4G/LTE and 5G NR environments 
...
Read more...
---
RF receiver for spectrum regulators
Measuretest Test & Measurement
CRFS announced the launch of a new high-performance RF receiver, the RFeye Node 40-8, specifically designed to meet the needs of communications regulators. With a 40 MHz instantaneous bandwidth and 9 kHz 
...
Read more...
---
Single-instrument test solution for 5G IoT verification
Coral-i Solutions Test & Measurement
Anritsu has introduced the radio communication test station MT8000A 5G entry model, a single-instrument solution that supports multiple radio access technologies (RATs) of LTE through 5G NR. The 5G entry 
...
Read more...
---
Mixed-signal oscilloscopes with flexible resolutions
Comtest Test & Measurement
Pico Technology released the PicoScope 6000E Series FlexRes oscilloscopes, featuring eight channels with 500 MHz bandwidth, 16 digital channels and resolution of 8, 10 or 12 bits. The products work with 
...
Read more...
---
Critical airborne system testing from a single device
Measuretest Test & Measurement
New from Viavi Solutions is the AVX-10K flight line test set, enabling comprehensive performance verification testing of critical airborne systems from a simple-to-use device. The instrument helps avionics 
...
Read more...
---
PTP wander measurement for improved 5G network synchronisation
Coral-i Solutions Test & Measurement
Anritsu has added a function for PTP wander – a metric for evaluating frequency variations as low as 10 Hz with respect to the PTP (precision time protocol) network time synchronisation error – to the 
...
Read more...
---
IO Ninja adds flexibility with capabilities and subscriptions
RF Design Test & Measurement
The release of IO Ninja version 5.0 marks an opportune point for embedded designers to join the scores of professionals who have already adopted IO Ninja at Facebook, Siemens, Mitsubishi and many other 
...
Read more...
---
Using waveguide shorts and shims for RF testing
RF Design Test & Measurement
For many RF test applications in the higher frequencies, such as millimetre-waves, or for high-power use cases, rectangular waveguides are the interconnect solution of choice. In a similar vein to short-open-load-through 
...
Read more...
---
True RMS digital multimeter
Vepac Electronics Test & Measurement
The new PeakTech 2025 A offers a multitude of measurement functions for electrical variables for industry, trade, training, hobbyist and laboratory users. Of particular note is the integrated data interface, 
...
Read more...
---
First verified OTDOA positioning test for 5G NR
Coral-i Solutions Test & Measurement
The industry's first OTDOA (observed time difference of arrival) protocol conformance test for 5G New Radio (NR) has been verified with a device containing the MediaTek M70 5G modem and the Anritsu ME7834NR 
...
Read more...
---