Aaronia's flagship EMC spectrum analyser is the Spectran NF series, suitable for pre-compliance and EMC/EMI tests up to 30 MHz. The NF-5030 model comes as part of the company's Pro Bundle 2 and Pro Bundle 3, and a wide range of additional options helps to optimise the analyser's functionality.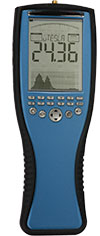 The user can use the analyser to detect sources of interference, find out more about their causes, determine the frequency and intensity of the signal sources, measure limits and boost the functionality using high-end PC software. All NF Spectran units are equipped with Aaronia's advanced REAL 3D (isotropic) magnetic sensor.
The instruments offer a USB interface with real-time remote control via a PC or MAC. The free analyser software, which is available for MAC OS, Linux and Windows, transforms any Spectran into a powerful measurement solution with features such as recording, multiple window display, histogram, waterfall diagram, unlimited number of markers, enhanced limits display, and more.
The spectrum analyser features advanced limits display through a simple push of the limits button on the spectrum analyser. The internal high-performance digital signal processor (DSP) constantly calculates the limits and displays the results in real-time.
All Spectrans are developed, individually produced and calibrated in Germany at the Aaronia factory. This ensures the highest standards and allows the company to offer a full 10-year warranty on all units.