In order to offer a compact test fixture solution, Ingun's manual test fixtures MA 350/F, MA 360/F, MA 260/F and MA 160/F were designed for testing small PCB series. These compact units not only meet customers' expectations regarding a robust design with convenient accessibility in the contacted state, but also expectations with regard to complete contacting of up to 150 test points with up to 2,0 N spring force per probe.
The exchangeable kits are available as standard- or ESD-version, and offer a maximum usable area of 160 x 100 mm – insertable without the use of any tools within seconds and without post adjustment. The flexible housing is open on the bottom side and can be removed completely. INGUN offers startup kits for individual customisation by the customer.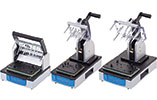 Also available are the new manual test fixtures of the MA 32xx series for high-volume production and rough field applications. They boast especially high contacting force application up to 2000 N, parallel stroke of 22 mm, integrated intermediate interface, replacement kits and upgrade capabilities with optionally available additional components.
The manual test fixtures of the MA 32xx series are available in the popular sizes MA 3211, -12, -13, -13T and -14, and are also available with the common test system interfaces which are compatible with the replacement kits of the MA 21xx series.