The G6 vector signal generator from Transcom Instruments can generate arbitrary wave, continuous wave, common vector, digital, standard wireless vector, standard radio and custom signals.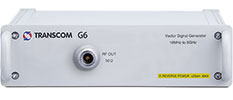 Covering a frequency range from 10 MHz to 6 GHz, the G6 is applicable for educational practices, wireless monitoring, mobile communication, aerospace and the defence industry in terms of research, manufacturing, testing and measurement, and electronic countermeasures.
The instrument covers a full range of common digital modulation techniques, including BPSK, QPSK, OQPSK, 8PSK, 16QAM, 32QAM, 64QAM, MSK, FSK, output linearity, log scan and multiple modulation mode. A flexible integration interface allows custom data to be input to the module to generate custom signals, and control is possible via a USB port.
For more information contact Andrew Hannay, RFiber Solutions, +27 82 494 5466, sales@rfibersolutions.com, www.rfibersolutions.com