printer friendly version
Locally developed automatic pool cleaning system
27 March 2019
News
An innovative automatic pool cleaning system has been launched by South African company Pro Automation, after attracting interest through its Indiegogo campaign as well as funding from other sources.
Targeting an estimated South African market of around 900 000 domestic swimming pools, the device, called PoolSense, floats in a pool and regularly samples and transmits the quality of the water and delivers simple dosing instructions to an app on the user's phone.
According to Dave Wibberley, founder and advisor to Pro Automation and a well-known professional in the industrial automation marketplace, Internet of Things (IoT) technologies played a big part in the development of PoolSense. "The Internet of Things, combined with low-power networks like Sigfox, has enabled this development," he states.
"We could finally get to a price point that makes a device like PoolSense available to everyone who owns a pool. PoolSense will not be a 'nice-to-have' device for techies but we believe every pool owner will have one floating in their pool over the next five years, because it will pay for itself and take out the hassle of manually measuring and the guesswork of just how much, of what chemical, to add to maintain a perfect pool all year round."
The device continuously measures temperature, pH, oxidation reduction potential (ORP) and conductivity, and regularly transmits this data to the cloud. From there the data is continuously run through a self-learning algorithm that effectively understands how a pool responds to the addition of chemicals as requested by the app. Thus the system becomes better and better at making intelligent decisions around optimising just how much acid and chlorine the user needs to add.
Heinrich Heeson, managing director of Pro Automation, continues, "I am a technical guy and joining forces with Dave brought a big thinking marketing aspect to the business. We share a common vision of where we want this business to be in five years and are actively going ahead. The technology seems simple but pool chemistry is not a science as much as a dark art, and combining engineering principles with big data has allowed us to deliver a practical solution to a large, common problem: maintaining your pool at the correct balance of pH and chlorine levels."
The company also believes PoolSense will play a part in revitalising local pool shops and maintenance businesses, which can use it to rebuild and reconnect with their customers by offering chemical restocking, calibration and even proactive maintenance services.
A maintenance company can install and monitor, and then structure their visits based on the condition of customers' pools, from their phone or from a PC. Multiple PoolSense devices can be loaded and the view can be sorted automatically by the worst in the list to the closest geographically – adding efficiencies never available to them before.
After being in development for two years, fully industrialised and commercialised PoolSense units started shipping in March 2019.
The development process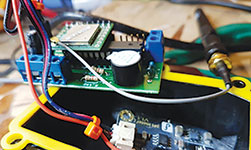 One of the prototype boards used.
The device started on a Raspberry Pi communicating to a probe using Modbus. As development continued, the team realised that from a power consumption standpoint, it needed to go for far closer connectivity and have the sensors talk directly to the processor.
After choosing Sigfox as its IoT network, the second-generation product was built on a Sigfox development board before being moved onto a custom designed and built prototype in order to better understand the power requirements. The unit needed to last at least two years autonomously in a sealed unit, as the life of the pH probes are only guaranteed for that length of time by the manufacturer.
The team consisted of a technical development team, and a commercialisation team responsible for marketing. All team members are part-timers except for the operations manager, Kevin Herbert, who is fulltime employed to 'pull it all together'.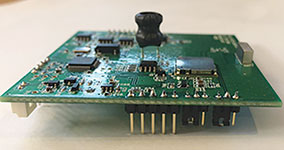 Final circuit board design.
The technical development made up roughly 50% of the resources required; the balance was on the marketing, sales, money management and fundraising efforts required to pre-sell 150 units through the Indiegogo crowdfunding platform.
The choice to keep the manufacturing local meant that Pro Automation needed to find development partners who could do final board design, manufacture the boards, design and manufacture the complex plastic injection moulds, and produce to world-class standards. "We ended up using partners who helped tremendously in this very difficult phase of the product, and can't speak more highly of the partners we chose and were extremely encouraged by the level of South African technical ability."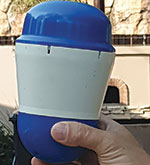 Final design of PoolSense.
Commercialisation and funding
After prototyping, a grant was applied for and granted through the Innovation Hub, based in Pretoria. "The Innovation Hub have been fantastic and whilst they are thorough and you need to ensure all the paperwork is in place, they have been a fantastic development agency," says Wibberley. "They have paid on time and offered legal and commercial support throughout the development process. I can't stress enough to anyone with a great idea, needing seed funding, that the first stop should be there."
The second phase of the funding was done through the Indiegogo crowdfunding campaign, where the first 100 units were discounted in order to raise money for production. "We raised enough cash through direct sales and the crowdfund to pay for the production of the first 150 units that started shipping in mid-March 2019. A lot of international enquiries were received from Europe, Australia and Asia as all of these areas support the Sigfox network," Wibberley continues.
The product has already won some awards from the Innovation Hub and has made the finals of the 2018 MTN IoT Awards that will take place in September this year.
For more information contact Kevin Herbert, Pro Automation, +27 82 605 8260, kevin@proautomation.co, www.poolsense.net
Further reading:
Buy a Fluke, get one free
28 October 2020, Comtest , News
Comtest, Fluke's official South African importer, is offering one free Fluke for every Fluke purchased from any South African-based, authorised Fluke dealer. Fluke is a world leader in the manufacture, 
...
Read more...
---
Online Ohm's law calculator from Mouser
28 October 2020 , News
The famous Ohm's law states that the current flowing through a circuit is proportional to the voltage applied across both points. Mouser Electronics' online Ohm's law calculator saves engineers time by 
...
Read more...
---
Clearing the Static
28 October 2020, Actum Group , News
ESD training and compliance
According to Desco Industries, electrostatic discharge (ESD) can change the electrical characteristics of a semiconductor device, degrading or destroying it entirely. ESD 
...
Read more...
---
Coalition calls on European Commission to postpone SCIP deadline
30 September 2020 , News
A coalition of 40 industry organisations has written a letter to European Commission President Ursula von der Leyen calling for decisive action to solve implementation issues within the EU Waste Framework 
...
Read more...
---
Follow this engineering journey of a 3D-printed boat
30 September 2020, RS Components (SA) , News
RS Components is releasing a 10-episode documentary series – titled SeaQuest – featuring members of its DesignSpark engineering community who embarked on a first-of-its-kind challenge to design, test 
...
Read more...
---
Mouser revamps technical resource centre
30 September 2020, TRX Electronics , News
Mouser Electronics has redesigned its Technical Resource Centre, which contains the global distributor's ever-expanding collection of technical articles, blogs, eBooks, and Methods technology and solutions 
...
Read more...
---
From the editor's desk: Electric and autonomous vehicles driving full-speed ahead
28 October 2020, Technews Publishing , News
I still can't stop myself from doing a double-take when I hear that Tesla is rolling out a software update to add some sort of new functionality to its cars. Some of those updates are pointless show-off 
...
Read more...
---
Electronics news digest
28 October 2020 , News
South Africa
• The Department of Defence (DoD) has appointed a special team, called 'Save Denel' to investigate Denel's financial struggles, and the impact they might have on SA National Defence Force 
...
Read more...
---
Clearing the Static
28 October 2020, Actum Group , News
The Importance of ESD audits
An ESD audit is the first step in establishing an effective static control programme. Before you invest money in new ESD equipment, an ESD audit will help you identify vulnerable 
...
Read more...
---
TRX welcomes Hannes Taute as new MD
28 October 2020, TRX Electronics , Editor's Choice, News
We delve into his background, what his plans for TRX Electronics are, and how he envisions what the future of the local electronics industry will look like.
Read more...
---