printer friendly version
Passive intermodulation analyser
27 March 2019 Test & Measurement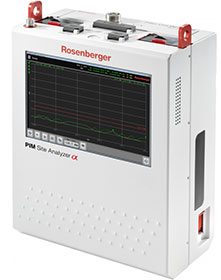 Passive intermodulation (PIM) is one of the main causes of faults in modern networks. PIM can significantly reduce the network quality with regard to range and data transmission. PIM is caused by a number of factors, some of which include inadequate installation, poor component quality, or site-specific elements.
The Rosenberger portable and multifunctional, broadband PIM Site Analyzer is an alternative way to perform accurate, stressed PIM tests on site. By detecting and eliminating interferences, higher data rates, shorter response times and increased network quality can be realised.
The instrument consists of a single master unit with band-specific and interchangeable filter units. No calibration is required when interchanging filters on site. It offers easy plug-and-play setup and covers a frequency range of 700 to 2700 MHz. Its continuous wave (CW) signal simulates real operating conditions of the base station (in conformity with IEC 62037-1). The analyser upholds accuracy of down to 0,3 m for PIM Distance to Fault (DTF) measurement.
Credit(s)
Further reading:
Clearing the Static: ESD wrist straps
29 July 2020, Actum Electronics , News
The human body is the primary source of electrostatic charge generation. In order to control and reduce static charge build-up and prevent electrostatic discharges (ESD), we use grounding systems to ensure 
...
Read more...
---
Smart oscilloscope for faster debug
30 June 2020, Comtest , Test & Measurement
PicoTechnology announced the PicoScope 6000E Series FlexRes oscilloscopes, featuring 8 channels with 500 MHz bandwidth, 16 digital channels, and resolution of 8, 10 or 12 bits. The products work with 
...
Read more...
---
New range of Tektronix DSOs
30 June 2020, Comtest , Test & Measurement
Comtest has released Tektronix's new TBS2000B series of digital storage oscilloscopes (DSOs) that was developed to meet the performance, usability and affordability needs of both engineers and educators. 
...
Read more...
---
Contactless ESD testing and access control unit
30 June 2020, Actum Group , Test & Measurement
In the electronics manufacturing industry, an electrostatic discharge (ESD) can cause irreparable damage to electronic components. This micro-lightning bolt can burn holes through insulating layers and 
...
Read more...
---
How are IR cameras calibrated and how does ambient temperature affect readings?
30 June 2020, Instrotech , Test & Measurement
Infrared thermometers are calibrated with the help of reference radiation sources, so-called 'black bodies'. These radiant sources are able to produce different temperatures with a high stability.  
...
Read more...
---
Thermal monitor for fever screening
30 June 2020, Actum Group , Test & Measurement
The TCSF256 thermal monitor from Actum Group is a fully automated, plug-and-play fever screening unit. It adopts an infrared radiation measurement technique that can measure body temperature by non-contact 
...
Read more...
---
Uncover EMI issues early with simple pre-compliance tests
30 June 2020, Concilium Technologies , Test & Measurement
An effective pre-compliance testing methodology will reduce test cycle times, which ultimately impacts a company's bottom line.
Read more...
---
The promise of 5G wireless communications
30 June 2020, Lambda Test , Test & Measurement
The deployment of 5G services worldwide is driving a massive increase in fibre densification for the required fronthaul and backhaul links interconnecting radio base stations and web-scale core packet networks.
Read more...
---
Clearing the Static: Curb the spread of COVID-19 with stringent floor hygiene
30 June 2020, Actum Electronics , News
According to the World Health Organisation (WHO), COVID-19 is primarily transmitted from person to person through respiratory droplets that emerge from the nose and mouth when an infected person speaks, 
...
Read more...
---
EMI/RFI shielding cable ties
29 May 2020, Actum Electronics , Interconnection
BAND-IT EMI cable ties have been designed and manufactured to excel in mission-critical applications, such as Mil/Aero EMI/RFI (electromagnetic interference/RF interference), for the past 30 years.  
...
Read more...
---