printer friendly version
ERNI hands over D-Sub production
30 April 2019
Interconnection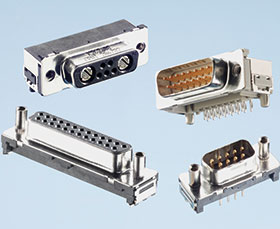 ERNI has discontinued its D-Sub connector portfolio and partnered with Provertha, which will now be manufacturing and selling the D-Sub product portfolio into key markets.
Rudolf Hausladen, group CEO of ERNI International AG, is optimistic about the new partnership. According to a recent article published on ERNI's website he said: "We are very pleased to have gained Provertha as a professional partner with comprehensive expertise who will manufacture and supply ERNI D-Sub products in the usual high quality. This will allow customers to continue their projects and use ERNI resources that become available for other product lines."
Provertha has been manufacturing D-Sub connectors for over 25 years, and will continue to develop and expand the D-Sub connector range.
Actum Electronics, a division of the Actum Group, is the exclusive distributor of ERNI products in South Africa. According to Greg Barron, Actum Group director, the Provertha ownership of D-Sub will not impact local customers: "We would like to assure our customers that Actum Electronics will continue to supply D-Sub connectors locally through our own partnership with Provertha. We will uphold the same level of quality and dedicated customer service when supplying this product as before," says Barron.
About the D-Sub range
The D-Sub/TMC series consists of interface connectors suitable for almost any application. This series offers 9- to 50-pole connectors, five different pin counts and various termination types, which makes it highly flexible and economic. It is available in male and female genders with different termination types, both straight and right angled. This new generation is fully RoHS-compliant.
Credit(s)
Further reading:
Clearing the Static: ESD wrist straps
29 July 2020, Actum Electronics , News
The human body is the primary source of electrostatic charge generation. In order to control and reduce static charge build-up and prevent electrostatic discharges (ESD), we use grounding systems to ensure 
...
Read more...
---
THT-configurable male connectors
30 June 2020, Würth Elektronik eiSos , Interconnection
WR-FAST Fast Connection is the name of a series of THT-configurable male connectors for accommodating single wires with blade receptacles – for example in household appliances. The new connectors are 
...
Read more...
---
Hybrid and pneumatic modules for modular connectors
30 June 2020, RF Design , Interconnection
Smiths Interconnect has extended its L modular connector series with the addition of two new module types that complete the company's wide offering of modular solutions. The L Series of modular connectors 
...
Read more...
---
High-speed backplane interconnect solutions
30 June 2020, IPD Electronics , Interconnection
TE Connectivity's high-speed backplane connectors offer the flexibility and performance needed for a range of datacom applications, including servers, switches, routers, and optical transport. The company's 
...
Read more...
---
High-density multicoax cable assemblies
30 June 2020, RFiber Solutions , Interconnection
Withwave's high-speed and high-density multicoax cable assemblies (WMX Series) provide a wide range of multiple coax connectors and flexible cable assemblies with a choice of 20, 40, 50 and 67 GHz configurations 
...
Read more...
---
Circular connectors for power, signals and data
30 June 2020, TRX Electronics , Interconnection
Standardised circular connectors have become the industry standard across a wide range of applications. Customers can find the right option for their most innovative designs with Phoenix Contact's PLUSCON 
...
Read more...
---
Rugged fibre connectors
29 July 2020, TRX Electronics , Interconnection
TE Connectivity's ruggedised fibre optics bring the benefits of optical technology to challenging environments, providing more bandwidth, more distance and more performance. TE's offering includes 
...
Read more...
---
Clearing the Static: Curb the spread of COVID-19 with stringent floor hygiene
30 June 2020, Actum Electronics , News
According to the World Health Organisation (WHO), COVID-19 is primarily transmitted from person to person through respiratory droplets that emerge from the nose and mouth when an infected person speaks, 
...
Read more...
---
EMI/RFI shielding cable ties
29 May 2020, Actum Electronics , Interconnection
BAND-IT EMI cable ties have been designed and manufactured to excel in mission-critical applications, such as Mil/Aero EMI/RFI (electromagnetic interference/RF interference), for the past 30 years.  
...
Read more...
---
How are end-launch PCB connectors useful?
29 April 2020, RF Design , Interconnection
There has been an increasing use of RF coaxial connectors, especially microwave and millimetre-wave coaxial connectors, for high-speed digital and precision sensing applications, There is also a growing 
...
Read more...
---