printer friendly version
Connectors for harsh vibrations and shocks
30 April 2019
Interconnection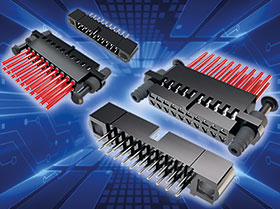 Capable of withstanding a 10 G vibrational force for a period of 6 hours, the components in Harwin's new M225 connector series are intended for industrial deployment.
These compact cable-to-board connectors feature a robust construction for prolonged operational lifespan, thanks to their glass-reinforced polyphenylene sulfide (PPS) enclosures, with a 100 MΩ minimum insulation resistance ensuring continued signal integrity.
They have a double-row contact arrangement with a 2 mm pitch – enabling mating of their through-board PCB male connectors to the corresponding female crimp connectors – with an array of different wire sizes (from #22 AWG to #28 AWG) being accommodated.
Each tin-plated copper alloy male contact has a current rating of 3,3 A (3,0 A when all contacts are electrically loaded simultaneously) and a maximum contact resistance of 25 m. When mated, the single-piece female contacts each have three surfaces touching the corresponding male pin. This means that reliable interconnection is maintained, even when placed in the most uncompromising of application settings and under extremely challenging working conditions.
A rapid mate-before-lock retention system has been developed to increase mated connector holding force and assist with vibration resilience. The female connector is fitted with rubber retainers, and locking pins are supplied loose. These pins are pushed into the rear of the mated female connector, and subsequently expand the rubber retainers to grip onto the male connector.
There are shrouded contacts on both the male and female connector elements to prevent damage, while polarised housings safeguard against the possibility of mismating. The female crimp contacts are available on reels (for high-volume automated production) or loose (for prototyping purposes), with a hand crimp tool offered for low-volume.
An operational temperature range of -55°C to +125°C is covered and a 50 mating cycle lifespan supported. These components are aimed at factory automation and processing machinery, industrial drives, robotics, test/monitoring instrumentation, handheld test equipment and industrial automation controls.
Credit(s)
Further reading:
How are end-launch PCB connectors useful?
29 April 2020, RF Design , Interconnection
There has been an increasing use of RF coaxial connectors, especially microwave and millimetre-wave coaxial connectors, for high-speed digital and precision sensing applications, There is also a growing 
...
Read more...
---
IP68 circular connectors
29 April 2020, IPD Electronics , Interconnection
Sure-Seal 7/8" IP68 connectors are designed for both signal and high-current applications. They are compatible with industrial mini-change connectors and are sealed to an IP68 rating. These 7/8" IP68 
...
Read more...
---
Micro-miniature circular connectors
29 April 2020, IPD Electronics , Interconnection
Available from local distributor IPD Electronics via its agreement with PEI-Genesis, Amphenol 2M series micro-miniature connectors are fully guaranteed to be intermateable with Glenair Mighty Mouse connectors. The 
...
Read more...
---
Automotive-grade MLCCs
29 April 2020, TRX Electronics , Passive Components
Yageo's automotive grade MLCC (multilayer chip capacitor) AC/AS series is AEC-Q200 qualified as well as MIL-STD-020D tested to ensure its reliability under various temperatures (from -55°C to +150°C) 
...
Read more...
---
Board-mount pressure sensors
29 May 2020, TRX Electronics , Analogue, Mixed Signal, LSI
The ABP series of board-mount pressure sensors from Honeywell are fully calibrated and temperature compensated for sensor offset, sensitivity, temperature effects and accuracy errors (which include non-linearity, 
...
Read more...
---
RF/microwave connectors for wide frequency ranges
29 May 2020, RFiber Solutions , Interconnection
Withwave, a supplier of versatile RF and microwave test solutions, offers a range of SMPM connectors covering 26,5 to 67 GHz. The connectors cover wide frequency ranges from RF to microwave with excellent 
...
Read more...
---
High-density ZIF connectors
25 March 2020, IPD Electronics , Interconnection
Available from IPD Electronics through its distribution agreement with PEI-Genesis, ITT Cannon's DL connector family is a versatile, high-density zero insertion force (ZIF) connector series with up to 
...
Read more...
---
2 mm connectors for board signal transfers
29 April 2020, TRX Electronics , Interconnection
TE Connectivity is expanding its range of AMPMODU interconnection solutions with the introduction of 2 mm centreline board connectors. These new connectors occupy 38% less space than traditional 2,54 
...
Read more...
---
Tactile switches for demanding applications
29 April 2020, Brabek , Interconnection, Switches, Relays & Keypads
The Multimec switch from APEM has been designed with the intention to manufacture the best possible switch. The company's automatic production lines have 100% in-line testing, but before the parts get 
...
Read more...
---
RF connectors and cable assemblies
25 March 2020, IPD Electronics , Interconnection
Sure-Seal's RF connector series offers an excellent waterproof connector solution for harsh environment communication systems. Connectors and cable assemblies are available in a variety of permutations 
...
Read more...
---