printer friendly version
The making of low-PIM coaxial cable assemblies
30 April 2019
Interconnection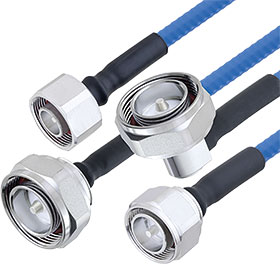 Modern complex multi-carrier communication systems such as these are now incredibly wideband and support a plethora of wireless standards, such as Wi-Fi, cellular, military, government, public safety and emergency bands. And there is only an expanding number of sub-6 GHz wireless standards and technologies, including Internet-of-Things (IoT) devices, new 5G-NR sub-6 GHz services, TV white space (TVWS) devices, and more.
Many of these standards cover frequencies that, if mixed by passive means, would cause distortion in any of the other bands. The greater the bandwidth of a system, the more potential for PIM distortions to cause reduced throughput, loss of service, and even system failures.
Hence, low-PIM coaxial cable assemblies comprised of both low-PIM cable and low-PIM connectors are being employed more often as jumpers and interconnects between wireless system components. The value of low-PIM cable assemblies is that they are tested, and hopefully certified, for low-PIM operation. If installed correctly in a system that is also otherwise designed for low-PIM performance, these interconnect shouldn't add any significant PIM and mitigate the distortion that would normally be contributed by cables with a higher PIM rating.
The construction of a low-PIM cable assembly typically involves three main parts: the two end connectors and the coaxial cable itself. Each of the end connectors – commonly DIN 7/16, 4.3-10, Type N and 4.1/9.5 for communication system applications – should be low-PIM rated and include hardware to attach to the coaxial cable that also facilitates a low-PIM installation.
As any additional connections could lead to an increased level in system PIM, connectors should be chosen that eliminate the need for adaptors at either end. This may require male-to-male or male-to-female connectors, or a different connector type and gender on each end.
Cable assemblies with different connector types are commonly known as between-series, where cable assemblies with the same connector type are known as in-series. Moreover, right-angle adaptors are often used in confined and difficult installation situations. However, using low-PIM and right-angle connectors for the cable assembly could lead to better PIM performance than relying on additional right-angle adaptors.
The coaxial cable should also be low-PIM rated, and also satisfy building code requirements. For building codes, UL910 ratings for plenum coaxial cables meet most building code requirements. Often low-PIM coaxial cables are made of solid inner and outer conductors, as solid conductors tend to perform better in low-PIM applications than braided.
As solid conductors are less flexible, it is also common to have corrugated outer conductors to enable some flexibility and to ease installation. A solid outer conductor also provides better shielding than braided conductors, which could be useful in installations with a dense number of services and connections and nearby transmitters.
Lastly, the assembly of the complete cable needs to be done in a way that ensures low-PIM operation, and testing is also necessary to ensure that any manufacturing defects in any of the components or assembly process don't produce a failing unit. Having the PIM performance listed on the cable can make installation much easier when evaluating the overall system's PIM performance, especially during troubleshooting.
For more information contact Andrew Hutton, RF Design, +27 21 555 8400, andrew@rfdesign.co.za, www.rfdesign.co.za
Credit(s)
Further reading:
How are end-launch PCB connectors useful?
29 April 2020, RF Design , Interconnection
There has been an increasing use of RF coaxial connectors, especially microwave and millimetre-wave coaxial connectors, for high-speed digital and precision sensing applications, There is also a growing 
...
Read more...
---
RF variable attenuators
29 April 2020, RF Design , Telecoms, Datacoms, Wireless, IoT
The AN7 Thermopad series from Smiths Interconnect are temperature variable chip attenuators that operate from DC to 6 GHz. The Thermopad is a totally passive absorptive microwave attenuator, which provides 
...
Read more...
---
IP68 circular connectors
29 April 2020, IPD Electronics , Interconnection
Sure-Seal 7/8" IP68 connectors are designed for both signal and high-current applications. They are compatible with industrial mini-change connectors and are sealed to an IP68 rating. These 7/8" IP68 
...
Read more...
---
V2X made more accessible by new u-blox module
29 April 2020, RF Design , Telecoms, Datacoms, Wireless, IoT
u-blox announced its latest contribution to vehicle-to-everything (V2X) technology: the VERA P3 V2X module. Based on the u-blox UBX P3 V2X chip, VERA P3 puts automotive OEMs, Tier 1s and manufacturers 
...
Read more...
---
Micro-miniature circular connectors
29 April 2020, IPD Electronics , Interconnection
Available from local distributor IPD Electronics via its agreement with PEI-Genesis, Amphenol 2M series micro-miniature connectors are fully guaranteed to be intermateable with Glenair Mighty Mouse connectors. The 
...
Read more...
---
X-band GaN power amplifier
29 May 2020, RF Design , Telecoms, Datacoms, Wireless, IoT
The QPA2611 from Qorvo is an X-band GaN power amplifier (PA) that operates from 8 to 12 GHz. It delivers more than 5 W of saturated output power with a large signal gain of 26 dB and PAE (power added 
...
Read more...
---
RF/microwave connectors for wide frequency ranges
29 May 2020, RFiber Solutions , Interconnection
Withwave, a supplier of versatile RF and microwave test solutions, offers a range of SMPM connectors covering 26,5 to 67 GHz. The connectors cover wide frequency ranges from RF to microwave with excellent 
...
Read more...
---
WLAN MIMO antenna with four ports
29 May 2020, RF Design , Telecoms, Datacoms, Wireless, IoT
The FXP.524 Venti antenna is a 4-in-1 MIMO, flexible PCB monopole type antenna. Made by Taoglas, the antenna has excellent efficiency and isolation performance for dual-band Wi-Fi applications. It has 
...
Read more...
---
Out-of-the-box spoofing mitigation with Galileo's OS-NMA service
29 May 2020, RF Design , Telecoms, Datacoms, Wireless, IoT
Over the past two decades, satellite-based positioning has become an indispensable, everyday technology that we constantly rely on – often even without being aware of it. With the relentless expansion 
...
Read more...
---
Waveguide amplifier introduction and applications
29 May 2020, RF Design , Telecoms, Datacoms, Wireless, IoT
Waveguide amplifiers, or full-band/multi-band waveguide amplifiers, are amplifiers housed in assemblies that have either waveguide or coaxial interconnect. Though waveguide interconnect is more common 
...
Read more...
---