printer friendly version
Turbo HD X Security Solutions
29 January 2020 Smart Home Automation CCTV, Surveillance & Remote Monitoring Residential Estate (Industry)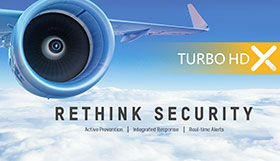 Hikvision has launched the latest generation Turbo HD Series - Turbo HD X, which is a complete system to help stop intruders in real-time, and avoiding damage and loss of property, from passive monitoring to active deterrence in a wide variety of applications
The Hikvision Turbo HD X series of cameras has a built-in detector that captures infrared light emitted by human bodies, distinguishing it from other visual 'noise'. Once the camera detects a potential intruder, its built-in siren flashes red and blue light and a loud sound with the aim of frightening the intruder away.
The Turbo HD X series can support a broad range of perimeter protection and security system processes for in-process warning, and evidence collection after an event. It enables transformation of the traditional monitoring and post-event investigation approach, and helps to change perimeter protection from passive monitoring to active deterrence in order to protect people and assets. It can be used in warehouses, residences, jewellery stores and more.
An end-to-end system
More importantly, the Turbo HD X is a unified system, featuring front-end devices linking to back-end devices and a remote application. As the front-end alarm sends a warning to potential intruders, the system also triggers an alarm at the back-end, to notify security personnel. Users can also receive alarm information remotely, via an application on their mobile devices.
Better false-alarm reduction
Turbo HD X cameras can also be integrated with Hikvision's AcuSense DVRs. The intelligent false-alarm reduction technology within these DVRs will disregard irrelevant movements picked up by the camera – such as rain, leaves and animals – and instead focus exclusively on human or vehicle movement. Together, this integrated solution dramatically reduces the number of false alarms, and ensures security staff focus on actual targets for greater efficiency.
All of this builds on the functionality that has been delivered by Hikvision's Turbo HD DVRs and cameras since their launch in 2013. In addition to HD image clarity, the last six years of Turbo HD products have delivered a wealth of innovations to the market, including efficient bandwidth and storage usage and ultra-low-light video recording – all helping customers to enhance their security and perimeter protection.
For more information contact Hikvision South Africa, +27 10 035 1172, support.africa@hikvision.com, www.hikvision.com
Credit(s)
Further reading:
Retail solutions beyond security
Issue 8 2020, Axis Communications SA, Technews Publishing, Hikvision South Africa , Editor's Choice, CCTV, Surveillance & Remote Monitoring
The need for security technology to deliver more than videos of people falling or stealing from retail stores is greater than ever.
Read more...
---
AI-powered hardhat detection
Issue 8 2020, Hikvision South Africa , Industrial (Industry), CCTV, Surveillance & Remote Monitoring
Hardhats save lives, but only if people wear them. Intelligent, AI-powered hardhat cameras are helping to ensure workers in dangerous locations stay safe at all times.
Read more...
---
City installs 13 000 cameras in four months
Issue 9 2020, Eagle Eye Networks , Editor's Choice, CCTV, Surveillance & Remote Monitoring
Eagle Eye Networks and its reseller partner fast-tracked installation of 13 720 cloud managed cameras in a cyber-secure city-wide surveillance programme in Mexico City, using 4G connectivity.
Read more...
---
Is a wireless home automation system a good investment?
25 November 2020
Wireless home automation systems come with so much developed technology that they are impossible to ignore if you want to create a smart home.
Read more...
---
Adapt your home to your lifestyle
25 November 2020
The Came Domotic3.0 home automation system allows people to manage all the automated devices in their home according to their lifestyle needs.
Read more...
---
Six smart home trends that will transform life in the home and far beyond
25 November 2020
The Transformational Smart Home will expand in capability, function and activity, and will reflect the wider global needs of the planet, economies, societies and individuals.
Read more...
---
Maximising off-grid energy in South Africa
25 November 2020
xStorage Home lets households store energy to use when needed, reducing their CO
2
footprint.
Read more...
---
Smart home weather stations
25 November 2020, Legrand Southern Africa
Legrand's Netatmo smart home weather stations are an easy and efficient way to understand and monitor a home's indoor and outdoor environment.
Read more...
---
App Challenge winners
Issue 8 2020 , News, CCTV, Surveillance & Remote Monitoring
Security & Safety Things announced the winners of App Challenge for innovation in AI-enabled smart camera applications.
Read more...
---
Camera Selection Guide 2020
CCTV Handbook 2020 , Camera Selection Guide, CCTV, Surveillance & Remote Monitoring
The Camera Selection Guide 2020 includes a range of IP, analogue, thermal and speciality cameras aimed at a broad range of surveillance functions.
Read more...
---