printer friendly version
BAW-based chips for comms infrastructure
30 April 2019 Analogue, Mixed Signal, LSI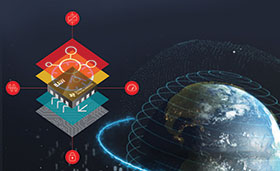 Texas Instruments débuted new bulk acoustic wave (BAW)-based embedded processing and analog chips for the next generation of connectivity and communications infrastructure.
Communications and industrial automation systems with discrete clocking and quartz-crystal devices can be costly, time-consuming and complicated to develop and are often susceptible to environmental stress. The first two devices developed with TI BAW technology – the SimpleLink CC2652RB wireless microcontroller (MCU) and the LMK05318 network synchroniser clock – integrate reference clocking resonators to provide the highest frequency in a small form factor.
This higher level of integration improves performance and increases resistance to mechanical stresses, such as vibration and shock. As a result of stable data transmission enabled by this BAW technology, data synchronisation of wired and wireless signals is more precise and allows for continuous transmission, which means data can be processed more efficiently.
The CC2652RB integrates a BAW resonator within the quad flat no-lead (QFN) package, eliminating the need for an external high-speed 48 MHz crystal. It supports Zigbee, Thread, Bluetooth low energy and proprietary 2,4 GHz connectivity solutions on a single chip, and works across the full -40°C to 85°C temperature range.
The LMK05318 single-channel network synchroniser clock for 400 Gbps links helps systems transmit more data faster while also providing higher margin for system jitter budgets. By delivering very low bit errors for 56 Gbps and emerging 112 Gbps pulse-amplitude modulation-4 links, it enables overall better network performance.
For more information contact Shane Padayachee, Avnet South Africa, +27 11 319 8600, shane.padayachee@avnet.eu, www.avnet.co.za
Credit(s)
Further reading:
V2X: The future of vehicle communications
29 January 2020, Avnet South Africa , Editor's Choice, Telecoms, Datacoms, Wireless, IoT
A recent report by Juniper Research forecasts that more than 62 million vehicles will be capable of vehicle-to-vehicle communication by 2023; up from just over 1,1 million in 2019.
Read more...
---
STM32 system-on-chip for LoRa
29 January 2020, Avnet South Africa , Telecoms, Datacoms, Wireless, IoT
Powering the search for sustainability through smart infrastructure and logistics, smart industry and smart living, STMicroelectronics has revealed the world's first LoRa system-on-chip (SoC) for connecting 
...
Read more...
---
Arm Cortex-M33-based MCUs
29 January 2020, EBV Electrolink , Analogue, Mixed Signal, LSI
NXP Semiconductors announced the availability of its LPC552x/S2x microcontroller (MCU) family, further extending its efficient LPC5500 MCU series with the second of seven families planned for the series. 
...
Read more...
---
Unity gain operational amplifier
29 January 2020, Altron Arrow , Analogue, Mixed Signal, LSI
The ADHV4702-1 is a high-voltage (220 V), unity-gain, stable precision operational amplifier. The next generation of proprietary semiconductor processes and innovative architecture from Analog Devices 
...
Read more...
---
EERAM memory solutions retain data at power loss
29 January 2020, Avnet South Africa , DSP, Micros & Memory
Microchip Technology announced a new family of Serial Peripheral Interface (SPI) EERAM memory products that offers system designers up to 25% cost savings over the current serial non-volatile ram (NVRAM) 
...
Read more...
---
Low-profile pressure transmitters
29 January 2020, Electrocomp , Analogue, Mixed Signal, LSI
TDK has expanded its portfolio with new EPCOS pressure transmitters whose performance profiles are specially tailored to the requirements of Industry 4.0. These low-profile pressure sensors are characterised 
...
Read more...
---
Non-inverting converters for buck or boost operation
29 January 2020, Avnet South Africa , Power Electronics / Power Management
Texas Instruments introduced a family of four high-efficiency, low-quiescent-current (IQ) buck-boost converters that feature tiny packaging with minimal external components for a small solution size. 
...
Read more...
---
Contactless payment SOC
29 January 2020, EBV Electrolink , Analogue, Mixed Signal, LSI
STMicroelectronics has released the next generation of its STPay system-on-chip (SoC) payment solution, leveraging state-of-the-art technology to increase contactless performance and protection, reduce 
...
Read more...
---
Gate driver for silicon carbide transistors
29 January 2020, CST Electronics , Analogue, Mixed Signal, LSI
With the MAX22701E isolated gate driver from Maxim Integrated Products, designers of high-voltage/high-power systems can improve power supply efficiency, reducing power loss and the resulting carbon footprint. 
...
Read more...
---
Lithium-ion/polymer battery packs catalogue
29 January 2020, Avnet South Africa , Technical Literature
The latest edition of the Avnet Abacus standard lithium-ion/polymer battery packs catalogue covers the company's portfolio of primary and secondary cells from leading battery manufacturers, as well as 
...
Read more...
---