printer friendly version
Body-worn EMF monitor
30 April 2019 Test & Measurement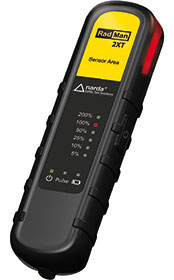 For those working with high-intensity electromagnetic fields (EMF), such as in the near field region of radar antennas, broadcast transmitters or cellular base stations, it is vital to wear personal safety equipment (PSE) that gives a warning when critical EMF values are reached, to exclude health risks.
Narda Safety Test Solutions has now developed the RadMan 2 for this complex monitoring task, with future 5G applications also in mind. This small device that is worn on the body gives insistent, timely and reliable warning of impermissibly high levels of exposure to electromagnetic radiation.
The shaped frequency response of the personal monitor ensures that the correct alarm threshold is automatically set for the entire frequency range. The permitted limit values specified in the standards are variable, depending on frequency.
As the device has sensors for the E field (electric) as well as for the H field (magnetic), the distance between the field source and the person is immaterial – whether in a strong electric or magnetic field. The higher value of either will always trigger the alarm and will be displayed as a percentage of the applicable upper limit, e.g. as stipulated by ICNIRP. The warning itself cannot be missed, even in harsh, noisy and adverse conditions as it is bright, loud, and the device also vibrates.
Starting and safely using the device is simple. The automatic sensor test checks that the sensors are functioning correctly as soon as the device is switched on, meaning that an external test generator is not needed. A special RF absorber between the sensor and the body ensures that the actual field strength is measured accurately and correctly during operation by eliminating effects of the body such as reflections, which could falsify the results.
It is easy to release the robust, weatherproof device in its IP65 rated housing from its holder with one hand, such as to determine the field exposure isotropically when searching for leaks at cable connectors. This ensures the reliable display of all hotspots in both the E field and the H field, regardless of the orientation of the device. The built-in rechargeable batteries give 800 hours of operating time from a single charge cycle.
The new radiation monitor is available in two versions: the less expensive LT model for up to 8 GHz, with reduced features and fewer functions, and the XT with a range of up to 60 GHz. Exclusive to the XT version is the 'RF detection' mode with its tone search function, which allows for a precise isotropic search for leaks at arm's length. As the field source is approached, the change in the pitch of the tone allows the operative to quickly, simply and reliably check that the antenna is actually switched off before getting too close. Finally, the 'Pulse' mode setting causes the alarm to respond much faster, allowing the reliable detection of brief, pulsed signals.
For more information contact Tobie Muller, Accutronics, +27 11 782 8728, tmuller@accutronics.co.za, www.accutronics.co.za
Credit(s)
Further reading:
Double pulse test software for Tektronix AFG
29 January 2020, Comtest , Test & Measurement
Comtest announced the availability of Tektronix' new software plugin for its AFG31000 arbitrary function generator (AFG), making it possible to perform crucial double pulse testing in less than a minute, 
...
Read more...
---
Battery charge/discharge test system
29 January 2020, Conical Technologies , Test & Measurement
The ITS5300 battery charge and discharge test system from ITECH is designed for a variety of power batteries including lead acid, nickel hydrogen, lithium batteries, supercapacitors, hydrogen fuel cells 
...
Read more...
---
Points to consider when running power supplies from portable generators
23 October 2019, Accutronics , Power Electronics / Power Management
Manufacturers of end systems should specify what class of generator their products should be used with, and should question what class was used if they do see equipment failures.
Read more...
---
DIN-rail programmable transmitter
23 October 2019, Instrotech , Test & Measurement
Calog Instrument's versatile DPM9000 series – a miniature DIN-rail mount programmable isolated transmitter range – boasts high reliability and a versatile, wide range of programmable inputs. With dimensions 
...
Read more...
---
Hands-on learning module
23 October 2019, Altron Arrow , Test & Measurement
The ADALM2000 (M2K) active learning module is an affordable, USB-powered, software-defined instrument that exceeds the capabilities of its predecessor ADALM1000 (M1K). With 12-bit ADCs (analog-to-digital 
...
Read more...
---
Digital multimeter with thermal imager
23 October 2019, RS Components (SA) , Test & Measurement
A digital multimeter (DMM) with a built-in thermal imager has been added to RS Components' RS PRO product range. The RS-9889 allows engineers to identify thermal overload issues in electrical equipment 
...
Read more...
---
Project-based learning for the modern engineer
23 October 2019 , Test & Measurement
Projects that inherently challenge students to use innovative design thinking often involve interacting with an unknown process or device. Students are encouraged to understand the unknown through theory, 
...
Read more...
---
Modular AC-DC power supplies
23 October 2019, Accutronics , Power Electronics / Power Management
TDK announced the addition of the SA modules to the 550-2000 W TDK-Lambda branded QM series of AC-DC modular power supplies. The SA modules are available with 5 V/ 15 A, 12 V/ 12,5 A, 15 V/ 10 A and 24 V/ 6,25 A 
...
Read more...
---
Automotive Ethernet testing software
25 September 2019, Comtest , Test & Measurement
Tektronix has released two new software packages that greatly simplify Automotive Ethernet testing, debug and protocol decode for use with its 5 and 6 Series mixed-signal oscilloscopes (MSO). Using 
...
Read more...
---
4-channel PC-based oscilloscope
28 August 2019, Vepac Electronics , Test & Measurement
The newly developed Model 1330 from Peaktech is a 4-channel PC oscilloscope with 100 MHz bandwidth and 1 GSps sample rate, which is suitable for mobile use on a laptop, and permanent installation in control 
...
Read more...
---