The Actum Group has acquired Banding and Identification Solutions Africa (BISA), the leading distributor of Band-It clamping and fastening products in South Africa. The transaction, which was finalised in November last year, serves to expand and strengthen Actum's industrial brand portfolio, according to Greg Barron, Actum Group director.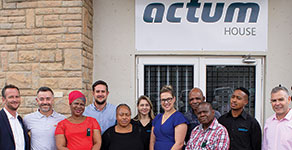 Actum Group directors and the BISA team outside BISA's new home at Actum's headquarters in Linbro Park.
"This partnership was a significant stride forward in the group's expansion strategy. This was a very strategic acquisition, as we were already distributing the Band-It product in the coastal areas. It has given us the opportunity to offer this product to many other customers in the Actum stable and to build on our existing product line," explains Barron.
BISA has been a leading distributor of stainless-steel strapping and identification solutions since 1993, and enjoys a strong reputation in the local industrial market. As a niche product driven by quality, Barron believes Band-It is a logical and highly beneficial addition to the Actum Group.
Band-It senior business executive, Rosa Remendos, is equally optimistic about this new chapter in the BISA business: "It's all about growth and opportunity. Actum has an excellent reputation in the industry and it's exciting for us to be associated with a company like this. We make a good team."
For more information contact Actum Group, +27 11 608 3001, sales@actum.co.za, www.actum.co.za