printer friendly version
Dual- and single-core DSCs
29 May 2019
DSP, Micros & Memory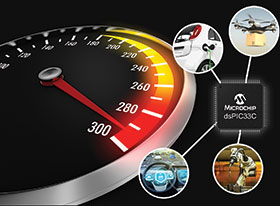 New dual- and single-core dsPIC33C digital signal controllers (DSCs) have been released by Microchip Technology, with more options to meet changing application requirements across memory, temperature and functional safety.
The aim is to help system developers to design high-end embedded control applications which need flexible options to provide scalability as projects increase in complexity.
The new dsPIC33CH512MP508 enables support for applications with larger program memory requirements, while the dsPIC33CK64MP105 single-core DSC adds a cost-optimised version for applications that require smaller memory and footprint. Developers can scale across product lines using the new devices, which are pin-to-pin compatible within the dsPIC33CH and dsPIC33CK families.
The dsPIC33CH512MP508 (MP5) family expands the recently introduced dsPIC33CH, with Flash memory growing from 128 KB to 512 KB, and triples the program RAM from 24 KB to 72 KB. This enables support for larger applications with multiple software stacks or larger program memory, such as automotive and wireless charging applications.
More memory is needed to accommodate AUTOSAR software, MCAL drivers and CAN FD peripherals in automotive applications. Implementing wireless charging in automotive applications requires additional software stacks for the Qi protocol and near-field communication (NFC), driving the need for even more program memory.
Using Live Update capability for real-time firmware updates is essential for high-availability systems but also doubles the overall memory requirement. In the dual-core devices, one core can function as a master while the other is designed as a slave. The slave core is useful for executing dedicated, time-critical control code while the master core is busy running the user interface, system monitoring and communications functions.
For example, having two cores facilitates partitioning of the software stacks for parallel execution of the Qi protocol and other functions such as NFC to optimise performance in automotive wireless charging applications.
The dsPIC33CK64MP105 (MP1) family extends the recently introduced dsPIC33CK family with a cost-optimised version for smaller memory and footprint applications, offering up to 64 KB Flash memory and 28- to 48- pin packages. Package sizes are available as small as 4 x 4 mm. This compact device offers a beneficial combination of features for automotive sensors, motor control, high-density DC-DC applications or standalone Qi transmitters.
Both single- and dual-core dsPIC33C devices enable fast deterministic performance for time-critical control applications, providing expanded context selected registers to reduce interrupt latency and bringing faster instruction execution of math-intensive algorithms.
All devices in the dsPIC33C family include a fully featured set of functional safety hardware to ease ASIL-B and ASIL-C certifications in safety-critical applications. Functional safety features include multiple redundant clock sources, fail-safe clock monitor (FSCM), I/O ports read-back, Flash error correction code (ECC), RAM built-in self-test (BIST), write protection, analog peripheral redundancies and more. A robust set of CAN-FD peripherals, together with the new support for 150°C operation, make these devices well suited for use in extreme operating conditions such as under-the-hood automotive applications.
For more information contact Shane Padayachee, Avnet South Africa, +27 11 319 8600, shane.padayachee@avnet.eu, www.avnet.co.za
Credit(s)
Further reading:
Wi-Fi and BLE combo module
29 May 2020, Avnet South Africa , Telecoms, Datacoms, Wireless, IoT
Dialog Semiconductor announced the DA16600, a module that combines its advanced Wi-Fi and BLE (Bluetooth Low Energy) capabilities into a single solution. This two-in-one module is comprised of two 
...
Read more...
---
Why 'new space' satellites demand a new approach to components
29 May 2020, Avnet South Africa , News
New space is opening up exciting opportunities for businesses, which can create completely new products, services and capabilities that were, until recently, impossible or impractical.
Read more...
---
The top benefits of MEMS timing
29 May 2020, Avnet South Africa , Analogue, Mixed Signal, LSI
MEMS (micro electromechanical systems), designed to resonate and generate clocks signals, may not dominate the world of timing applications right now, but the technology's popularity is growing. Competing 
...
Read more...
---
Industrial-grade 32 GB DRAM modules
29 May 2020, Vepac Electronics , DSP, Micros & Memory
32 GB DRAM modules from Innodisk are the newest industrial-grade, high-capacity DRAM series launched with expanded capacity. Targeted at core network switches for 5G technology – touted as a much faster, 
...
Read more...
---
Microcontrollers for functional safety
29 May 2020, Avnet South Africa , DSP, Micros & Memory
As the Internet of Things (IoT) delivers greater connectivity for industrial and home applications and as connected vehicles enhance cabin and operational features, higher-performance microcontrollers 
...
Read more...
---
Enabling cloud connectivity to all Microchip MCUs and MPUs
25 March 2020, Avnet South Africa , DSP, Micros & Memory
Due to the fragmented nature of the Internet of Things (IoT) marketplace, increasing project complexity and costs, today's developers face more challenges in design decisions than ever before. These challenges 
...
Read more...
---
Stackable DC-DC buck converter
29 April 2020, Avnet South Africa , Power Electronics / Power Management
Texas Instruments introduced a new 40 A SWIFT DC-DC buck converter, offering first-of-its-kind stackability of up to four ICs. The TPS546D24A PMBus buck converter can deliver up to 160 A of output current 
...
Read more...
---
High-speed DDR4 SDRAMs
29 April 2020, Future Electronics , DSP, Micros & Memory
Alliance Memory has expanded its product offering with a new line of high-speed CMOS DDR4 SDRAMs. For improved performance over previous-generation DDR3 devices, the 4 GB AS4C256M16D4 and AS4C512M8D4 
...
Read more...
---
Guide for designing GUIs, for novices to experts
29 April 2020, Avnet South Africa , Design Automation
The TouchGFX team at STMicroelectronics recently published TouchGFX Documentation, a website that targets developers working on their first embedded graphical user interface (GUI) as well as those with 
...
Read more...
---
Why low quiescent current matters for longer battery life
29 April 2020, Avnet South Africa , Power Electronics / Power Management
From healthcare and biosensing to wearables and environmental sensing, nearly all IoT devices rely on batteries that must perform reliably and over an extended period of time in a variety of conditions.
Read more...
---