printer friendly version
EXFO launches new category of fibre testing solutions
26 June 2019
Test & Measurement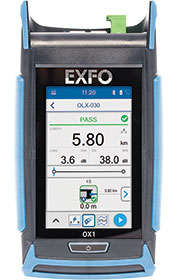 EXFO has launched what it describes as the first optical fibre multimeter (OFM).
Called Optical Xplorer, it aims to make fibre testing simple for all frontline technicians, whether beginner or expert, and speed up the process while empowering them to do more on site. The device verifies optical links in seconds and if faults are suspected, it finds and identifies them automatically.
Telecom operators are under significant pressure to deploy more high-quality fibre-optic networks faster and at a lower cost to meet skyrocketing demand for bandwidth and prepare for next-generation technologies like 5G. The complexity of testing methods of procedure (MOPs), the necessity to outsource and the shortage in skilled frontline technicians make it difficult for both operators and contractors to attain a good return on investment (ROI) while ensuring networks are deployed right the first time.
Optical Xplorer delivers three key technological innovations:
1. Reduces total cost of ownership (TCO) through lifetime calibration. Hidden costs throughout a product's life make up a massive, yet sometimes overlooked, part of TCO. Optical Xplorer's lifetime calibration cuts costly downtime and logistics associated with factory-based updates, maintenance and repairs.
2. Saves time by exploring only faulty links.
The Fault Xplorer feature self-launches during the optical link verification process, automatically exploring only those links suspected as faulty, eliminating doubts while saving testing time.
3. Validates link quality in seconds, assigning a 1- to 5-star rating. With the built-in EXFO Advisor feature, technicians get the benefit of EXFO's 30+ years of fibre expertise and sophisticated algorithms at the push of a button, assigning ratings to links based on industry best practices.
For more information contact Chris Nel, Lambda Test Equipment, +27 12 349 1341, chris@lambdatest.co.za, www.lambdatest.co.za
Credit(s)
Further reading:
New range of Tektronix DSOs
30 June 2020, Comtest , Test & Measurement
Comtest has released Tektronix's new TBS2000B series of digital storage oscilloscopes (DSOs) that was developed to meet the performance, usability and affordability needs of both engineers and educators. 
...
Read more...
---
Contactless ESD testing and access control unit
30 June 2020, Actum Group , Test & Measurement
In the electronics manufacturing industry, an electrostatic discharge (ESD) can cause irreparable damage to electronic components. This micro-lightning bolt can burn holes through insulating layers and 
...
Read more...
---
How are IR cameras calibrated and how does ambient temperature affect readings?
30 June 2020, Instrotech , Test & Measurement
Infrared thermometers are calibrated with the help of reference radiation sources, so-called 'black bodies'. These radiant sources are able to produce different temperatures with a high stability.  
...
Read more...
---
Thermal monitor for fever screening
30 June 2020, Actum Group , Test & Measurement
The TCSF256 thermal monitor from Actum Group is a fully automated, plug-and-play fever screening unit. It adopts an infrared radiation measurement technique that can measure body temperature by non-contact 
...
Read more...
---
Uncover EMI issues early with simple pre-compliance tests
30 June 2020, Concilium Technologies , Test & Measurement
An effective pre-compliance testing methodology will reduce test cycle times, which ultimately impacts a company's bottom line.
Read more...
---
The promise of 5G wireless communications
30 June 2020, Lambda Test , Test & Measurement
The deployment of 5G services worldwide is driving a massive increase in fibre densification for the required fronthaul and backhaul links interconnecting radio base stations and web-scale core packet networks.
Read more...
---
Phase noise analyser for precision oscillator characterisation
29 April 2020, Altron Arrow , Test & Measurement
To help research and manufacturing engineers make precise and accurate measurement of frequency signals, including those generated by atomic clocks and other high-performance frequency reference modules 
...
Read more...
---
Ethernet tap for IO Ninja
25 March 2020, RF Design , Test & Measurement
Monitoring network communications of your PC can be accomplished without any specialised hardware – just use the Pcap Sniffer plugin of IO Ninja. The task of tapping into the Ethernet traffic of a non-PC 
...
Read more...
---
Bench-top vector signal generator
29 April 2020, RFiber Solutions , Test & Measurement
The T3267E series bench-top vector signal generator from Transcom Instruments has excellent radio frequency performance and rich signal generating function. It can provide arbitrary wave, continuous 
...
Read more...
---
Tektronix and Coherent Solutions partner for fully integrated optical comms
25 March 2020, Comtest , Test & Measurement
Comtest has announced that technology companies Tektronix and Coherent Solutions have an exclusive partnership agreement to provide fully integrated optical communications platforms to new and existing 
...
Read more...
---