printer friendly version
Handheld industrial Ethernet tester
26 June 2019
Test & Measurement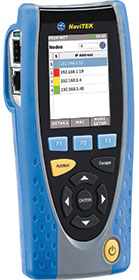 Ideal Networks has launched NaviTEK IE, a handheld network tester designed for commissioning, preventative maintenance and troubleshooting of PROFINET industrial Ethernet networks, plus standard Ethernet IP networks.
The rugged copper and fibre troubleshooter has been developed to simplify the process of testing both cabling and networking performance, making it unnecessary to have a laptop with specialist software to identify and test network nodes and configuration, which could prove cumbersome in these typically desk-free environments.
The tester offers all the same features as the NaviTEK NT Pro, but with a range of additional tools specific to the needs of industrial Ethernet, where packet delivery time is critical for operation. For instance, the system health check feature on NaviTEK IE enables frontline technicians to pinpoint potential issues before they become network failures and result in downtime. With an easy-to-understand traffic-light system, the health check provides a quick indication of how each device is performing. Clicking on each device provides further details of the issues discovered so corrective actions can be taken.
Cable faults are another common cause of network downtime. To minimise this, advanced wiremap tools on NaviTEK IE allow users to automatically discover cable, network or device configuration, or faults, at the touch of a button. The tester uses time domain reflectometry (TDR) to provide accurate distance-to-fault data, testing every wire in the data cable (not every pair) to help isolate issues that other testers cannot find. It can be customised to support standard and non-standard cabling configurations.
For copper cabling, using the RJ45 or M12 interfaces included with the NaviTEK IE kit, the tester displays the correct wiring colours for the protocol used, measures the cable length and determines where and what the cable fault is, including split pairs, open circuits, short circuits and miswiring. Those testing fibre data cabling can use an optional SFP module to test different wavelengths, measure the optical RX power received and discover cable faults such as dirty connectors, breaks or bends that exceed specification limits.
Additional troubleshooting features include quick and easy discovery of incorrect device names, duplicate IP addresses, network latency issues and packet loss, and the ability to display and validate network node details quickly. The event log feature also helps to find intermittent issues by recording all network errors over a 48-hour period to determine whether the issue lies with the cabling, node, PLC or network configuration.
The NETMAP comparison tool can also perform a scan of the entire network to identify all active devices and save this for comparison to future scans. This enables easy identification of new or removed network devices, incorrectly configured devices or configuration changes, such as those caused by automatic firmware updates.
With the device blink feature, hidden or poorly labelled devices can also be found quickly, even in incorrectly labelled networks, by using the NaviTEK IE to flash a specific device LED. To prove the network has been commissioned successfully, NaviTEK IE also provides professional PDF or CSV reports that can be customised and shared with colleagues and clients using a free mobile app.
Credit(s)
Further reading:
New range of Tektronix DSOs
30 June 2020, Comtest , Test & Measurement
Comtest has released Tektronix's new TBS2000B series of digital storage oscilloscopes (DSOs) that was developed to meet the performance, usability and affordability needs of both engineers and educators. 
...
Read more...
---
Contactless ESD testing and access control unit
30 June 2020, Actum Group , Test & Measurement
In the electronics manufacturing industry, an electrostatic discharge (ESD) can cause irreparable damage to electronic components. This micro-lightning bolt can burn holes through insulating layers and 
...
Read more...
---
How are IR cameras calibrated and how does ambient temperature affect readings?
30 June 2020, Instrotech , Test & Measurement
Infrared thermometers are calibrated with the help of reference radiation sources, so-called 'black bodies'. These radiant sources are able to produce different temperatures with a high stability.  
...
Read more...
---
Thermal monitor for fever screening
30 June 2020, Actum Group , Test & Measurement
The TCSF256 thermal monitor from Actum Group is a fully automated, plug-and-play fever screening unit. It adopts an infrared radiation measurement technique that can measure body temperature by non-contact 
...
Read more...
---
Uncover EMI issues early with simple pre-compliance tests
30 June 2020, Concilium Technologies , Test & Measurement
An effective pre-compliance testing methodology will reduce test cycle times, which ultimately impacts a company's bottom line.
Read more...
---
The promise of 5G wireless communications
30 June 2020, Lambda Test , Test & Measurement
The deployment of 5G services worldwide is driving a massive increase in fibre densification for the required fronthaul and backhaul links interconnecting radio base stations and web-scale core packet networks.
Read more...
---
Phase noise analyser for precision oscillator characterisation
29 April 2020, Altron Arrow , Test & Measurement
To help research and manufacturing engineers make precise and accurate measurement of frequency signals, including those generated by atomic clocks and other high-performance frequency reference modules 
...
Read more...
---
Drive testing of 2G, 3G, 4G and 5G NR mobile networks
29 May 2020, Coral-i Solutions , Telecoms, Datacoms, Wireless, IoT
Nemo Outdoor is a laptop-based drive test tool for 2G, 3G, 4G and 5G NR mobile network testing which supports over 300 devices and scanning receivers, from various vendors, all the latest network technologies 
...
Read more...
---
Ethernet tap for IO Ninja
25 March 2020, RF Design , Test & Measurement
Monitoring network communications of your PC can be accomplished without any specialised hardware – just use the Pcap Sniffer plugin of IO Ninja. The task of tapping into the Ethernet traffic of a non-PC 
...
Read more...
---
Bench-top vector signal generator
29 April 2020, RFiber Solutions , Test & Measurement
The T3267E series bench-top vector signal generator from Transcom Instruments has excellent radio frequency performance and rich signal generating function. It can provide arbitrary wave, continuous 
...
Read more...
---