printer friendly version
Test point pins
26 June 2019
Interconnection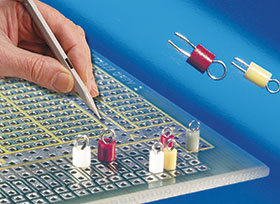 The range of terminal pins available from Vero Technologies provide an easily useable fitting on a through-hole printed circuit board (PCB) for the attachment of oscilloscope probes, multimeter leads and test equipment, saving time and money during the manufacture and test process.
Versions are available to fit both 1,02 and 1,32 mm diameter holes and are manufactured with two tail lengths to suit 1,6 and 2,4 mm thick PCBs. All sizes are available with a range of different bead colours for identification purposes. They self-retain during hand and automated assembly and are suitable for wave, reflow or hand soldering.
By providing a convenient anchor point for one of the leads from a piece of test equipment, the terminal pins act as a convenient 'third hand', making it a far easier and quicker process to undertake functional testing, fault finding and setup.
The terminal pins are available ex-stock in packs of 100 from Vepac Electronics.
Credit(s)
Further reading:
Catalogue: Vepac Electronics
30 June 2020, Vepac Electronics , Technical Literature
Vepac Electronics has released a new and revised catalogue. Vepac is a leading provider of power solutions and ancillary devices used in the manufacture, integration and service of customer products and 
...
Read more...
---
Circular connectors for power, signals and data
30 June 2020, TRX Electronics , Interconnection
Standardised circular connectors have become the industry standard across a wide range of applications. Customers can find the right option for their most innovative designs with Phoenix Contact's PLUSCON 
...
Read more...
---
Backplanes for various computing architectures
30 June 2020, Vepac Electronics , Computer/Embedded Technology
Verotec designs, supplies and integrates bus-based products and systems. Its extensive standard range consists of open-architecture backplanes and extender boards for VME, VME64x, VXI, VPX, VXS, CompactPCI, 
...
Read more...
---
Fanless 600 W power supplies
30 June 2020, Vepac Electronics , Power Electronics / Power Management
XP Power has released a new series of convection cooled, 600 W AC-DC power supplies. The ultra-compact power supplies deliver full load power under a wide range of conditions without additional cooling. 
...
Read more...
---
DC-DC converters with 10-year warranty
29 May 2020, Vepac Electronics , Power Electronics / Power Management
Addressing a large range of demanding applications, the MGxx40 series is available in three input voltage ranges: 4,5 V to 13 V, 9 V to 36 V and 18 V to 76 V. A single-output version (MGFS40) is available 
...
Read more...
---
EMI/RFI shielding cable ties
29 May 2020, Actum Electronics , Interconnection
BAND-IT EMI cable ties have been designed and manufactured to excel in mission-critical applications, such as Mil/Aero EMI/RFI (electromagnetic interference/RF interference), for the past 30 years.  
...
Read more...
---
How are end-launch PCB connectors useful?
29 April 2020, RF Design , Interconnection
There has been an increasing use of RF coaxial connectors, especially microwave and millimetre-wave coaxial connectors, for high-speed digital and precision sensing applications, There is also a growing 
...
Read more...
---
IP68 circular connectors
29 April 2020, IPD Electronics , Interconnection
Sure-Seal 7/8" IP68 connectors are designed for both signal and high-current applications. They are compatible with industrial mini-change connectors and are sealed to an IP68 rating. These 7/8" IP68 
...
Read more...
---
High-performance acrylic conformal coating
29 April 2020, Vepac Electronics , Manufacturing / Production Technology, Hardware & Services
Electrolube's HPA high-performance acrylic conformal coating is specifically designed to meet the demanding requirements of applications such as the defence and aerospace industries. It is fast drying 
...
Read more...
---
Micro-miniature circular connectors
29 April 2020, IPD Electronics , Interconnection
Available from local distributor IPD Electronics via its agreement with PEI-Genesis, Amphenol 2M series micro-miniature connectors are fully guaranteed to be intermateable with Glenair Mighty Mouse connectors. The 
...
Read more...
---