printer friendly version
New MDO and MSO from Tektronix
26 June 2019
Test & Measurement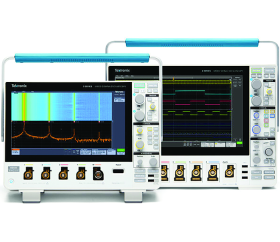 Tektronix has grown its portfolio with the launch of the 3-Series mixed domain oscilloscope (MDO) and 4-Series mixed-signal oscilloscope (MSO) delivering the most powerful, versatile and easy-to-use oscilloscopes in the market.
Built on the enhanced user experience first introduced in the 5- and 6-Series MSOs, the new instruments feature an intuitive touchscreen user interface, a large, high-resolution display and a modern industrial design. The interface design, with touchscreens and front panels, keeps key controls close at hand so instead of digging through multiple menus to find settings, engineers can simply double-tap the appropriate readout or measurement on the display.
The new 4-Series MSO features a 13,3 inch display with 1920 x 1080 resolution, offers bandwidths up to 1,5 GHz and uses 12-bit ADCs for high vertical resolution. It offers six input channels and its FlexChannel technology means any input channel can be converted from an analog to eight digital channels simply by connecting a logic probe.
To meet a diverse range of application requirements, the 4-Series MSO is available with bandwidths starting at 200 MHz and is well supported with options including serial decode and analysis, an arbitrary/function generator and a DVM/frequency counter. The new Spectrum View feature offers time-correlated frequency domain analysis with independent spectrum controls. A power analysis package is available to automate AC line, switching device, ripple and sequencing measurements.
Bandwidth and options are all field-upgradeable. All models deliver a 6,25 GSps sample rate on all analog and digital channels. Standard record length is 31,25 Mpoints with an option for 62,5 Mpoints.
The 3-Series MDO is intended to be a compact, versatile test instrument that sits on the desk of every engineer. It features a sleek industrial design and an 11,6 inch display with full high-definition resolution. It uses the same intuitive user interface as the rest of the portfolio, with a similar set of knobs and buttons, but takes up less than 6 inches of depth on a bench.
The 3-Series MDO is more than an oscilloscope and can cover a wide range of debugging and validation tasks. It offers a built-in spectrum analyser up to 3 GHz, with a separate RF input and specifications comparable to a standalone analyser. This enables engineers to quickly debug wireless components in their designs or quickly track down sources of unwanted EMI emissions without having to use another instrument.
Sixteen digital input channels are available for mixed-signal analysis, in addition to comprehensive serial protocol debugging and triggering options, optional power measurement and an optional AFG. A DVM/frequency counter is included for free with product registration.
The 3-Series MDO is available in bandwidths starting at 100 MHz and extending to 1 GHz. Models are available with 2,5 GSps or 5 GSps sample rates on all analog channels and up to 8,25 GSps on digital channels, with 121,2 ps timing resolution. Standard record length is 10 Mpoints. For investment protection, bandwidths and options are fully upgradeable.
The distance between the front of the oscilloscope to the device under test are critical to gaining insight into troublesome circuits. Both the 3-Series MDO and 4-Series MSO use the TekVPI probe interface, giving access to the full range of Tektronix differential voltage probes, active voltage probes and current probes, plus the recently-introduced power rail probes and optically-isolated differential probes.
For more information contact Comtest, +27 10 595 1821, sales@comtest.co.za, www.comtest.co.za
Credit(s)
Further reading:
Double pulse test software for Tektronix AFG
29 January 2020, Comtest , Test & Measurement
Comtest announced the availability of Tektronix' new software plugin for its AFG31000 arbitrary function generator (AFG), making it possible to perform crucial double pulse testing in less than a minute, 
...
Read more...
---
Battery charge/discharge test system
29 January 2020, Conical Technologies , Test & Measurement
The ITS5300 battery charge and discharge test system from ITECH is designed for a variety of power batteries including lead acid, nickel hydrogen, lithium batteries, supercapacitors, hydrogen fuel cells 
...
Read more...
---
Oil-dielectric RF termination loads
29 January 2020, Comtest , Telecoms, Datacoms, Wireless, IoT
For maximum process repeatability and consistency, modern plasma applications require precise RF power regulation and control. A key component in ensuring accurate and repeatable RF power delivery to 
...
Read more...
---
DIN-rail programmable transmitter
23 October 2019, Instrotech , Test & Measurement
Calog Instrument's versatile DPM9000 series – a miniature DIN-rail mount programmable isolated transmitter range – boasts high reliability and a versatile, wide range of programmable inputs. With dimensions 
...
Read more...
---
Hands-on learning module
23 October 2019, Altron Arrow , Test & Measurement
The ADALM2000 (M2K) active learning module is an affordable, USB-powered, software-defined instrument that exceeds the capabilities of its predecessor ADALM1000 (M1K). With 12-bit ADCs (analog-to-digital 
...
Read more...
---
Digital multimeter with thermal imager
23 October 2019, RS Components (SA) , Test & Measurement
A digital multimeter (DMM) with a built-in thermal imager has been added to RS Components' RS PRO product range. The RS-9889 allows engineers to identify thermal overload issues in electrical equipment 
...
Read more...
---
Project-based learning for the modern engineer
23 October 2019 , Test & Measurement
Projects that inherently challenge students to use innovative design thinking often involve interacting with an unknown process or device. Students are encouraged to understand the unknown through theory, 
...
Read more...
---
Automotive Ethernet testing software
25 September 2019, Comtest , Test & Measurement
Tektronix has released two new software packages that greatly simplify Automotive Ethernet testing, debug and protocol decode for use with its 5 and 6 Series mixed-signal oscilloscopes (MSO). Using 
...
Read more...
---
4-channel PC-based oscilloscope
28 August 2019, Vepac Electronics , Test & Measurement
The newly developed Model 1330 from Peaktech is a 4-channel PC oscilloscope with 100 MHz bandwidth and 1 GSps sample rate, which is suitable for mobile use on a laptop, and permanent installation in control 
...
Read more...
---
Handheld PoE tester
26 June 2019, Coral-i Solutions , Test & Measurement
Ideal Networks has launched a new handheld tester that eliminates guesswork when installing, maintaining and troubleshooting PoE devices and data cabling. PoE Pro measures and reports PoE class, voltage/voltage 
...
Read more...
---