printer friendly version
Handheld PoE tester
1 August 2019 Test & Measurement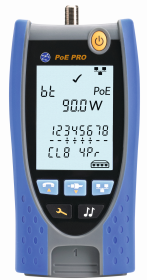 Ideal Networks has launched a new handheld tester that eliminates guesswork when installing, maintaining and troubleshooting PoE devices and data cabling. PoE Pro measures and reports PoE class, voltage/voltage drop, Watts and injector type, making it easy to see how much power is available.
Power over Ethernet (PoE) is used to power VoIP phones, smart lighting systems, CCTV, digital signage, Wi-Fi access points, intercoms, sensors and much more. As PoE continues to grow, technicians need fast, accurate PoE validation to eliminate guesswork and get the job done faster.
"Previously technicians had to understand all the various standards, device power outputs and cable lengths to be sure a device will operate successfully. There was a lot of guesswork involved," explains marketing director Tim Widdershoven. "With the PoE Pro, users can see whether 75 W of power is provided to a device that needs 75 W of power, such as a remote point-of-sale kiosk or a digital flight status sign at an airport. The pass-fail indication provides peace of mind the PoE device will work first time every time."
If the PoE test fails at the device location, the technician can measure available power directly from the switch or injector to instantly determine whether the problem lies with the power supply or cabling. Easy-to-read test results are shown on the large backlit screen, up to a maximum of 90 W (PoE++).
The tester displays the voltage, PoE class from 0 to 8 and type, whether 802.3 af, at or bt, regardless of cable length, cable quality or other factors. There is no setup or complicated configuration; users can simply connect the PoE Pro to the cable or PoE port to display the maximum power available.
There is no need for separate testers as PoE Pro is both a data cable and PoE verifier with all the familiar cable testing features of the VDV II Pro from Ideal Networks. With comprehensive details on wire-map faults such as opens, shorts, crossovers and split pairs, PoE Pro can identify wiring errors instantly. It utilises time domain reflectometry (TDR) to accurately measure cable length and provide distance-to-fault information.
There is also Ethernet speed detection (10/100/1000 Mbps) and it quickly determines which media service is running over the cable, such as Ethernet, ISDN, PBX and PoE, resulting in faster fault diagnosis. Furthermore, users can utilise the port blink feature to identify the switch port or the in-built analog and digital tone generator with a compatible amplifier probe for quick cable tracing.
For more information contact Coral-i Solutions, +27 11 315 5500, sales@coral-i.com
Credit(s)
Further reading:
Phase noise analyser for precision oscillator characterisation
29 April 2020, Altron Arrow , Test & Measurement
To help research and manufacturing engineers make precise and accurate measurement of frequency signals, including those generated by atomic clocks and other high-performance frequency reference modules 
...
Read more...
---
Drive testing of 2G, 3G, 4G and 5G NR mobile networks
29 May 2020, Coral-i Solutions , Telecoms, Datacoms, Wireless, IoT
Nemo Outdoor is a laptop-based drive test tool for 2G, 3G, 4G and 5G NR mobile network testing which supports over 300 devices and scanning receivers, from various vendors, all the latest network technologies 
...
Read more...
---
Ethernet tap for IO Ninja
25 March 2020, RF Design , Test & Measurement
Monitoring network communications of your PC can be accomplished without any specialised hardware – just use the Pcap Sniffer plugin of IO Ninja. The task of tapping into the Ethernet traffic of a non-PC 
...
Read more...
---
Bench-top vector signal generator
29 April 2020, RFiber Solutions , Test & Measurement
The T3267E series bench-top vector signal generator from Transcom Instruments has excellent radio frequency performance and rich signal generating function. It can provide arbitrary wave, continuous 
...
Read more...
---
Tektronix and Coherent Solutions partner for fully integrated optical comms
25 March 2020, Comtest , Test & Measurement
Comtest has announced that technology companies Tektronix and Coherent Solutions have an exclusive partnership agreement to provide fully integrated optical communications platforms to new and existing 
...
Read more...
---
Vector network analyser training kit
26 February 2020, Comtest , Test & Measurement
Pico Technology has added significant functionality and value to its low-cost, high-performance vector network analyser (VNA), by joining the NI/AWR Connected Partner community. The PicoVNA interface 
...
Read more...
---
Better phase noise measurement for Infiniium UXR scopes
26 February 2020, Concilium Technologies , Test & Measurement
Keysight Technologies and Silicon Labs announced a collaboration that streamlines the validation of timing solutions critical in the development of system-level designs for wireless communications, high-speed 
...
Read more...
---
Eliminate risk with proper calibration
26 February 2020, Concilium Technologies , Test & Measurement
Proper calibration lowers cost of test by reducing the number of incorrect decisions made, by improving instrument performance.
Read more...
---
Double pulse test software for Tektronix AFG
29 January 2020, Comtest , Test & Measurement
Comtest announced the availability of Tektronix' new software plugin for its AFG31000 arbitrary function generator (AFG), making it possible to perform crucial double pulse testing in less than a minute, 
...
Read more...
---
Battery charge/discharge test system
29 January 2020, Conical Technologies , Test & Measurement
The ITS5300 battery charge and discharge test system from ITECH is designed for a variety of power batteries including lead acid, nickel hydrogen, lithium batteries, supercapacitors, hydrogen fuel cells 
...
Read more...
---