printer friendly version
Handheld PoE tester
26 June 2019
Test & Measurement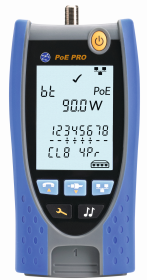 Ideal Networks has launched a new handheld tester that eliminates guesswork when installing, maintaining and troubleshooting PoE devices and data cabling. PoE Pro measures and reports PoE class, voltage/voltage drop, Watts and injector type, making it easy to see how much power is available.
Power over Ethernet (PoE) is used to power VoIP phones, smart lighting systems, CCTV, digital signage, Wi-Fi access points, intercoms, sensors and much more. As PoE continues to grow, technicians need fast, accurate PoE validation to eliminate guesswork and get the job done faster.
"Previously technicians had to understand all the various standards, device power outputs and cable lengths to be sure a device will operate successfully. There was a lot of guesswork involved," explains marketing director Tim Widdershoven. "With the PoE Pro, users can see whether 75 W of power is provided to a device that needs 75 W of power, such as a remote point-of-sale kiosk or a digital flight status sign at an airport. The pass-fail indication provides peace of mind the PoE device will work first time every time."
If the PoE test fails at the device location, the technician can measure available power directly from the switch or injector to instantly determine whether the problem lies with the power supply or cabling. Easy-to-read test results are shown on the large backlit screen, up to a maximum of 90 W (PoE++).
The tester displays the voltage, PoE class from 0 to 8 and type, whether 802.3 af, at or bt, regardless of cable length, cable quality or other factors. There is no setup or complicated configuration; users can simply connect the PoE Pro to the cable or PoE port to display the maximum power available.
There is no need for separate testers as PoE Pro is both a data cable and PoE verifier with all the familiar cable testing features of the VDV II Pro from Ideal Networks. With comprehensive details on wire-map faults such as opens, shorts, crossovers and split pairs, PoE Pro can identify wiring errors instantly. It utilises time domain reflectometry (TDR) to accurately measure cable length and provide distance-to-fault information.
There is also Ethernet speed detection (10/100/1000 Mbps) and it quickly determines which media service is running over the cable, such as Ethernet, ISDN, PBX and PoE, resulting in faster fault diagnosis. Furthermore, users can utilise the port blink feature to identify the switch port or the in-built analog and digital tone generator with a compatible amplifier probe for quick cable tracing.
For more information contact Coral-i Solutions, +27 11 315 5500, sales@coral-i.com
Credit(s)
Further reading:
DIN-rail programmable transmitter
23 October 2019, Instrotech , Test & Measurement
Calog Instrument's versatile DPM9000 series – a miniature DIN-rail mount programmable isolated transmitter range – boasts high reliability and a versatile, wide range of programmable inputs. With dimensions 
...
Read more...
---
Hands-on learning module
23 October 2019, Altron Arrow , Test & Measurement
The ADALM2000 (M2K) active learning module is an affordable, USB-powered, software-defined instrument that exceeds the capabilities of its predecessor ADALM1000 (M1K). With 12-bit ADCs (analog-to-digital 
...
Read more...
---
Digital multimeter with thermal imager
23 October 2019, RS Components (SA) , Test & Measurement
A digital multimeter (DMM) with a built-in thermal imager has been added to RS Components' RS PRO product range. The RS-9889 allows engineers to identify thermal overload issues in electrical equipment 
...
Read more...
---
Project-based learning for the modern engineer
23 October 2019 , Test & Measurement
Projects that inherently challenge students to use innovative design thinking often involve interacting with an unknown process or device. Students are encouraged to understand the unknown through theory, 
...
Read more...
---
Automotive Ethernet testing software
25 September 2019, Comtest , Test & Measurement
Tektronix has released two new software packages that greatly simplify Automotive Ethernet testing, debug and protocol decode for use with its 5 and 6 Series mixed-signal oscilloscopes (MSO). Using 
...
Read more...
---
4-channel PC-based oscilloscope
28 August 2019, Vepac Electronics , Test & Measurement
The newly developed Model 1330 from Peaktech is a 4-channel PC oscilloscope with 100 MHz bandwidth and 1 GSps sample rate, which is suitable for mobile use on a laptop, and permanent installation in control 
...
Read more...
---
Debugging probe for STM32 MCUs
31 July 2019, Altron Arrow , Test & Measurement
The STLINK-V3MINI probe, new from STMicroelectronics, combines the features of the STLINK-V3SET with standalone simplicity for faster programming and ease of use. The compact, portable probe can be 
...
Read more...
---
Digitiser for advanced applications
31 July 2019, Comtest , Test & Measurement
Tektronix, Inc. has unveiled the 6 Series low-profile digitiser, a 4-channel instrument offering up to 8 GHz bandwidth, 25 GSps sampling rate and a 12-bit ADC (analog-to-digital converter) on every channel, 
...
Read more...
---
Cost-effective tools for makers and small businesses to innovate
31 July 2019, TRX Electronics , Test & Measurement
In addition to professional engineers, makers and hobbyists are now able to contribute significantly to innovation in our modern world – as they can develop ideas with passion and without the financial and logistical constraints that often stifle ideas in large corporations.
Read more...
---
Sniffer software gets J-Link RTT terminal plugin
31 July 2019, RF Design , Test & Measurement
Despite being fans of the Real-Time Trace (RTT) feature in Segger's J-Link debug probes, engineers at Tibbo found that Segger's own RTT Viewer software was a bit too simple for their needs, and so created 
...
Read more...
---