The Local Southern African Manufacturing Expo (LME), held in Johannesburg in late May, managed to draw a respectable 3473 visitors in its first ever outing. "The Expo was the culmination of a vision that the South African Capital Equipment Export Council (SACEEC) has nurtured for a number of years," said Eric Bruggeman, CEO at SACEEC. "We fully believe that the time has come for local manufacturing to take centre stage by capturing a large slice of the international pie, together with replacing imported products with local alternatives."
In his presentation at the free-to-attend SAIMechE Seminar Theatre, Bruggeman emphasised that South African manufacturers need to learn to market their strengths through entrepreneurship, aftersales service, innovation, 4IR (the Fourth Industrial Revolution), as well as finding the right BBBEE partners and technology partners. "We can no longer work in isolation. This is a team effort, if you will, and requires full participation and dedication from all stakeholders."
This sentiment was echoed by Steve Jardine of Recapitalise, who said: "Re-industrialisation of South Africa takes team work and skill to access markets and achieve the levels of local content desired. It takes thousands of entities working together, although independently, to achieve an increase in productive outputs and sustainable growth across the economy."
In addition to the wide array of locally manufactured products and local services showcased at the Expo, visitors enjoyed 12 informative seminar sessions, the hands-on Skills Development Zone hosted by the Artisan Training Institute (ATI), and the SA Mining Supply Chain Conference and Workshop, which had 112 delegates over two days.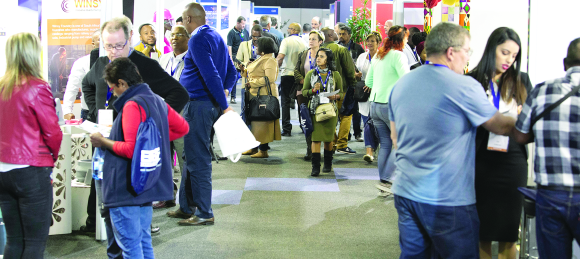 The conference and workshop fostered positive interaction and produced a number of tangible goals. According to Ronnel Yankana of the Mandela Mining Precinct, these included the fact that local industry requires robust coordination to capitalise on the opportunities behind the Mining Charter 3 for the development of local content and localising our supply chain. "This would encourage import displacement and enhance our competitiveness through:
• Building strong supply chain clusters.
• Technology and R&D investments.
• Implementing coding for standards, inventory and supply chain control.
• Understanding the needs and requirements from the end users (mines).
• Investigating/developing funding vehicles to assist local players.
"In addition, mechanisation and automation could be jobs neutral and create more jobs if the mining supply chain developed locally."
For more information visit www.localmanufacturingexpo.co.za