printer friendly version
Unified STM32 programming tool
31 July 2019
Design Automation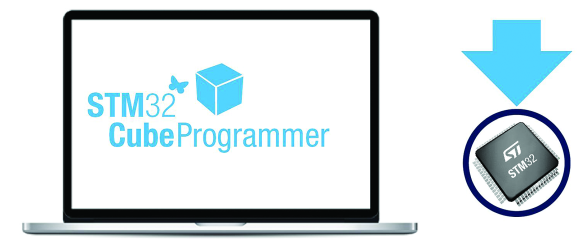 Making life easier for STM32 microcontroller (MCU) and microprocessor (MPU) users, the latest version of the STM32CubeProgrammer from STMicroelectronics gathers the capabilities of multiple device programmers into one universal tool. STM32CubeProgrammer lets users program their devices through any convenient connection, choosing from the MCU's JTAG or single-wire debug (SWD) pins, a UART, or USB, SPI, I2C or CAN interfaces.
The new multi-OS software replaces several tools including ST Visual Programmer (STVP), DFuSe USB Device Firmware Upgrade programmer, Windows-only STM32 Flash loader, and software utilities for use with ST-Link. From now on, new STM32 products will be supported only by STM32CubeProgrammer.
Built-in features include the STM32 Trusted Package Creator, which protects OEMs' intellectual property by encrypting
firmware using an AES-GCM key and working with the STM32HSM-V1 companion Hardware Security Module (HSM). The HSM manages authentication and licensing, with counter-limited Secure Firmware Install (SFI) allowing OEMs to restrict the number of devices that can be programmed.
For more information contact EBV Electrolink, +27 21 402 1940, capetown@ebv.com
Credit(s)
Further reading:
On-the-ground sales support for South African Farnell customers
25 November 2020, EBV Electrolink , News
Farnell, an Avnet company and global distributor of electronic components, products and solutions, has enhanced its service to customers in South Africa through a new partnership with sister company EBV, 
...
Read more...
---
Global shutter image sensor for machine vision
28 October 2020, EBV Electrolink , Opto-Electronics
ON Semiconductor has introduced the AR0234CS 2,3 megapixel CMOS image sensor with global shutter technology. The high-performance sensor is designed for a variety of applications including machine vision 
...
Read more...
---
Licence- and royalty-free ensemble graphics toolkit
28 October 2020, Altron Arrow , Design Automation
Graphical user interfaces (GUIs) and interactive touchscreen displays provide intuitive user experiences in applications from robotic and machine controls to medical user interfaces, automotive instrumentation 
...
Read more...
---
HMI for IoT development kit
29 July 2020, RS Components (SA) , Design Automation
Optimised for HMI development in the IoT (Internet of Things), Renesas Electronics' RX72N Envision Kit offers a highly sophisticated and integrated platform for developing applications that require a 
...
Read more...
---
Wireless MCUs for automotive and industrial
31 August 2020, EBV Electrolink , Telecoms, Datacoms, Wireless, IoT
New devices have been added to NXP Semiconductors' KW3x family of wireless microcontrollers (MCUs). The new KW39/38/37 MCUs add Bluetooth 5.0 long-range capabilities and expanded Bluetooth advertising 
...
Read more...
---
MIFARE DESFire EV3 IC
30 June 2020, EBV Electrolink , Telecoms, Datacoms, Wireless, IoT
NXP Semiconductors announced its new MIFARE DESFire EV3 IC that ushers in next-generation performance, advanced security and seamless integration of mobile services for a new era of security and connectivity 
...
Read more...
---
ON Semi expands portfolio for industrial motor drives
29 April 2020, EBV Electrolink , Power Electronics / Power Management
Motor drive systems are proliferating along with industrial automation and robotics. These systems require energy efficiency, precise measurement, accurate control, and high reliability within harsh industrial 
...
Read more...
---
USB-C PD 3.0 controllers
29 May 2020, EBV Electrolink , Power Electronics / Power Management
ON Semiconductor has announced a pair of novel devices that are fully compliant with the USB-C PD 3.0 standard. The FAN6390 adaptive charging controller brings ease of integration of the USB-C PD 3.0 programmable 
...
Read more...
---
Ultra-sensitive NIR image sensor
29 May 2020, EBV Electrolink , Opto-Electronics
ams recently introduced the CMOS Global Shutter Sensor (CGSS) near-infrared (NIR) image sensor, CGSS130, complementing its recently announced 3D system. The CGSS130 enables 3D optical sensing applications 
...
Read more...
---
Online Tibbo BASIC code generator
29 May 2020, RF Design , Design Automation
Cody is a template project generator that produces working Tibbo BASIC code from the information provided via a few simple-to-understand configuration screens. This web-based app allows you to quickly 
...
Read more...
---