printer friendly version
Celebrating 15 years of Laser Stencil Technology
5 August 2019 News
Since its inception in 2004, Laser Stencil Technology has grown into a prominent figure in the South African electronics manufacturing industry. Having been involved in circuit board manufacturing using the same photographic and etching technology since 1983, things changed for the company's founder, Donovan Jeffery, when the first brass SMT stencil was produced and bonded directly to a steel frame. This led to the birth of Stencils CC in 1989, which ran concurrently with his involvement in PCB manufacturing.
"As those who were involved in assembly in those early days will recall, it was daunting to make the transition from leaded to surface mount components, as was the capital investment required to do so," Jeffery recalls. "As my PCB customers became more and more involved in surface mount technology, so they also became my stencil customers and those relationships have flourished and, in many cases, turned into friendships."
Over time, stencil durability became an issue and brass was replaced with stainless steel, and by then the stencils were being bonded onto frames stretched with polyester mesh. This manufacturing method began to show its limitations around 2002 as technology became more advanced and customers began to express their need for smaller and more precise apertures. It was at this point that the inevitable decision had to be taken to purchase a stencil laser, and so the search began to find the best machine for the job. Together with the procurement of the new equipment, a new company was formed and Laser Stencil Technology (LST) was born.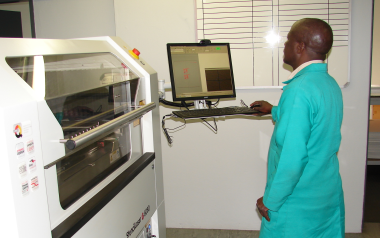 In 2005, the company became the sole agent for Zelflex pneumatic frames, which proved to be substantially more cost effective for its customers by eliminating the aluminium frame, mesh and bonding costs. What is more, a stencil could now be engineered, cut and delivered within hours of the order being placed.
LST purchased the distribution licence for Vectorguard Stencil Foils in South Africa in 2010, giving its customers the choice of two systems to meet their specific assembly requirements. In the same year, a second stencil laser was purchased to improve production time during peak demand, as well as to provide redundancy in the event of downtime on the first laser.
July 2015 saw the company move into its own building in Strijdom Park, one of the busiest industrial centres in Johannesburg and conveniently positioned with easy access from the highway.
"As we know in this industry, nothing stands still, and in recent years new technology has presented many challenges to the assembly industry," Jeffery muses. "There are occasions where PCB designs contain a large variety of parts including fine-pitch devices that require a thinner stencil and larger parts that require a thicker stencil. In this case it is possible for a multilevel or 'stepped' stencil to be designed and manufactured on our recently acquired laser which is unsurpassed in terms of capability and accuracy."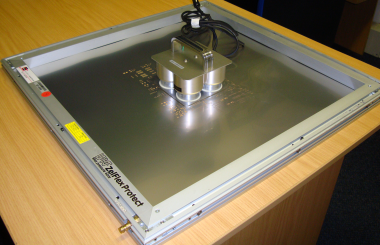 Step-up areas are created by adding material to the stencil and are used to increase the volume and height of the solder paste in selected areas - useful for 'pin in paste' and large format devices. Step-down areas are created by removing material from the stencil and are used to reduce the volume and height of the solder paste deposit in selected areas. The multilevel stencil enables one to deposit the correct volume of paste for every device and therefore achieve optimum results.
"In June 2019, Laser Stencil Technology celebrated its 15th year of serving the South African electronics industry with an uncompromising attitude towards service and quality. One thing is certain, and that is that we could not have achieved what we have done without the loyal and unwavering support of our customers," Jeffery concludes.
For more information contact Laser Stencil Technology, +27 11 793 1318, stencils@lstec.co.za, www.lstec.co.za
Credit(s)
Further reading:
Electrocomponents backs Engineering for People Design Challenge
26 February 2021, RS Components (SA) , News
Electrocomponents, of which RS Components is a trading brand, has signed a one-year partnership agreement with Engineers Without Borders International, the leading movement that puts global responsibility 
...
Read more...
---
CSIR recognised as top employer in South Africa
25 November 2020 , News
The Council for Scientific and Industrial Research (CSIR) has been crowned as South Africa's top employer in the global Top Employers Institute's 2021 Top Employers awards. Being certified as a top employer 
...
Read more...
---
Top ten IC growth categories target emerging applications
25 November 2020 , News
IC Insights recently released its 2021 edition of The McClean Report. The new analysis and forecast of the IC industry includes its ranking of IC product categories based on sales growth rate. The listing 
...
Read more...
---
Musk's monkeys play mind games for real
25 November 2020 , News
As reported by
Bloomberg
and various other news outlets, Elon Musk stated during a speech on Clubhouse (a private social app where users host off-the-cuff, informal conversations) that one of his startup 
...
Read more...
---
Dire warning on component lead times
25 November 2020 , News
According to the supply chain, Microchip recently issued a notice to its customers, warning that the lead time of some of its devices will be extended from the previous 18 weeks to 54 weeks. As reported 
...
Read more...
---
From the editor's desk: Should I stay or should I go?
26 February 2021, Technews Publishing , News
Observant readers will have noted that, for most of the latter half of last year, we stopped publishing our regular events column. There just didn't seem much point when industry events were being cancelled 
...
Read more...
---
CSIR recognised as top employer in South Africa
26 February 2021 , News
The Council for Scientific and Industrial Research (CSIR) has been crowned as South Africa's top employer in the global Top Employers Institute's 2021 Top Employers awards. Being certified as a top employer 
...
Read more...
---
On-the-ground sales support for South African Farnell customers
26 February 2021, EBV Electrolink , News
Farnell, an Avnet company and global distributor of electronic components, products and solutions, has enhanced its service to customers in South Africa through a new partnership with sister company EBV, 
...
Read more...
---
Personality profile: Bossie Coetzer
26 February 2021, Rugged Interconnect Technologies , Editor's Choice, News
"Understanding product knowledge is power. I started reading any magazine that was available with articles discussing embedded products, including microprocessor technologies and bus architectures."
Read more...
---
Government and ICASA commended for temporary spectrum
25 November 2020 , News
MTN has recognised the Department of Communication and Digital Technologies (DCDT), as well as the industry regulator ICASA, for the important actions these two bodies have taken to advance the release 
...
Read more...
---