printer friendly version
Celebrating 15 years of Laser Stencil Technology
5 August 2019 News
Since its inception in 2004, Laser Stencil Technology has grown into a prominent figure in the South African electronics manufacturing industry. Having been involved in circuit board manufacturing using the same photographic and etching technology since 1983, things changed for the company's founder, Donovan Jeffery, when the first brass SMT stencil was produced and bonded directly to a steel frame. This led to the birth of Stencils CC in 1989, which ran concurrently with his involvement in PCB manufacturing.
"As those who were involved in assembly in those early days will recall, it was daunting to make the transition from leaded to surface mount components, as was the capital investment required to do so," Jeffery recalls. "As my PCB customers became more and more involved in surface mount technology, so they also became my stencil customers and those relationships have flourished and, in many cases, turned into friendships."
Over time, stencil durability became an issue and brass was replaced with stainless steel, and by then the stencils were being bonded onto frames stretched with polyester mesh. This manufacturing method began to show its limitations around 2002 as technology became more advanced and customers began to express their need for smaller and more precise apertures. It was at this point that the inevitable decision had to be taken to purchase a stencil laser, and so the search began to find the best machine for the job. Together with the procurement of the new equipment, a new company was formed and Laser Stencil Technology (LST) was born.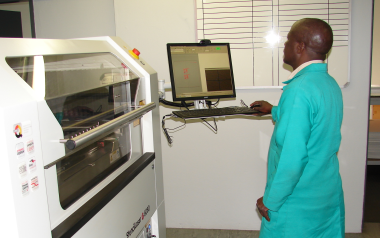 In 2005, the company became the sole agent for Zelflex pneumatic frames, which proved to be substantially more cost effective for its customers by eliminating the aluminium frame, mesh and bonding costs. What is more, a stencil could now be engineered, cut and delivered within hours of the order being placed.
LST purchased the distribution licence for Vectorguard Stencil Foils in South Africa in 2010, giving its customers the choice of two systems to meet their specific assembly requirements. In the same year, a second stencil laser was purchased to improve production time during peak demand, as well as to provide redundancy in the event of downtime on the first laser.
July 2015 saw the company move into its own building in Strijdom Park, one of the busiest industrial centres in Johannesburg and conveniently positioned with easy access from the highway.
"As we know in this industry, nothing stands still, and in recent years new technology has presented many challenges to the assembly industry," Jeffery muses. "There are occasions where PCB designs contain a large variety of parts including fine-pitch devices that require a thinner stencil and larger parts that require a thicker stencil. In this case it is possible for a multilevel or 'stepped' stencil to be designed and manufactured on our recently acquired laser which is unsurpassed in terms of capability and accuracy."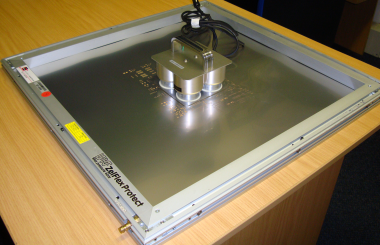 Step-up areas are created by adding material to the stencil and are used to increase the volume and height of the solder paste in selected areas - useful for 'pin in paste' and large format devices. Step-down areas are created by removing material from the stencil and are used to reduce the volume and height of the solder paste deposit in selected areas. The multilevel stencil enables one to deposit the correct volume of paste for every device and therefore achieve optimum results.
"In June 2019, Laser Stencil Technology celebrated its 15th year of serving the South African electronics industry with an uncompromising attitude towards service and quality. One thing is certain, and that is that we could not have achieved what we have done without the loyal and unwavering support of our customers," Jeffery concludes.
For more information contact Laser Stencil Technology, +27 11 793 1318, stencils@lstec.co.za, www.lstec.co.za
Credit(s)
Further reading:
From the editor's desk: Are electromagnetic waves culpable in making us sick?
30 June 2020, Technews Publishing , News
When I started writing my column for this issue, I was determined to come up with a topic and a way to avoid mentioning the 'C' word. I came close – you will only find 'COVID-19' mentioned once or twice 
...
Read more...
---
To fake or not to fake
30 June 2020 , News
Prof. Johan Meyer explores the complex and controversial topic of the potential link between the global rollout of 5G networks and the COVID-19 pandemic.
Read more...
---
Clearing the Static: Curb the spread of COVID-19 with stringent floor hygiene
30 June 2020, Actum Electronics , News
According to the World Health Organisation (WHO), COVID-19 is primarily transmitted from person to person through respiratory droplets that emerge from the nose and mouth when an infected person speaks, 
...
Read more...
---
Personality profile: Warren Mande
30 June 2020, Altron Arrow , News
"It is said that "culture eats strategy for breakfast". Look to join companies whose culture fits your personal belief system."
Read more...
---
Not the end, but a journey
30 June 2020, ExecuKit , News
ExecuKit's Renita Fleischer and Elizna Classen offer local companies a route to help them navigate their way through what has become the 'new normal.'
Read more...
---
Elmatica CEO to vice chair IPC cybersecurity task group
30 June 2020, Elmatica , News
Didrik Bech, CEO of printed circuit broker Elmatica, has been appointed to serve as vice chair for IPC's new cybersecurity task group. The 2-12c Task Group leadership is a representation of IPC as an 
...
Read more...
---
From the editor's desk: Making and sending things to space
29 May 2020, Technews Publishing , News
In this issue, one of the topics we are featuring is the aerospace and military/defence sector. The feature includes an analysis of what it takes to successfully design and manufacture products in this 
...
Read more...
---
Electronics news digest
29 May 2020, Technews Publishing , News
South Africa
• Acting minister of communications and digital technologies, Jackson Mthembu, joined the world in observing World Telecommunication and Information Society Day (WTISD). Proclaimed by the 
...
Read more...
---
Personality profile: David Power
29 May 2020, Cadshop , News
"Aspire to work for a company that you admire, and for a boss that you want to serve, that shares your passion and motivation."
Read more...
---
Designing for military and defence applications
29 May 2020, Omnigo, Kreon Technology , News
No business can stand on its own without strong partnerships and stakeholder relationships. In this regard the military and defence industry is no exception.
Read more...
---