printer friendly version
Digitiser for advanced applications
31 July 2019
Test & Measurement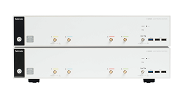 Tektronix, Inc. has unveiled the 6 Series low-profile digitiser, a 4-channel instrument offering up to 8 GHz bandwidth, 25 GSps sampling rate and a 12-bit ADC (analog-to-digital converter) on every channel, in a space-saving 2U rack form factor.
In contrast to digitisers that interleave sample rate, bandwidth and record length, the 6 Series delivers the same performance across all channels, making it ideal for advanced applications such as high-energy physics, weapons and materials research as well as automated test equipment (ATE) applications in technologies such as 5G mmWave, ultra wideband, WiGig and automotive radar.
In each of these applications, engineers require digitisers with the highest precision and performance possible coupled with a compact footprint for increased channel density. In the case of high-energy physics research, physicists, engineers and technicians often invest weeks to orchestrate 'single-shot' events and need confidence that the test results captured by digitisers are valid. The 6 Series digitiser delivers that confidence regardless of the number of input channels, which can number in the hundreds for large projects.
The digitiser uses the same Tektronix-designed 12-bit Tek049 ASIC on each of its four channels as the 5 and 6 Series mixed-signal oscilloscopes. It is available in multiple bandwidth options ranging from 1 GHz to 8 GHz and offers a 25 GSps sample rate with enhanced low-noise performance and a highly effective number of bits.
With patented ADC and digital down conversion (DDC) signal paths, users can acquire 2 GHz of RF capture bandwidth in Spectrum View while independently controlling the frequency and time domains. To maintain better accuracy over long periods of time, the digitiser can run signal path compensation without the need to remove cables or signals.
Credit(s)
Further reading:
DIN-rail programmable transmitter
23 October 2019, Instrotech , Test & Measurement
Calog Instrument's versatile DPM9000 series – a miniature DIN-rail mount programmable isolated transmitter range – boasts high reliability and a versatile, wide range of programmable inputs. With dimensions 
...
Read more...
---
Hands-on learning module
23 October 2019, Altron Arrow , Test & Measurement
The ADALM2000 (M2K) active learning module is an affordable, USB-powered, software-defined instrument that exceeds the capabilities of its predecessor ADALM1000 (M1K). With 12-bit ADCs (analog-to-digital 
...
Read more...
---
Digital multimeter with thermal imager
23 October 2019, RS Components (SA) , Test & Measurement
A digital multimeter (DMM) with a built-in thermal imager has been added to RS Components' RS PRO product range. The RS-9889 allows engineers to identify thermal overload issues in electrical equipment 
...
Read more...
---
Project-based learning for the modern engineer
23 October 2019 , Test & Measurement
Projects that inherently challenge students to use innovative design thinking often involve interacting with an unknown process or device. Students are encouraged to understand the unknown through theory, 
...
Read more...
---
Automotive Ethernet testing software
25 September 2019, Comtest , Test & Measurement
Tektronix has released two new software packages that greatly simplify Automotive Ethernet testing, debug and protocol decode for use with its 5 and 6 Series mixed-signal oscilloscopes (MSO). Using 
...
Read more...
---
4-channel PC-based oscilloscope
28 August 2019, Vepac Electronics , Test & Measurement
The newly developed Model 1330 from Peaktech is a 4-channel PC oscilloscope with 100 MHz bandwidth and 1 GSps sample rate, which is suitable for mobile use on a laptop, and permanent installation in control 
...
Read more...
---
Handheld PoE tester
26 June 2019, Coral-i Solutions , Test & Measurement
Ideal Networks has launched a new handheld tester that eliminates guesswork when installing, maintaining and troubleshooting PoE devices and data cabling. PoE Pro measures and reports PoE class, voltage/voltage 
...
Read more...
---
Debugging probe for STM32 MCUs
31 July 2019, Altron Arrow , Test & Measurement
The STLINK-V3MINI probe, new from STMicroelectronics, combines the features of the STLINK-V3SET with standalone simplicity for faster programming and ease of use. The compact, portable probe can be 
...
Read more...
---
Cost-effective tools for makers and small businesses to innovate
31 July 2019, TRX Electronics , Test & Measurement
In addition to professional engineers, makers and hobbyists are now able to contribute significantly to innovation in our modern world – as they can develop ideas with passion and without the financial and logistical constraints that often stifle ideas in large corporations.
Read more...
---
Sniffer software gets J-Link RTT terminal plugin
31 July 2019, RF Design , Test & Measurement
Despite being fans of the Real-Time Trace (RTT) feature in Segger's J-Link debug probes, engineers at Tibbo found that Segger's own RTT Viewer software was a bit too simple for their needs, and so created 
...
Read more...
---