printer friendly version
4-channel PC-based oscilloscope
28 August 2019
Test & Measurement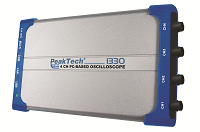 The newly developed Model 1330 from Peaktech is a 4-channel PC oscilloscope with 100 MHz bandwidth and 1 GSps sample rate, which is suitable for mobile use on a laptop, and permanent installation in control cabinets, industrial equipment and many other applications where a small, lightweight and powerful oscilloscope is required. The user can acquire the measurement data over the several data interfaces directly on the PC with the included software.
The supporting software and the instrument's features make it diversely suitable for service, scientific and industrial applications. The oscilloscope has 20 automatic measurement modes, mathematical functions (+, -, *, /) and FFT, and comes with accessories including four probes, (1:1, 10:1), USB cable, four BNC cables, AC-DC adaptor, instruction manual, and software CD for Windows operating systems.
The Model 1330 has a USB port for real-time data transmission, and an insulated LAN network interface through which the data can be transmitted remotely in local area networks. This allows it, for example, to be installed in electrical systems while the data acquisition can be done comfortably from the workplace. The interface's isolation ensures maximum safety for the user and the computer system.
Credit(s)
Further reading:
New range of Tektronix DSOs
30 June 2020, Comtest , Test & Measurement
Comtest has released Tektronix's new TBS2000B series of digital storage oscilloscopes (DSOs) that was developed to meet the performance, usability and affordability needs of both engineers and educators. 
...
Read more...
---
Contactless ESD testing and access control unit
30 June 2020, Actum Group , Test & Measurement
In the electronics manufacturing industry, an electrostatic discharge (ESD) can cause irreparable damage to electronic components. This micro-lightning bolt can burn holes through insulating layers and 
...
Read more...
---
How are IR cameras calibrated and how does ambient temperature affect readings?
30 June 2020, Instrotech , Test & Measurement
Infrared thermometers are calibrated with the help of reference radiation sources, so-called 'black bodies'. These radiant sources are able to produce different temperatures with a high stability.  
...
Read more...
---
Thermal monitor for fever screening
30 June 2020, Actum Group , Test & Measurement
The TCSF256 thermal monitor from Actum Group is a fully automated, plug-and-play fever screening unit. It adopts an infrared radiation measurement technique that can measure body temperature by non-contact 
...
Read more...
---
Catalogue: Vepac Electronics
30 June 2020, Vepac Electronics , Technical Literature
Vepac Electronics has released a new and revised catalogue. Vepac is a leading provider of power solutions and ancillary devices used in the manufacture, integration and service of customer products and 
...
Read more...
---
Backplanes for various computing architectures
30 June 2020, Vepac Electronics , Computer/Embedded Technology
Verotec designs, supplies and integrates bus-based products and systems. Its extensive standard range consists of open-architecture backplanes and extender boards for VME, VME64x, VXI, VPX, VXS, CompactPCI, 
...
Read more...
---
Fanless 600 W power supplies
30 June 2020, Vepac Electronics , Power Electronics / Power Management
XP Power has released a new series of convection cooled, 600 W AC-DC power supplies. The ultra-compact power supplies deliver full load power under a wide range of conditions without additional cooling. 
...
Read more...
---
Uncover EMI issues early with simple pre-compliance tests
30 June 2020, Concilium Technologies , Test & Measurement
An effective pre-compliance testing methodology will reduce test cycle times, which ultimately impacts a company's bottom line.
Read more...
---
The promise of 5G wireless communications
30 June 2020, Lambda Test , Test & Measurement
The deployment of 5G services worldwide is driving a massive increase in fibre densification for the required fronthaul and backhaul links interconnecting radio base stations and web-scale core packet networks.
Read more...
---
DC-DC converters with 10-year warranty
29 May 2020, Vepac Electronics , Power Electronics / Power Management
Addressing a large range of demanding applications, the MGxx40 series is available in three input voltage ranges: 4,5 V to 13 V, 9 V to 36 V and 18 V to 76 V. A single-output version (MGFS40) is available 
...
Read more...
---