printer friendly version
4-channel PC-based oscilloscope
28 August 2019
Test & Measurement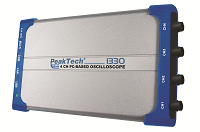 The newly developed Model 1330 from Peaktech is a 4-channel PC oscilloscope with 100 MHz bandwidth and 1 GSps sample rate, which is suitable for mobile use on a laptop, and permanent installation in control cabinets, industrial equipment and many other applications where a small, lightweight and powerful oscilloscope is required. The user can acquire the measurement data over the several data interfaces directly on the PC with the included software.
The supporting software and the instrument's features make it diversely suitable for service, scientific and industrial applications. The oscilloscope has 20 automatic measurement modes, mathematical functions (+, -, *, /) and FFT, and comes with accessories including four probes, (1:1, 10:1), USB cable, four BNC cables, AC-DC adaptor, instruction manual, and software CD for Windows operating systems.
The Model 1330 has a USB port for real-time data transmission, and an insulated LAN network interface through which the data can be transmitted remotely in local area networks. This allows it, for example, to be installed in electrical systems while the data acquisition can be done comfortably from the workplace. The interface's isolation ensures maximum safety for the user and the computer system.
Credit(s)
Further reading:
High-voltage power supplies
23 October 2019, Vepac Electronics , Power Electronics / Power Management
The XP Emco range of high-voltage power supplies meets a wide range of high-performance demands. It includes a broad range of DC-DC converter modules with output voltages from 100 V to 10 kV in both proportional 
...
Read more...
---
DIN-rail programmable transmitter
23 October 2019, Instrotech , Test & Measurement
Calog Instrument's versatile DPM9000 series – a miniature DIN-rail mount programmable isolated transmitter range – boasts high reliability and a versatile, wide range of programmable inputs. With dimensions 
...
Read more...
---
Hands-on learning module
23 October 2019, Altron Arrow , Test & Measurement
The ADALM2000 (M2K) active learning module is an affordable, USB-powered, software-defined instrument that exceeds the capabilities of its predecessor ADALM1000 (M1K). With 12-bit ADCs (analog-to-digital 
...
Read more...
---
Digital multimeter with thermal imager
23 October 2019, RS Components (SA) , Test & Measurement
A digital multimeter (DMM) with a built-in thermal imager has been added to RS Components' RS PRO product range. The RS-9889 allows engineers to identify thermal overload issues in electrical equipment 
...
Read more...
---
Project-based learning for the modern engineer
23 October 2019 , Test & Measurement
Projects that inherently challenge students to use innovative design thinking often involve interacting with an unknown process or device. Students are encouraged to understand the unknown through theory, 
...
Read more...
---
Automotive Ethernet testing software
25 September 2019, Comtest , Test & Measurement
Tektronix has released two new software packages that greatly simplify Automotive Ethernet testing, debug and protocol decode for use with its 5 and 6 Series mixed-signal oscilloscopes (MSO). Using 
...
Read more...
---
High-voltage rack-mount PSUs
25 September 2019, Vepac Electronics , Power Electronics / Power Management
XP Glassman Power has introduced a series of rack-mount, high-voltage DC power supplies (PSU) able to supply up to 60 kV. Aimed at laboratories and OEMs, the EY series of 1200 W power supplies feature 
...
Read more...
---
Digital fibre-optic sensor
28 August 2019, Vepac Electronics , Opto-Electronics
The DFS digital fibre-optic sensor series from Tri-Tronics is designed to provide reliable detection using plastic fibre-optic light guides. The slim-line housing with protective lid will fit in a variety 
...
Read more...
---
All-in-one light pipe system
28 August 2019, Vepac Electronics , Opto-Electronics
Bivar's Zero Light Bleed adaptor technology, with built-in surface-mount LED, channels light directly to the lens, eliminating disruptive light bleed. The all-in-one adaptor system is built with optimum 
...
Read more...
---
Bidirectional laboratory power supply
28 August 2019, Vepac Electronics , Power Electronics / Power Management
EA Elektro-Automatik's new 30 kW EA-PSB 10000 is a bidirectional power supply with a working efficiency of up to 96%, both as a source and as a drain with energy feedback. The device can be switched from 
...
Read more...
---