printer friendly version
Accounting for PIM with distributed antenna installations
28 August 2019
Telecoms, Datacoms, Wireless, IoT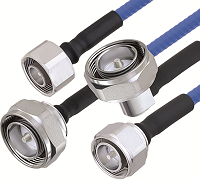 Passive intermodulation (PIM) distortion is the result of discontinuities, metal-to-metal contact, and material properties that lead to nonlinear characteristics of typically linear passive transmission lines and components.
PIM can be induced in a variety of RF components, such as connectors, adaptors, cable, combiners, splitters, couplers, tappers, attenuators, terminators, antennas and cable-to-board interconnect.
PIM is generated when two or more signal components at different frequencies interact at a non-linear junction and create a distortion product from frequency mixing. PIM becomes an issue when the distortion product of a transmission is either reflected back toward a sensitive receiver and is in the receive band, or a distortion product is transmitted and received by nearby communication systems susceptible to the particular distortion product. Due to the passive mixing of PIM generators, the power levels produced by PIM generators is generally weak, and only higher-power transmission signals tend to generate PIM power levels that are significant.
In years past, PIM issues were avoided by choosing frequency bands and filters that mitigated the amount of PIM that could impact receive bands. However, modern cellular, Wi-Fi, emergency/public service bands, new 5G cellular bands, ISM bands, TV white space bands, and other wireless services are often used in conjunction, especially with distributed antenna systems (DAS).
Many DAS are designed and installed to carry multi-band signals, either from a variety of cellular carriers, emergency/public safety, Wi-Fi, and other building automation services. Hence, the antennas, amplifiers, filters and transmission lines for DAS are all designed to operate over a wide range of sub-6 GHz frequencies, which is subsequently where the most spectrum congestion is and the greatest harm from PIM can occur. With multi-carrier systems PIM products can potentially be created by the mixing of any combination of signals and have a higher chance of landing in the bandwidth of sensitive wideband receivers.
Narrowband systems are less susceptible to PIM, as the passband of the receiver tends to be very narrow, so a precise combination of signals is necessary to create a PIM product that lands in that narrow bandwidth. However, with modern highly modulated wideband communication systems, such as 4G LTE, Wi-Fi, and new 5G NR sub-6 GHz frequency bands, receive bandwidth is much wider, and the heavily modulated wideband signals also generate much wider-band PIM products than narrowband signals.
For example, if the fundamentals from the two mixing signals is 10 MHz, then the third-order product will have three times the bandwidth (30 MHz) and the fifth-order product will have five times the bandwidth (50 MHz). With heavily modulated wideband signals, especially those that use spread spectrum techniques, the receive signals are often very weak, and PIM products that overlap with the receiver bandwidth could easily desensitise the receiver and dramatically disrupt communications.
PIM considerations specific to DAS
With DAS, another large PIM concern is the metallic structures within buildings, transportation stations, stadiums, etc. that are nearby the remote radio heads (RRH) or distributed antennas. If there are any metallic structures within a few wavelengths of the antenna, then reflections with distortion products could be received by the antennas, amplified, and carried to a receiver.
There are a variety of low-PIM antenna technologies, as well as quasi-omni antennas and the use of multiple directional antennas precisely positioned to have antenna patterns that avoid PIM generators in the environment. Also, many DAS installation mechanisms allow for changing the position of a RRH or antenna by tens of centimetres, which can significantly reduce the strength of environmental PIM generators.
Moreover, PIM transmitted and generated within the environment by other RRH, DAS antennas, and other wireless communication systems could also impact wideband DAS in hard-to-predict ways. The reason multi-carrier and multi-frequency systems are more challenging to predict is that with each additional signal, the mixing products become much more complex.
There are additional temporal considerations for PIM in DAS systems, as the environment and signals around the DAS are likely non-static. Hence, changing environmental components could lead to PIM generated at different times and in impossible-to-diagnose situations. Therefore, it is often beneficial for DAS installers to ensure that the entire system exhibits as low an internal PIM level as possible, which makes detecting, identifying and troubleshooting external PIM factors easier and more reliable.
Another area of concern for DAS systems and PIM are the large amount of connectors, adaptors, combiners, splitters, couplers, hybrids, attenuators, and other passive components that are often installed in-line to the transmission path. The cables, interconnect, connectors, and metallic features of any of these components could generate PIM, and unless they are tested once installed, their installed PIM performance may be very different than what is indicated on the datasheet.
This is especially a concern for components with ferromagnetic and ferrimagnetic elements. Though ferromagnetic metals and components can be avoided with PIM-susceptible systems, it is often difficult to avoid ferrimagnetic components, such as isolators, circulators, and phase shifters, which tend to produce higher levels of PIM than other components.
Also, the proximity of a component to a signal source impacts the strength of the distortion products generated. Therefore, placement and planning of connectors, passive, and even active components, can have a significant effect on the amount of PIM reflected back to the receiver.
Another important factor to consider is superposition, in that every distortion product that is generated will form a compound reflected signal. With complex DAS, this could lead to several distortion products within the receiver's bandwidth combining power, which makes such complex multi-carrier DAS systems even more susceptible to PIM with increased opportunity for higher-power distortion products from combinations of even low-power transmissions.
For more information contact Andrew Hutton, RF Design, +27 21 555 8400, andrew@rfdesign.co.za, www.rfdesign.co.za
Credit(s)
Further reading:
RF amplifier for linear and saturated applications
28 October 2020, RFiber Solutions , Telecoms, Datacoms, Wireless, IoT
The MAPC-A1103 is a high-power GaN-on-silicon-carbide HEMT D-mode amplifier suitable for DC to 2,7 GHz frequency operation. The device supports both CW and pulsed operation with peak output power levels 
...
Read more...
---
Flexible microwave absorber sheet
28 October 2020, RFiber Solutions , Telecoms, Datacoms, Wireless, IoT
Withwave's W-Absorber is a microwave absorber in thin sheet format made of a mixture of polymer resin and metal magnetic powder which is thin and flexible, excellent in terms of workability, and can be 
...
Read more...
---
Bluetooth module for advanced applications
28 October 2020, RF Design , Telecoms, Datacoms, Wireless, IoT
u-blox announced the NORA-B1 Bluetooth module, the newest member of its short-range radio portfolio. Based on Nordic Semiconductor's latest nRF5340 Bluetooth low energy chipset – the first to host a powerful 
...
Read more...
---
SIMcontrol leads the way in African SIM management
28 October 2020, Flickswitch , Telecoms, Datacoms, Wireless, IoT
Managing data SIMs deployed across several African countries can be tricky for companies that operate across the continent. SIMcontrol is a revolutionary offering from Flickswitch, providing companies 
...
Read more...
---
Scalable end-to-end security platform for LPWA IoT
28 October 2020, RF Design , Telecoms, Datacoms, Wireless, IoT
u-blox has announced the commercial launch of its IoT Security-as-a-Service offering. Available on both the u-blox SARA-R4 and SARA-R5 series of LTE-M cellular IoT modules, this innovative solution makes 
...
Read more...
---
V2X transceiver modules
30 September 2020, RF Design , Telecoms, Datacoms, Wireless, IoT
The VERA-P3 Series from u-blox are automotive grade 802.11p V2X (vehicle-to-everything) transceiver modules that operate in the 5,9 GHz frequency band. These automotive-grade modules are based on the 
...
Read more...
---
Voltage tuneable notch filter bank
30 September 2020, RFiber Solutions , Telecoms, Datacoms, Wireless, IoT
Atlanta Micro's AM3129 is a miniature voltage-tuneable notch filter bank covering the 1,0 to 6,0 GHz frequency range in a 4 mm QFN package. Six notch filters and two bypass paths with SP8T switches on 
...
Read more...
---
Permanent mounting MIMO antenna for Wi-Fi
30 September 2020, RF Design , Telecoms, Datacoms, Wireless, IoT
The Ultima MA530 MIMO antenna from Taoglas is a low-profile, heavy-duty, fully IP67 waterproof external M2M antenna for use in transportation and remote monitoring applications. It provides high efficiency 
...
Read more...
---
SPST RF switch for high-performance aperture tuning
30 September 2020, Hi-Q Electronics , Telecoms, Datacoms, Wireless, IoT
Skyworks has introduced the SKY59272-707LF, a single-pole, single-throw (4xSPST) switch designed for antenna tuning applications that require ultra-low off-capacitance and low on-resistance. This device 
...
Read more...
---
Applications for RF electromechanical relay switches
30 September 2020, RF Design , Telecoms, Datacoms, Wireless, IoT
RF electromechanical switches are a key active device in many signal chains, including time-domain duplex communications and pulsed radar applications. Such switches can be as simple as a 3-port toggle 
...
Read more...
---