create |connect |communicate, iCorp Technologies' new slogan, was launched on 1 August 2019.
This comes as a very deliberate progression from the company's previous slogan, 'inspire| innovate | implement,' which played a paramount role in creating an introduction and brand awareness of our PLT (product line technology) offerings over the last 11 years of electronic component distribution in South Africa.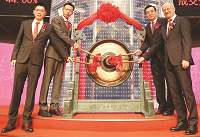 Quectel Wireless Solutions launched its IPO on the Shanghai Stock Exchange in July, 2019.
Kevin Ashton coined the phrase 'Internet of Things' in 1999. Twenty years later, IoT along with AI (artificial intelligence) and blockchain are no longer 'pie in the sky' concepts. "The IoT integrates the interconnectedness of human culture – our things – with the interconnectedness of our digital information systems – the Internet. That's the IoT," Ashton told ZDNet.
iCorp's new slogan imbibes and embodies the product technologies which I like to refer to as the iCorp of things. Our products showcase our IoT, NB-IoT and IIoT footprint. From the design-in phase or a product concept, our offerings to our customers can assist them to create intelligent M2M and IoT devices that connect and communicate smarter, quicker, securely and more reliably.
This digital disruption is fast becoming the future of our industry if not a normative to our everyday lifestyle. From a yellow quacking toy duck to a self-driving Uber car or a driverless truck , the Global IoT market value could exceed $14,4 trillion in a projection that could see anywhere between 10 and 20 million (or more) products connected. With 400 million smart water meters to be installed worldwide by 2026, scalable meter data management will become crucial. iCorp aims to be smartly disruptive through its innovative products in this poignant timeframe.
In a Dataweek article celebrating iCorp's tenth birthday earlier this year, I alluded to our company's strategic global partnerships with key manufacturers who are leading the M2M technology space in both the IoT and AI sectors. I would like to extend my congratulations to Patrick Qian, the CEO of Quectel Wireless Solutions and his team on the company's IPO (initial public offering) last month on the main board of the Shanghai Stock Exchange. With more than 100 million modules shipped across the globe to 5000+ customers, Quectel is clearly a market leader in the M2M space.
iCorp is proud to have been Quectel's distribution partner since 2013, and in February this year, Quectel led the 5G space with its then newly-launched 5G commercial modules RG500Q/RG510Q and RM500Q/RM510Q for enterprise and mobile broadband applications such as fixed wireless access, mobile hotspot devices, and public safety and surveillance applications. The modules feature the Qualcomm Snapdragon X55 5G modem and antenna modules with integrated RF transceiver, RF front-end (RFFE) and antenna elements from Qualcomm Technologies.
In our IoT focus, we feature inter alia, Quectel's new AI module, the SC66 which is now in the engineering sample stage. Also new is the family of LPWA modules – BG95 and BG77 – which are based on the Qualcomm 9205 LTE modem. One of iCorp's hot sellers is the EC25, an LTE Cat 4 module optimised for M2M and IoT applications with worldwide LTE, UMTS/HSPA+ and GSM/GPRS/EDGE coverage. Its integrated GNSS greatly simplifies product design, and provides quicker, more accurate and more dependable positioning.
Quectel also features a variety of real-time, accurate, multi-GNSS positioning modules. The range of modules includes the extremely compact size L70, the multi-GNSS L76 and L26 with dead-reckoning function, and the L80, L86 and L96 with onboard GPS antennas.

Bradley Agallio.
Also included in this IoT feature, we have focused on Antenova, iCorp's antenna manufacturer of choice. Founded in 2001, Antenova is a leading provider of high-performing standard antennas and RF antenna modules for wireless M2M, IoT and consumer electronic devices. Antenova's market leading antenna solutions include:
• The ceriiANT; flexiiANT; lamiiAnt and gigaNOVA ranges of standard off-the-shelf antennas.
• The RADIONOVA range of RF antenna modules.
• Custom antenna design services using the latest materials to provide the optimum performance in every customer's design, whether it is FR4, ceramic, stamp metal, FPC, plastic carrier, LDS (laser direct structuring) or any other advanced antenna technology.
IoT is the iCorp of Things because we create | connect | communicate.
For more information contact iCorp Technologies, +27 11 781 2029, enquiries@icorptechnologies.co.za, www.icorptechnologies.co.za