printer friendly version
New African AI initiative at Wits University
25 September 2019
News
The Molecular Sciences Institute (MSI) at the University of the Witwatersrand (Wits) in Johannesburg, in partnership with the Cirrus Initiative, recently announced plans for a new artificial intelligence (AI) research operation in Africa.
Announcing the Cirrus Initiative during the 2019 AI Expo Africa in Cape Town, Professor Zeblon Vilakazi, deputy vice-chancellor: Research and Postgraduate Affairs, said Wits is one of the leading institutions in machine learning and data science research in Africa, and that this collaboration will boost the University's efforts as it envisions a step change in the research and application of AI in the region.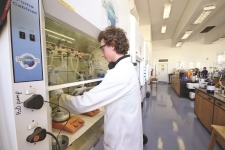 Researchers in the laboratory working on novel syntheses and characterisation of various types of semiconductor nanostructures and their application in solar cells, gas sensors and as bio-labels for early diagnostics of diseases.
Hosted by the MSI in the Wits School of Chemistry, the newly formed Cirrus Initiative will focus on the analysis of research data in chemistry, with a view to collaborate with physics, technology and engineering projects using machine learning.
Advances in AI and its application in addressing the challenges facing Africa have the potential to drive innovation in academia and industry and shape future societies. There is a growing need for talent, infrastructure and funding to support such innovation and to fully realise the opportunities presented in our technology and data-driven world.
"To become competitive in this new wave of innovation fuelled by AI and the Fourth Industrial Revolution, and with the substantial accumulation of resources and investments in new technologies in North America, Europe and Asia, requires efforts in southern Africa on a magnitude far greater than any previous endeavour spanning academia and industry," says Vilakazi.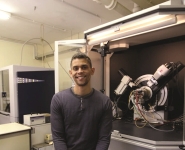 PhD candidates work on electrochemistry-related research interests spanning renewable energy, materials science and engineering. There are three research areas: energy storage, fuel cells and electrolysers.
Cirrus aims to create a collaborative university and industry platform supporting an ecosystem that fosters innovation and entrepreneurialism. As the host university, Wits will lead the Cirrus Initiative's cooperation efforts with universities, institutes, Centres of Excellence and research groups in Africa.
While Cirrus will initially focus on the research and application of AI in chemical, physical and biological systems, its capability will be extended to the benefit of other fields to foster the growth of a strong scientific ecosystem on the continent. Numerous direct and indirect employment opportunities for scientists and engineers will also be created.
"Combining Africa's vibrant talent with the building of a globally competitive platform for leading scientific research and application will drive innovation and undoubtedly foster economic development in the region. In our pursuit of knowledge creation, it is also critical that Africans are the contributors, shapers and owners of the coming advances in artificial intelligence and machine learning," says Vilakazi.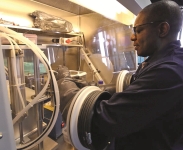 Dr Roy Forbes, a researcher within the MSI who uses X-ray diffraction amongst other techniques to develop new energy storage materials and provides high-level characterisation to industrial partners.
As part of the effort to foster collaboration, Cortex Group has entered into a cooperation agreement with the Cirrus Initiative to lead the establishment of Cirrus Foundry Cape, an operation focused on developing startups and helping them move from ideation to commercial operation. Their team has been at the forefront of collaborative AI efforts in Africa and, by working with Wits and Cirrus, will be able to unlock even more opportunities.
Further reading:
Electrocomponents backs Engineering for People Design Challenge
26 February 2021, RS Components (SA) , News
Electrocomponents, of which RS Components is a trading brand, has signed a one-year partnership agreement with Engineers Without Borders International, the leading movement that puts global responsibility 
...
Read more...
---
CSIR recognised as top employer in South Africa
25 November 2020 , News
The Council for Scientific and Industrial Research (CSIR) has been crowned as South Africa's top employer in the global Top Employers Institute's 2021 Top Employers awards. Being certified as a top employer 
...
Read more...
---
Top ten IC growth categories target emerging applications
25 November 2020 , News
IC Insights recently released its 2021 edition of The McClean Report. The new analysis and forecast of the IC industry includes its ranking of IC product categories based on sales growth rate. The listing 
...
Read more...
---
Musk's monkeys play mind games for real
25 November 2020 , News
As reported by
Bloomberg
and various other news outlets, Elon Musk stated during a speech on Clubhouse (a private social app where users host off-the-cuff, informal conversations) that one of his startup 
...
Read more...
---
Dire warning on component lead times
25 November 2020 , News
According to the supply chain, Microchip recently issued a notice to its customers, warning that the lead time of some of its devices will be extended from the previous 18 weeks to 54 weeks. As reported 
...
Read more...
---
From the editor's desk: Should I stay or should I go?
26 February 2021, Technews Publishing , News
Observant readers will have noted that, for most of the latter half of last year, we stopped publishing our regular events column. There just didn't seem much point when industry events were being cancelled 
...
Read more...
---
CSIR recognised as top employer in South Africa
26 February 2021 , News
The Council for Scientific and Industrial Research (CSIR) has been crowned as South Africa's top employer in the global Top Employers Institute's 2021 Top Employers awards. Being certified as a top employer 
...
Read more...
---
On-the-ground sales support for South African Farnell customers
26 February 2021, EBV Electrolink , News
Farnell, an Avnet company and global distributor of electronic components, products and solutions, has enhanced its service to customers in South Africa through a new partnership with sister company EBV, 
...
Read more...
---
Personality profile: Bossie Coetzer
26 February 2021, Rugged Interconnect Technologies , Editor's Choice, News
"Understanding product knowledge is power. I started reading any magazine that was available with articles discussing embedded products, including microprocessor technologies and bus architectures."
Read more...
---
Government and ICASA commended for temporary spectrum
25 November 2020 , News
MTN has recognised the Department of Communication and Digital Technologies (DCDT), as well as the industry regulator ICASA, for the important actions these two bodies have taken to advance the release 
...
Read more...
---