printer friendly version
New African AI initiative at Wits University
25 September 2019
News
The Molecular Sciences Institute (MSI) at the University of the Witwatersrand (Wits) in Johannesburg, in partnership with the Cirrus Initiative, recently announced plans for a new artificial intelligence (AI) research operation in Africa.
Announcing the Cirrus Initiative during the 2019 AI Expo Africa in Cape Town, Professor Zeblon Vilakazi, deputy vice-chancellor: Research and Postgraduate Affairs, said Wits is one of the leading institutions in machine learning and data science research in Africa, and that this collaboration will boost the University's efforts as it envisions a step change in the research and application of AI in the region.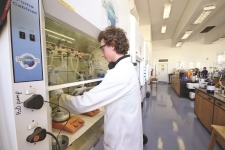 Researchers in the laboratory working on novel syntheses and characterisation of various types of semiconductor nanostructures and their application in solar cells, gas sensors and as bio-labels for early diagnostics of diseases.
Hosted by the MSI in the Wits School of Chemistry, the newly formed Cirrus Initiative will focus on the analysis of research data in chemistry, with a view to collaborate with physics, technology and engineering projects using machine learning.
Advances in AI and its application in addressing the challenges facing Africa have the potential to drive innovation in academia and industry and shape future societies. There is a growing need for talent, infrastructure and funding to support such innovation and to fully realise the opportunities presented in our technology and data-driven world.
"To become competitive in this new wave of innovation fuelled by AI and the Fourth Industrial Revolution, and with the substantial accumulation of resources and investments in new technologies in North America, Europe and Asia, requires efforts in southern Africa on a magnitude far greater than any previous endeavour spanning academia and industry," says Vilakazi.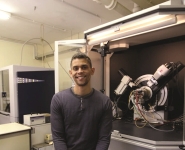 PhD candidates work on electrochemistry-related research interests spanning renewable energy, materials science and engineering. There are three research areas: energy storage, fuel cells and electrolysers.
Cirrus aims to create a collaborative university and industry platform supporting an ecosystem that fosters innovation and entrepreneurialism. As the host university, Wits will lead the Cirrus Initiative's cooperation efforts with universities, institutes, Centres of Excellence and research groups in Africa.
While Cirrus will initially focus on the research and application of AI in chemical, physical and biological systems, its capability will be extended to the benefit of other fields to foster the growth of a strong scientific ecosystem on the continent. Numerous direct and indirect employment opportunities for scientists and engineers will also be created.
"Combining Africa's vibrant talent with the building of a globally competitive platform for leading scientific research and application will drive innovation and undoubtedly foster economic development in the region. In our pursuit of knowledge creation, it is also critical that Africans are the contributors, shapers and owners of the coming advances in artificial intelligence and machine learning," says Vilakazi.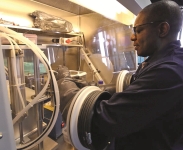 Dr Roy Forbes, a researcher within the MSI who uses X-ray diffraction amongst other techniques to develop new energy storage materials and provides high-level characterisation to industrial partners.
As part of the effort to foster collaboration, Cortex Group has entered into a cooperation agreement with the Cirrus Initiative to lead the establishment of Cirrus Foundry Cape, an operation focused on developing startups and helping them move from ideation to commercial operation. Their team has been at the forefront of collaborative AI efforts in Africa and, by working with Wits and Cirrus, will be able to unlock even more opportunities.
Further reading:
Obituary: Steven James Meyer
January 1957 - January 2022
Technews Publishing News
It is with deep sadness and shock that we announce the sudden death of SA Instrumentation & Control Editor, Steven Meyer. Steven joined Technews in October 2007 in the position of Deputy Editor. His 
...
Read more...
---
ICASA doles out provisional RF spectrum
News
The Independent Communications Authority of South Africa (ICASA) has concluded its analysis of applications for provisional assignment of radio frequency spectrum under the new ICT Covid-19 National State 
...
Read more...
---
productronica's hybrid format a success despite restrictions
News
Following its tried and trusted biennial scheduling, productronica 2021 was held on the fairgrounds of Messe München on 16-19 November. Strict hygiene rules were observed in accordance with Covid-19 protocols, 
...
Read more...
---
Report evaluates market for Li-ion battery recycling
News
In the past, the lack of end-of-life batteries meant that the Li-ion (lithium-ion) recycling market had little opportunity to prosper. The transition to electric vehicles (EVs) is changing this. Recycling 
...
Read more...
---
RFID market research explores 2021 and what to expect for the future
News
Despite a 5% drop in the global RFID market in 2020 compared to 2019 due to the impact of Covid-19, the market has recovered well in 2021. According to the newly released RFID market research report from 
...
Read more...
---
SABS launches local content verification scheme
News
A new certification and grading scheme launched by the South African Bureau of Standards (SABS) intends to harmonise local content and local production for producers and manufacturers, levelling the playing 
...
Read more...
---
DesignSpark to host new activist engineering programme
RS Components (SA) News
RS Components has launched its DesignSpark #ActivistEngineering programme, further strengthening the company's commitment to engage and inspire design engineers across the globe to 'make amazing happen 
...
Read more...
---
October semiconductor sales up 24% over 2020
News
Global sales of semiconductors were $48,8 billion in October 2021, an increase of 24,0% from the October 2020 total of $39,4 billion and 1,1% more than the September 2021 total of $48,3 billion. Announced 
...
Read more...
---
CSIR Learning Factory supports skills development and innovation in 4IR
News
The CSIR has established a Learning Factory to support South African industries in acquiring the skills needed to maximise the benefits of the Fourth Industrial Revolution (4IR). The first online course 
...
Read more...
---
RS Components SA partners with Engineers Without Borders
RS Components (SA) News
The annual Engineering for People Design Challenge as well as the Inspiring and Building Community Leaders programmes kicked off earlier this year. The competition, now in its 10th year, is a year-long 
...
Read more...
---