printer friendly version
New African AI initiative at Wits University
25 September 2019
News
The Molecular Sciences Institute (MSI) at the University of the Witwatersrand (Wits) in Johannesburg, in partnership with the Cirrus Initiative, recently announced plans for a new artificial intelligence (AI) research operation in Africa.
Announcing the Cirrus Initiative during the 2019 AI Expo Africa in Cape Town, Professor Zeblon Vilakazi, deputy vice-chancellor: Research and Postgraduate Affairs, said Wits is one of the leading institutions in machine learning and data science research in Africa, and that this collaboration will boost the University's efforts as it envisions a step change in the research and application of AI in the region.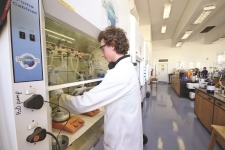 Researchers in the laboratory working on novel syntheses and characterisation of various types of semiconductor nanostructures and their application in solar cells, gas sensors and as bio-labels for early diagnostics of diseases.
Hosted by the MSI in the Wits School of Chemistry, the newly formed Cirrus Initiative will focus on the analysis of research data in chemistry, with a view to collaborate with physics, technology and engineering projects using machine learning.
Advances in AI and its application in addressing the challenges facing Africa have the potential to drive innovation in academia and industry and shape future societies. There is a growing need for talent, infrastructure and funding to support such innovation and to fully realise the opportunities presented in our technology and data-driven world.
"To become competitive in this new wave of innovation fuelled by AI and the Fourth Industrial Revolution, and with the substantial accumulation of resources and investments in new technologies in North America, Europe and Asia, requires efforts in southern Africa on a magnitude far greater than any previous endeavour spanning academia and industry," says Vilakazi.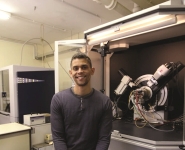 PhD candidates work on electrochemistry-related research interests spanning renewable energy, materials science and engineering. There are three research areas: energy storage, fuel cells and electrolysers.
Cirrus aims to create a collaborative university and industry platform supporting an ecosystem that fosters innovation and entrepreneurialism. As the host university, Wits will lead the Cirrus Initiative's cooperation efforts with universities, institutes, Centres of Excellence and research groups in Africa.
While Cirrus will initially focus on the research and application of AI in chemical, physical and biological systems, its capability will be extended to the benefit of other fields to foster the growth of a strong scientific ecosystem on the continent. Numerous direct and indirect employment opportunities for scientists and engineers will also be created.
"Combining Africa's vibrant talent with the building of a globally competitive platform for leading scientific research and application will drive innovation and undoubtedly foster economic development in the region. In our pursuit of knowledge creation, it is also critical that Africans are the contributors, shapers and owners of the coming advances in artificial intelligence and machine learning," says Vilakazi.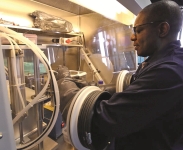 Dr Roy Forbes, a researcher within the MSI who uses X-ray diffraction amongst other techniques to develop new energy storage materials and provides high-level characterisation to industrial partners.
As part of the effort to foster collaboration, Cortex Group has entered into a cooperation agreement with the Cirrus Initiative to lead the establishment of Cirrus Foundry Cape, an operation focused on developing startups and helping them move from ideation to commercial operation. Their team has been at the forefront of collaborative AI efforts in Africa and, by working with Wits and Cirrus, will be able to unlock even more opportunities.
For more information visit www.cirrusai.net
Further reading:
Locked down but not knocked out
25 March 2020, ExecuKit , News
As a business, we are facing extremely hard times with the current worldwide pandemic and isolation. We are all maintaining social distancing and must learn how to do business with an enforced lockdown 
...
Read more...
---
From the editor's desk: A new era – after mourning comes rebuilding
29 April 2020, Technews Publishing , News
When I sit down to write these columns once a month, even if the topic I decide to write about is not all sunshine and roses, I always try and look for a silver lining. I'm simply not able to do that 
...
Read more...
---
Personality profile: Chris Viveiros
29 April 2020, Otto Wireless , News
The operations director of Otto Wireless Solutions shares his background, experience, advice and thoughts on the future.
Read more...
---
Locked down but not knocked out
29 April 2020, ExecuKit , News
We as a company salute the component suppliers who have supported us and are there to assist during this time even if the requests we pose are not always realistic.
Read more...
---
Electronics industry tackling the coronavirus
29 April 2020 , News
2020 has been a crazy year already. From Australian bushfires to climate emergencies to US trade tariffs, the start of the decade hasn't been very positive. Not only this, within the last few months there 
...
Read more...
---
SqwidNet becomes first Sigfox-accredited lab in southern hemisphere
29 April 2020, iSERT , News
iSERT (Safety, EMC, RF, Testing), a leader in the provision of turnkey testing solutions for EMC, RF and safety testing, has collaborated with SqwidNet, the only licenced Sigfox operator in South Africa, 
...
Read more...
---
Clearing the Static: ESD cleaning and hygiene products
29 April 2020, Altico Static Control Solutions , News
In light of the current COVID-19 pandemic, Actum Group would like to remind electronics manufacturers of our range of antistatic cleaning agents, cleanroom materials and PPE.      
Cleanroom garments and 
...
Read more...
---
Jemstech continuing its growth path
29 April 2020, Jemstech , News
Since its inception in 2005 and especially during the past five years, Jemstech has grown from a medium-sized electronic manufacturing services (EMS) provider into one of the major players for electronics 
...
Read more...
---
Company profile: Phoenix Contact
29 April 2020, Phoenix Contact , News
Phoenix Contact was founded in 1923 in Essen, Germany, by Hugo Knümann. It entered the South African market in 1969 through a local distributor, and was later established as a wholly owned subsidiary 
...
Read more...
---
In memoriam: Vivienne Caroline Dorrington - 19 June 1958 – 21 April 2020
29 April 2020, Technews Publishing , News
It is with great sadness that we announce the death of our CEO, Vivienne Dorrington, after a long and brave battle with cancer. Like her father, Ray Beaumont, who founded Technews Publishing in 1985, 
...
Read more...
---