printer friendly version
Sealed plastic connectors
25 September 2019
Interconnection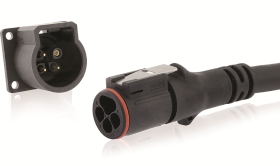 The UTL series from Souriau is a plastic connector suitable for outdoor industrial applications thanks to a high sealing performance (IP68/IP69K) and an extreme UV resistance with F1 material per UL746C. The UTL series guarantees extended outdoor life, making them ideal lighting connectors.
Designed and qualified according to the UL1977 and IEC61984 standards, the UTL connector series offers a 5 VA flammability rating, hot wire and current breaking capacity to meet all standards of industrial equipment. Its moisture-proof capability is due to a technical design that prevents condensation ingress into the equipment that can cause damage to systems. Available as an option, this feature will prevent moisture from penetrating into a system over time.
In addition, the UTL series has a push-and-press-to-release coupling system which allows the user to connect quickly, even in blind conditions and provides a secure connection due to an audible click which guarantees the proper connection. The UTL is compliant with RS-485, DMX and DALI protocols.
Available with a large choice of shells and contact types, screw contact termination allows the user to terminate their cable assembly in the field with only one screwdriver. A standard cable assembly offering provides a complete interconnect solution to simplify customers' supply chain.
Credit(s)
Further reading:
M12 push-pull connectors with internal locking
31 March 2021, Phoenix Contact , Interconnection
Phoenix Contact has extended its existing M12 portfolio to include new push-pull connectors with internal locking. The cross-manufacturer locking system based on IEC 61076-2-010 enables easy cabling and 
...
Read more...
---
Phoenix Contact makes connecting a snap
26 February 2021, Phoenix Contact , Interconnection
Phoenix Contact brings added convenience to conductor connections with the lever-actuated PCB terminal blocks and PCB connectors of the consistent LPT and LPC series. They combine the reliability of push-in 
...
Read more...
---
Reliable and versatile D-Sub connectors
26 February 2021, IPD Electronics , Interconnection
Originally invented by ITT Cannon in the 1950s, D-Subminiature (D-Sub) connectors remain one of the most widely used, ultra-reliable I/O interconnect solutions on the market. With high-performance power, 
...
Read more...
---
Inline industrial temperature sensor
26 February 2021, TRX Electronics , Analogue, Mixed Signal, LSI
Amphenol Advanced Sensors offers an inline flow-through temperature sensor that monitors the temperature of a fluid that passes through it. A system control module receives this temperature reading 
...
Read more...
---
Hybrid device connectors with knurled nut
26 February 2021, Phoenix Contact , Interconnection
M23 Hybrid series device connectors from Phoenix Contact are now also available with a knurled nut. This enables devices such as servo drives to be connected using either coupler or cable connectors. 
...
Read more...
---
Circular plastic connectors
31 March 2021, IPD Electronics , Interconnection
Designers can explore new opportunities with TE Connectivity's Circular Plastic Connectors (CPC). These rugged, cost-effective and reliable connectors can be used in a wide range of applications that 
...
Read more...
---
Clips for fixing cables to ground
26 February 2021, Würth Elektronik eiSos , Interconnection
Under the product name designation WE-EEL, Würth Elektronik now offers cable clips made of aluminium sheet to enable stable grounded fixation of cables of various dimensions. Cables with diameters ranging 
...
Read more...
---
Low-profile USB Type C vertical receptacle
26 February 2021, Electrocomp , Interconnection
With a height of just 6,5 mm on a printed circuit board (PCB), the vertical-mount USB4120 is a low-profile USB Type C receptacle and joins GCT's range of charging-focused ionex connectors. The 16-pin 
...
Read more...
---
High voltage and safety certified MLCCs
25 November 2020, TRX Electronics , Passive Components
Knowles Precision Devices offers a wide range of components, including high-voltage MLC (multi-layer chip) capacitors and safety certified capacitors designed to meet the needs of industrial equipment 
...
Read more...
---
RF solutions now available in Samtec's Picture Search
25 November 2020, Spectrum Concepts , Interconnection
Having previously announced the Picture Search feature on its updated online design tool, Samtec has now added RF solutions to the mix.
Read more...
---